Rajasthan is most popular tourist destination for Indian and for foreign tourist as well. And it would not be wrong, if I say India is famous for Rajasthan throughout the world. Known for its tradition, history, culture, music, cuisine, Great Thar-desert and so many things.
It is Rajasthan, which make India a culturally rich country. It is the state known for its grandeur and stateliness, like a country within itself, so rich in culture and heritage. There are many must visit places of Rajasthan, that you should include in your trip.
The best time to visit Rajasthan is from November to March. The weather is cool and pleasant during these months and so, can avoid the scorching heat.
10 Must visit places of Rajasthan
1. Jaisalmer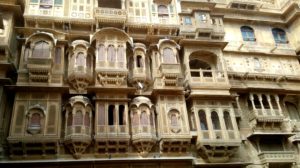 Touted as the 'Golden City', situated in the Thar desert near India-Pakistan Border. It is a major attraction of Rajasthan tourism due to its bounteous sand dunes, where you can enjoy Jeep Safari, Camel Safari and night camping. The city is also famous fort 'Golden fort', many beautiful decorated Haveli, Jain temples and lakes.
Must visit in Jaisalmer:
Sam Sand Dunes for Camel Safari & Night camping (50 Km from Jaisalmer city)

Jaisalmer fort: the Only living fort of India

Enjoy boating at Gadisar lake
Read in more details attractions of Jaisalmer
2. Pushkar
It is one of the oldest cities in India has a very calm and serene feel to it. A few among the many reasons to visit Pushkar include its spirituality; taking a dip in the holy Pushkar Lake and visiting the only Brahma Temple in the country. Apart from it you can see number of temple at every corner and street. On your visit, make sure you catch the evening aarti.
You can also see the sunset between sand dunes and that site is beyond what words can describe. You can also have a good time in the array of restaurants with beautiful backdrops.
3. Udaipur
It is great if you have been to Venice. If you haven't, please head to Udaipur for the same atmosphere and feeling. Due to presence of several water bodies, it is known as the City of Lakes. The palaces reflect the architectural grandeur prevailing during the Rajputs.
Spend a day exploring the beautiful lakes of this city like Lake Pichola, Fateh Sagar Lake and Uday Sagar Lake.

Visit Jagat Mandir: temple build of white marble and its architecture resemble with the very famous Khajuraho temple.

If you have a fetish for vintage cars, you should head to the Vintage Car Museum.
The City Palace and Sajjan Garh Palace (Monsoon Palace) give a great insight into the rich culture of the place and are one of the places to visit in Rajasthan.
4. Bikaner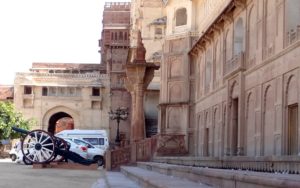 Bikaner is mightily famous for its mouth-watering delicacies. Do your taste buds a favor and visit Bikaner. Apart from this, visit the gorgeous palaces and just soak in the royal feel.
Junagarh Fort: one of the most beautiful fort of India

Laxmi Niwas Palace, Lalgarh Palace

Ganga Singh Museum

Bikaner Camel Research Center (10 Km )

Karni Mata mandir also known as Rat-temple is a must visit (30 Km).

Beat the heat at Skybird Water park.

Go Wildlife spotting in Gajner Wildlife sanctuary (40 Km).
These are covered by many providers of Rajasthan Tour packages
Read in more details attractions of Bikaner
5. Ranthambore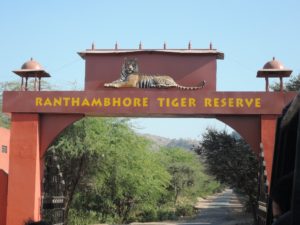 Renowned Ranthambhore National Park, known for maximum density of tigers. This is the place for adrenaline junkies. If you plan to spend days in Rajasthan, this place should be on your itinerary of Rajasthan tour.
Go camping in the jungle for some thrill

Book a jungle safari to spot tigers and other majestic beasts

Visit the grand Ranthambore Fort

Savor on some Rajasthani food
6. Jodhpur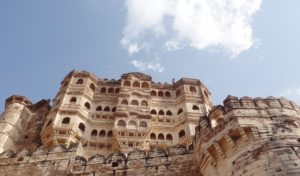 Jodhpur is biggest city of Rajasthan, situated in the Thar desert. City is famous for its sweets and snacks like Mirchi vada. There are many famous attraction you must visit during your trip.
Mahrangarh fort; the most masculine fort

Jaswant Tada : cremation ground for the royal family

Umaid Bhawan Palace : The palace is the residence of Royal family while one part of the palace is converted in to Hotel, managed by Taj Group. It is among the world's top most expensive and luxurious hotel.
Read more attraction of Jodhpur
7. Jaipur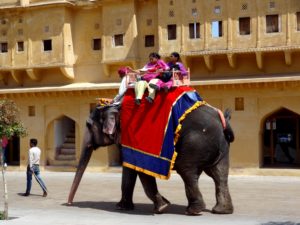 The 'Pink City' Jaipur is one of the most vibrant cities of India with its strong historical background and vibrant culture. It belongs to the tourist Golden Triangle of western India and one of the best places to visit in Rajasthan.
Major tourist attraction of Jaipur:
Forts & Palaces: Amer Fort, Jaigarh Fort, Nahargarh fort, City Palace

Hawa Mahal

Jantar-Mantar

Birls Mandir

Albert Hall Museum

Take a heritage walk around Chandni Chauk market enjoy shopping
Jaipur is also known for its food. Ensure you try the Rajasthani thali.
Read more attraction of Jaipur
8. Ajmer
Ajmer is a well known tourist destination majorly due to the presence of the Sufi shrine of the Sufi saint, Moinuddin Chishti. Once this region was ruled by Akbar from the Ajmer itself, that made it more important historically.
During your visit to Ajmer:
Head to the Dargah for a surreal experience.

Visit Adai Din Ka Jhopra: the oldest mosque in India

Spend evening at the beautiful Ana Sagar Lake
9. Chittorgarh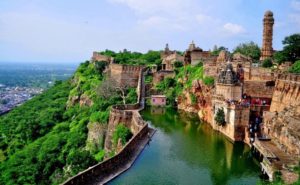 Chittorgarh echoes the story of the thousands of men who fought bravely for the respect of their kingdom. Once you visit Chittorgarh you will hear umpteen numbers of stories and you will feel like you are living them.
The must visit places are Chittorgarh fort, Rana Kumbha's palace, Fateh Prakash Palace and Rani Padmini's Palace. There a lot of temples to visit if one is wanting to. Sitamata Wildlife Sanctuary is a great place to spot some unseen animals and get a closer peek at them
10. Kumbhalgarh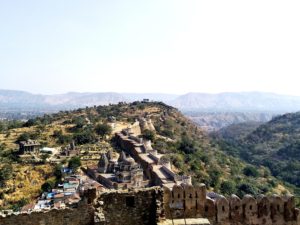 Kumbalgarh is one of the important fortresses of Mewar, located in the Aravalli Ranges approx 90 Km from Udaipur. It is a rather quaint and unexplored place and perfect for people who want to get away from beautiful havelis and resorts. It is most famous for its world's second largest fort-wall and as a birth place of the brave Maharana Pratap. Because of its historical and architectural importance, it has honored with the label of world's heritage site.
You can visit the Wildlife Sanctuary encompassing this town.

Neelkanth Mahadeo Temple is within the fort vicinity. It is dedicated to Lord Shiva whose 6 feet Lingam is in the temple.

If you plan Kumbhalgarh trip from Udaipur, club site of Haldi-ghati in your trip.
If you find this post useful, Explore more travel ideas on Explore my Ways
& share your valuable feedback in the comment box.