Want to witness an good example of ancient engineering of India, Jaigarh fort of Jaipur is waiting for you. The fort of Jaigarh is situated in Amer town, sub-urban area of Jaipur and 12 km from city center.
It is located on Eagles hill (Cheel ka Teela) of Aravali range and covering a large area; 3 km in length and 1 km wide. There are various interesting facts about Jaigarh fort and its history. You have to pay INR 35 as the entry fee at Jaigarh fort.
Interesting

facts Jaigarh fort
Jaigarh fort as Military post: Region around Jaipur was initially ruled from Amer and Amer Fort, residence of then ruling family. Jaigarh fort was established as a military post for guarding this region and Amer fort as well. You can see the amazing security wall running on the nearby hills with multiple watch posts.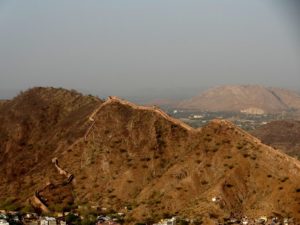 Jaigarh fort is situated on the higher elevation than Amer Fort, so that every unwanted activity in Amer could be checked from Jaigarh fort.
In case of emergency, there was a provision of escape tunnel from Amer fort to Jaigarh fort .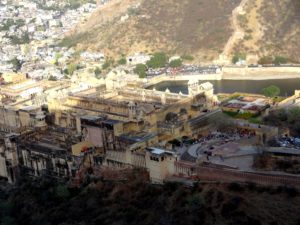 There are two ancient Hindu temple; Ram Harihar temple belong to 10th century and Kal Bhairav temple of 12th century.
As the Jaigarh fort was a military base of Amer region, so making it strong was the main focus. That is why, you should not compare it architecturally with palaces of Amer Fort but it was strong enough to withstand again any attack.
Water channel & drainage system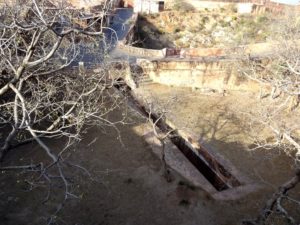 Being on the higher elevation, Jaigarh fort used to face permanent scarcity of water. To cater the water crisis, Jaigarh fort have developed a nice drainage system that everyone should see.
These peoples were great engineer, they have made many smaller drain connecting to a main channel. Finally, that water come to 2 underground water tanks located in the main courtyard. Covered tank was for drinking water and open tank was for bathing or miscellaneous purpose.
Even today, you can see the effectiveness of this drainage system. These historical water tanks of Jaigarh fort are still in use.
Jaigarh fort treasure
There was a rumor also that this fort had a hidden treasure belongs to Kachwahas. That belief was so strong that even, Indian Prime minister Indira Gandhi had given ordered to search the fort. The search was carried out with metal detectors but after continues search of three months the Income Tax department was empty hand.
Jaivana, biggest cannon on wheel at Jaigarh fort
It is main attraction or wonder of this fort. Jaigarh fort is proud of having world's biggest cannon on wheel and named it Jaiwara or Jaivana.
Barrel of this cannon is 20 feet in length and 50 tonnes heavy. This cannon has a capacity to fire 50 kg fire ball to 35 km. Now, this cannon is covered with tin shed to protect it from weather conditions and still it look like newly made.
Cannon foundry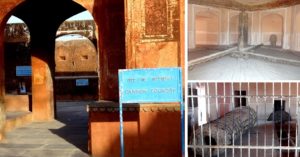 There was a cannon foundry within the Jaigarh fort. Jaivana cannon also been manufactured in same foundry at the time of Maharaja Sawai Jai Singh II. Even today, you can see the chambers, used for all this manufacturing process.
For making bore in cast barrel 4 pair of oxen were used to rotate a gear system. You can also see the place, where meting of metal used to be done.
There is a small museum too inside the Jaigarh fort. This museum display various artifacts, dresses and amours, swords, shields, guns and a 50 kg cannon ball.
There is also a Gallery of old photographs showing the royal life style of Maharaja Sawai Bhawani Singh and Major General Man Singh II . You can also see some photograph of their army life because they both served in Indian Army .
Apart from engineering and historical facts of Jaigarh Fort, it has great location too. From here, you can see the best view of surroundings, Aravali range spread in several miles and top view of the Amer Fort.
How to reach Jaigarh Fort, Jaipur
A steep path of around 1 km connects Jaigarh Fort to Amer Fort and it takes approx half hour from Amer fort. There is another path that directly connect to Jaigarh fort and can be reach by private vehicle.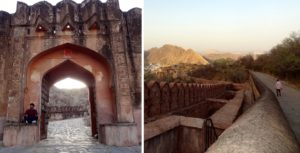 Also read: Important attraction of Jaipur City
You may also like to read
Elephant ride in Amer Fort, Jaipur
Fort with beautiful museum, Bikaner
Largest fort wall in Kumbhalgarh Fort
Jodhpur fort, strongest fort of Rajasthan
If you find this post useful, please leave your valuable feedback in the comment box