A horizontal line dividing white and blue at horizon, a white sheet spread across miles. Reflection of the sun light were sparkling in my eyes. Neither I was in Iceland nor there was any snow I am talking about.
But this amazing scene was generating a feeling of being on the Moon or another Planet. I was in the mid of World's largest Salt desert near Bhuj (Gujarat), which is also famous as White Rann or White Desert of Kutch.
We are living amidst of nature but there always some shades of nature that still to see. Man have created lots of wonder but still nature is always on the top.
Day trip from Bhuj to White Desert of Kutch; Complete itinerary
I booked a cab for a day trip from Bhuj to White desert, including 2 another important point of attraction of that region; Kalo Dungar & India Bridge.
We started our journey from Bhuj at 09:00 AM, planned it early because I wanted to extract maximum out of my trip.
On proceeding 28 Km, we crossed 'Tropic of Cancer' line which pass through this highway. Usually people like to stop at this point to capture this important geographical landmark in snap.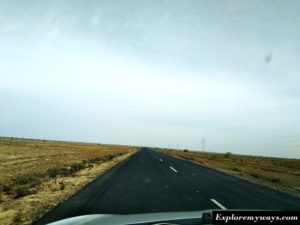 As we were moving close to desert area, the vegetation, human habitat all were going disappear. The only thing was still continuous, the super smooth road.
Our driver cum guide told us that this region get minimum rain and the soil of the region does not absorb water, even if it rain. Here, mother Earth is not capable of providing grains to feed their children. It was a bitter truth of that dead land.
Also read: Half day trip to Thar Desert, Jaisalmer
India Bridge in Kutch
Till now, we had reached to the India Bridge entry point. A BSF guard inquired us few general question and let us cross the bridge to get on the other side. This bridge build over the 'Runn of Kutch lake' where the lake get narrowest down.
It is the only way to go to the India-Pak boarder, from here Pakistan boarder was around 80 Km. No tourist is allowed beyond this point because of boarder safety issue. ( Photography also prohibited in this area)
I found one tourist arguing that she want to see boarder and they should let her go because she had traveled from very far. We should avoid such circumstances because these wonderful people work day-n-night in such a harsh condition for the safety of country.
Even these army people welcome you, have little chit-chat with you and also offer drinking water, which is very precious in the desert. After relaxing there for 15-20 minute, it was time to move on to Kalo Dungar.
Kalo Dungar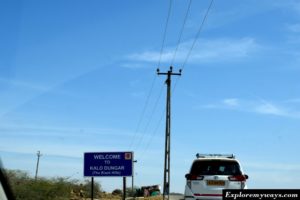 It sounds like a favorite place among the villains of Hindi movies :). Also famous as Black hill, was around 30 Km from India bridge. But as usual road condition was very good so we reached within 40 minute.
Kalo Dungar is famous for having panoramic view of the Kutch lake and White desert. And there was popular Magnetic hill on the way ( popular theory is that Car itself move even if engine is not running. You may heard similar theory about road near Leh, J&K).
Whatever remote area it may be, there is always a temple to address your religious quench, this is the beauty of India.
Dattatreya Temple at Kalo Dungar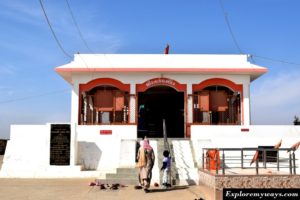 So, here is the temple of Dattatreya on hill top, a God which is mostly depicted with three head. According to mythology Dattatreya was a joint incarnation of three main Lord in Hinduism; Brahma, Vishnu and Shiva, who born as a son of Atri and Anusuya (sage family).
There is a Prasad canteen associated to the temple trust. So, if you reach there around 12 noon, you can have free lunch in the form of Prasad (Satvik food).
This Prasad is distributed among the visitors after offering to the Bhagwan Dattatreya, who come in the form of jackal and accept the offering.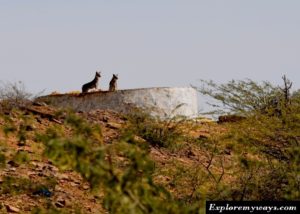 Yes, it is the interesting fact and another main attraction of Kalo Dungar. Daily, in the noon a bell being rang and a group of 3 to 4 jackals come and eat the Prasad. And people, who witness this scene consider themselves lucky.
We too witnessed that scene and later have prasad ( Note: For taking prasad you have to be in queue, have to sit on the floor and wash your utensil after finish)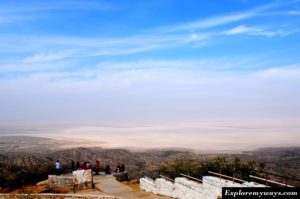 Later, we went to view point and the sight we got was really amazing, being on the hill-top could see the vast white field spread up to several hundreds miles, which was partially merged in the lake.
It was a tricolor in front of me like our Indian flag, Green at the bottom (vegetation on the hill), white in the middle ( the white desert) and blue on the top (sky).
It was the time to sit for a while and feel the natural beauty. Apart from this you can have camel ride and can also purchase something from handicraft shops located here.
The beautiful view, which was soothing and mesmerizing was in front of me but the main attraction, Great White Desert was still to see.
So, we moved to White Desert, which was almost 50 Km from the Kalo Dungar hill. The single lane passing through the barren land was also as smooth as highway. There was hardly any traffic, so we reached in less than an hour.
It was around 02:30 PM. Throughout the year, this area get hot sunny day so, it was not a good idea to go straight to the the desert. We decided to explore Run-Utsav before going to desert.
Rann of Kutch Festival
Every year Gujarat tourism organize 'Rann Utsav' for about 4 months (Nov-Feb). It is a kind of fair which have lots of shops related to Gujarati foods and local made handicraft items like embroidered clothes, wooden toys, silver jewelry etc.
Apart from these it display exhibition about some notable attraction from Gujarat, also organize folk music to promote tourism in Gujarat. This time it had also displayed a miniature of 'Statue of Unity' recently inaugurated by PM.
Till now, the Sun was not remain that harsh. So we moved to desert area. (For going in the white desert area it is mandatory to get a permit to enter in the desert area. Take that in advance, otherwise have to face long queue in the evening time.)
From the fair ground, parking area for white desert was about 3 Km. You will see several horse-cart and camel-cart standing there to take you till the watch tower standing in the mid of desert which is another 1.5 Km. Though, I
chose to walk so I could have enough time to capture all the moments.
Great white desert of Kutch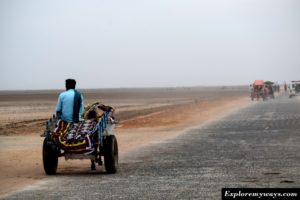 At the initial, this pathway had brown soil/mud field on both side. But as I was moving forward, color of the surrounding slowly changing to white.
And now, I was in the mid of hundreds of Kilometer big white desert, I could only see the white below my feet. It was salt which is spreads across the desert or it is a salt desert.
Initially it was awkward to walk on the salt because what I have seen on the plate, today was under feet. Mud from my shoes was spoiling the white-shine of the salt. But at the same time, the view was amazingly unique.
Hundreds of Km flat land covered with salt, only white & white around me. There was a 15 meter high watch tower for providing better view of surroundings.
From that tower, I could see more of this amazing scene; Kids were playing on white ground, people were catching moment in there cellphone or camera while some of the tourist was having camel ride and trying to be away from the crowd.
If I nullify the effect of gravity, the scene might be similar if I go to the Moon. Believe me the beauty of that amazing landscape is beyond words, it deserved to be a part of every traveler's bucket-list.
In the monsoon, this area get submerged with the Sea water. As the weather change the water get recede and this salt desert left behind. The area get access only after the monsoon over. Still, there was enough moisture on that salt bed to wet our clothes.
Sun-set always another attraction of such kind of spot but it was hazy evening, so could not catch that moment. But I was not disappointed because what i got was itself more valuable and enough to fulfill my expectation.
Location of White desert of Kutch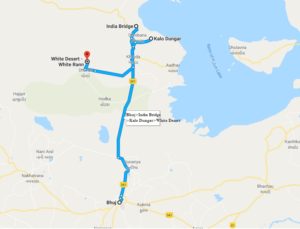 White Desert or the 'Rann of Kutch' lie in the western Gujarat over the Gulf of Kutch so the district itself named with Kutch.
Rann of Kutch spread across thousands of square kilometer divided in two region; Great Rann of Kutch shares its boundary with the Pakistan while Little Rann of Kutch is south-eastern part of Kutch district.
The area near Dhordo village, which is venue of Rann-Utsav and access to white desert located around 90 Km from Bhuj.
How to reach White Desert of Kutch
Bhuj is the headquarter of Kutch and the central point for exploring The Great White desert. Whatever part of Gujarat you plan to visit, and no matter from which part of India you are coming, Ahmadabad is the junction point. There are few trains including 2 daily-trains run from Ahmadabad to Bhuj.
Apart from GSRTC, there are many private operators provide daily bus service (seater and sleeper) from Ahmadabad to Bhuj.
Also Read : Historical monuments of Ahmedabad
The White desert is almost 90 Km from the Bhuj and there are very less means of public transport. If you have limited time and still want to explore maximum of the region, it is better to book a cab for a day trip from Bhuj to white desert.
Cost of day trip Bhuj to White desert
An average cab charges for one day trip ( up to 300 Km ) from Bhuj to white desert is between INR 2700-3000. Usually this trip include visit to India bridge, Kalo Doongar and the Great White Desert.
The White desert permit costs extra INR 100/- per person, for that showing of identity card is mandatory.
And it is quite economical to stay at Bhuj, than to stay at white desert. In Bhuj you can find a good budget stay under INR 1000 while stay at tent in white desert cost around INR 6000.
See more tourist places of Gujarat
If you find this post useful, Explore more travel ideas on Explore my Ways
& share your valuable feedback in the comment box.