While you are in Bikaner, you can not miss the Junagarh Fort. It is one of the most beautiful fort of Rajasthan which is located within the city. Mostly known fort of Rajasthan, were built on the hills but this is among the very few situate on plane land.
Junagarh Fort, Bikaner
The initial construction of Junagarh fort was done during the reign of Raja Rai Singh (great grand son of Rao Bika) of Bikaner in the last of 16th century. In the later period Karan Singh, Anup Singh and other subsequent ruler also contributed to the extension of fort.
They added more palaces and beautification to the fort, and still known on their name like Karan Mahal or Anup Mahal. Ganga Singh was the last who ruled from this fort. In early 2oth century, the royal family shifted to then newly built Lalgarh palace.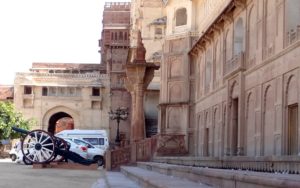 Junagarh Fort Complex has several ornamented palaces, temples, and a Fort museum. Outer structure of the fort made of red sandstone and inner palaces decorated with white and colorful marbles.
It is famous as the most beautiful fort of Rajasthan but it was equally strong to check any attack. Its outer walls having a width of 4.5 meter and 12 meter high.
Junagarh Fort museum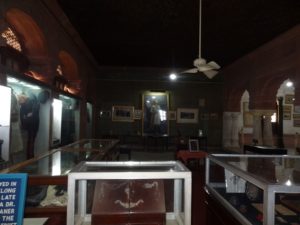 Junagarh fort has a wonderful museum and for entering in the main palace complex you have to museum fees of Rs. 50/- . And for taking camera you have to pay additional charges. Maharaja Dr. Karni Singhji established this Fort museum in 1961 and now maintained by Maharaja Rai Singhji Trust.
All the beautiful palaces inside Junarah fort are well maintained and managed. These palace showcase the grand life style of this Raja-Maharaja. Here are some nice pictures that will help you in peeping in their grand life.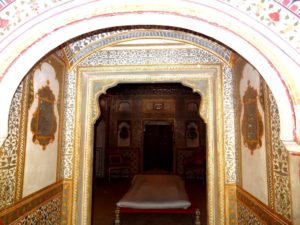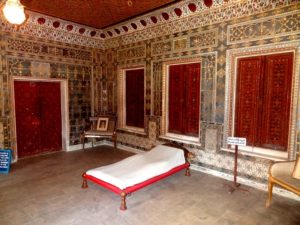 Walls of these royal rooms are full of beautiful paintings. The artisan have used gold and other precious metal to enhance the royalty.
Being a king was not so easy that time, a possibility of attacks always been there from any intruder. Their situations can be understand by witness their short length cot, they use such type of cot so that their legs remain on floor while sleeping and so they could easily managed to stand even if they tied up with cot.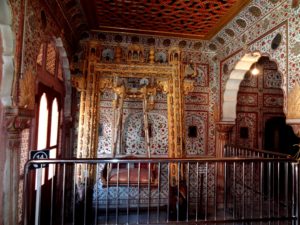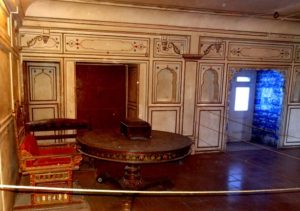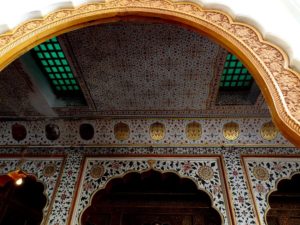 Private audience hall or Diwan-i-Khas was the place where only some important members were allowed to meet with the king.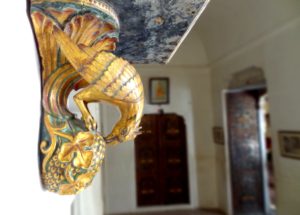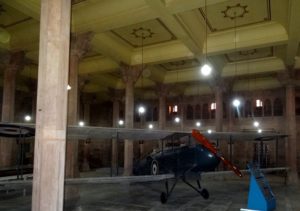 This fort museum is so rich that it is having a great collection of charted planes. These planes were in the use of Ganga Singh who also served in Indian Army during British period and was also a part of World War-I.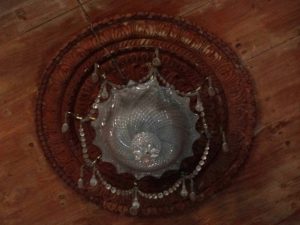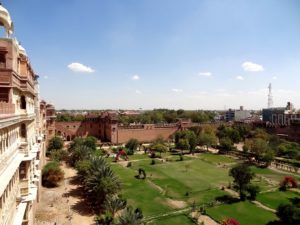 There is also a beautiful garden within the fort which is visible from the roof or from the window of different palaces.
How to reach- Junagarh fort is located within the main city and auto -rickshaw is readily available in the city.
Read more: Must see attraction in Bikaner City
You may also like to read
Elephant ride in Amer Fort, Jaipur
Intresting facts of Jaigarh Fort
Largest fort wall in Kumbhalgarh Fort
Jodhpur fort, strongest fort of Rajasthan
If you find this post useful, please like and share and you may leave your valuable feedback in the comment