Jaisalmer is the most favorite tourist city of Rajasthan located in great Thar desert of India. Maharawal Jaisal Singh founded the city of Jaisalmer in 1156 AD. Golden fort, heritage haveli and Gadisar Lake are the top attraction of Jaisalmer town. Apart from its heritage aspect, desert camping & safari are other things you must do while in Jaisalmer.
All construction in the city done with locally available yellow sand stone, making it Golden city. Golden Fort is the main attraction of Jaisalmer, still inhabited by people unlike other forts of India.
If you want to take real feel of Rajasthan, then Jaisalmer is the perfect destination. Their attire, their food, their music & dance still holding its roots. Some of peculiar art form are still alive in Jaisalmer like Kathputli dance or Kalbelia Dance.
Folk music of Jaisalmer is famous world wide which is having fragrance of real India. Fort of Jaisalmer and Desert National Park are part of World Heritage Site. Thar desert is the most perfect place for camel safari or Jeep safari and to click some beautiful picture of Sun set.
Jaisalmer Fort, top attraction in Jaisalmer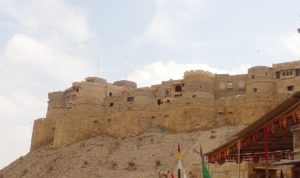 This fort also known as Sonar Kila or Golden fort due to color of sand stone used in its construction. It is main attraction of Jaisalmer city and visible from all spot of the city. Rajput ruler Jaisal build this fort during the 12th century.
There are many beautiful haveli , 7 Jain temples and Laxminath temple inside the fort which are a treat to eye. The unbelievable fine work have been done on these temple's wall that shows dedication and devotion of the artisan.
Initially whole Jaisalmer population used to live within fort periphery. By the time city got extended out of the fort to accommodate its growing population. But still some people live in their ancestors house or Haveli inside the fort and this is the only living fort of the world.
Most of these people are now in business of selling goods or in providing stay to the visitors. This fort also have a museum in Rani Mahal for visitors about the lifestyle of Rajput family. From the top of fort you can have nice view of city.
Read more: Most beautiful fort of Rajasthan
Gadisar Lake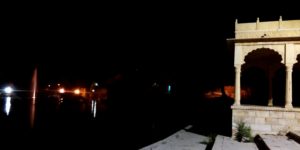 Another important attraction of Jaisalmer city, situated just 200 meter from main road or from Gadisar Chauraha, built by Rawal Gadsi Singh in 1367 to cater the need of water need for whole Jaisalmer city.
The lake welcome you with a big ceremonial gate known as Tilon ki Pol there are some sculptures of Hindu Gods.
There are many temples in the surrounding of Lake, several stairs goes down to the lake water and artistically carved Chattris force you to spend some quality time there. In the evening, you can do boating at Gadisar Lake.
Famous Haveli of Jaisalmer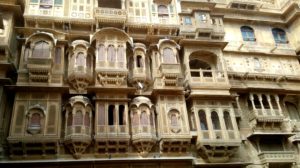 Jaisalmer have its market in the narrow lanes near the fort that is full of traditional clothes, handicrafts and pots made of sand stone. While walking through these lane you can see some well decorated haveli with beautiful design on its windows or jali.
Some of these Haveli converted into museum and charges even up to Rs. 100/- for visiting. Salim ki haveli, Nathmal ki Haveli and Patwo ki haveli are among the most famous haveli of Jaisalmer.
Desert Safari in Jaisalmer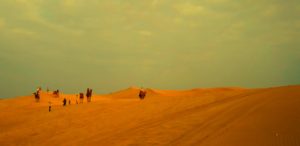 Sam sand dune are famous for Desert safari and, 50 Km from the main Jaisalmer city. Where you can go for overnight camping or half day tour. Here, you get opportunity to see their traditional Kalbelia dance in the mid of sand dune.
Camel man wait for the tourist, and offer them camel ride in little exchange of money. Enjoy some time in the desert and wait for the sun set to capture the moment because it will not going to fade out from your memory.
Kuldhara, a haunted village in Thar
On your trip to desert you can explore some offbeat place like Kuldhara village. Once, it was a prosperous village inhabited by Paliwal Brahmins but now in abandoned state. Kuldhara village is 14 km from Jaisalmer and 2 km from the main highway of Jaisalmer going to Sand dunes.
It is believed, by the early 19th century all villagers left Kuldhara within a night. There are many story you can hear from locals for emptying the village. Even some people consider Kuldhara village as a cursed or haunted.
In your trip you can also explore various Jain temples and Kathputli show in state museum of Jaisalmer.
How to reach Jaisalmer
Jaisalmer itself have a railway station which have good connectivity from other important city of Rajasthan and nearby state. Even state govt. operate buses from Bikaner, Jodhpur or Jaipur. Jodhpur have the nearest domestic airport to the Jaisalmer city.
If you find this post useful, please share and leave your valuable feedback in the comment box.
Subscribe for further travel update