If you interested in history and heritage of India, you must visit Gwalior (Madhya Pradesh). Due to rule of several dynasties and the British influence, Gwalior city accommodate many important landmarks. But the Gwalior fort is the most notable among all because of its long history and several historical monuments.
The fort situated in the city center on the top of Gopachal Parvat, so its easy to have a glimpse from several parts of the city. It is one of the favorite place among localite for burning their calories in the morning.
During my trip to Gwalior I also stayed within vicinity of the fort, so I too chose the morning hour for exploring the fort.
Also See : Offbeat heritage site around Gwalior
Historical monuments in Gwalior fort, Visitors Guide
1) Rock Cut Sculptures & monuments
I entered through Urvai Gate (western side), then just walking after 300 meter, got a pleasant surprise. Many beautiful rock cut sculptures of Jain Thirthankara were in my left, I wasn't expect anything like that.
Those sculptures were directly carved out of existing hill rock. Some sculptures were in standing, while some in Padmasana pose. There were many smaller figures of animals like lions, elephant, horse depicting various Jain tails at the background.
People were also doing exercise and yoga in front of these sculptures, the whole sight was quite soothing, beautiful and spiritual.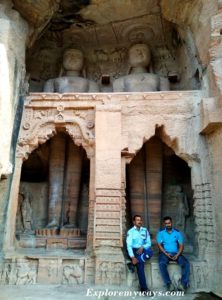 After another few meters there were many other big and small sculptures carved out of rock, it was like a complete rock art gallery.
One of the sculpture belongs to Bhagwan Adinath, was about 58 feet, largest in North India. It is said that most of these sculptures are older than 500 years, while some are dating back to 6th century. As on date, many sculpture are with broken or without face.
2) Assi khamba ki baori
Now, straight moving to main fort complex, the first building I came across was 'Assi khamba ki baori' (well with 80 pillars). This well lies adjacent to a veranda type structure open from three side, this structure also have series of pillars. While this well is surrounded by 80 pillars in circular manner.
I was almost in the front of big wall, decorated with beautiful pattern of vibrant colors. That was the outer wall of famous Man Singh palace, the most notable building and an icon of Gwalior fort.
3) Man Singh palace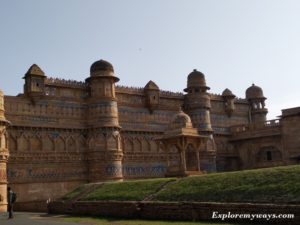 Raja Man Singh of Tomar clan constructed this magnificent palace in 1508 AD. Man Singh Palace is a four story complex, having two floor underground. Famous for its great design & colours, a wonderful example of Hindu architecture. The pillars and bracket are beautifully decorated with several figures of human or animals.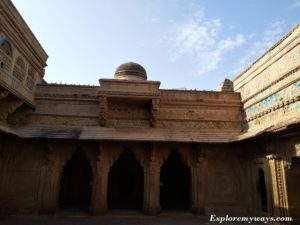 On closely observe, you can clearly see the influence of Chinese art in the palace because of dragon like character in the bracket. There were narrow stairs going down the floor, it was little scary but exciting.
Going down and up through these stair create an illusion and seems like Bhool-Bhulaiya. Man Singh palace had been converted in to prison after capturing by Mughal.
There is another fort complex just next to Man Singh palace, having many historical buildings like Karan Mahal, Vikram Mahal, Jahangir and Sahjahan Mahal. Mostly all the structure constructed during the regime of Mughals.
4) Karan Mahal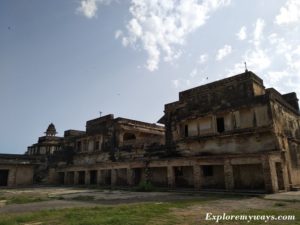 An important historical monument in Gwalior Fort. This palace was build in 1480 AD, during the time of a Tomar King name Kirti Singh, who was also known with the name of Karn Singh, so the name of palace.
5) Vikram Mahal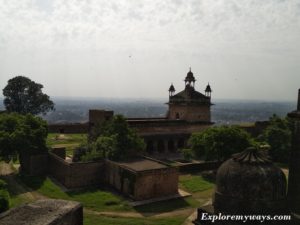 Built by Vikramaditya Singh who was the elder son of King Mansingh. The architecture of the palace is quite ordinary in comparison to other monuments of the forts. The palace also known as Vikram Mandir, there is a temple of Shiva in the front of palace. It is said that, King Vikram established a Shiva temple within the fort but later it was destroyed during Mughal regime.
6) Jahangir & Shah Jahan Mahal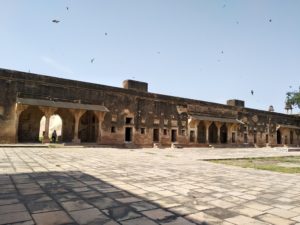 Situated in the north of Vikram Mahal, having a big square courtyard. Both the Emperor build their palace within the same campus in the typical Mughal style like arched gate and decorated Jali. The main entrance open at western side of the campus.
Also read: Taj Mahal: The finest example of Mughal Architecture
7) Bhim Singh Rana ki Chhatri
This cenotaph (Chhatri) was built over the cremation place of Bhim Singh Rana by his son, near the Bhim tal . Bhim Singh captured Gwalior fort in 1740 and made a pond 'Bhim Tal' as a monument.
8) Sas Bahu Temple
One of the few ancient temple of this unique name. This temple exist on the eastern side edge of Gwalior fort wall.
Though, temple names sound like it is dedicated to Sas (mother-in-law) and Bahu (daughter-in-law) but originally this temple dedicated to the Shashtra Bahu ( A god with thousands of arms) or Lord Vishnu.
Architecture of Sas-Bahu temple is very attractive and have many beautiful sculptures and intricacy. This temple is believed to be more than 1000 year old but still it is quite maintained in comparison to other historical monument of Gwalior fort.
9) Teli ka Mandir
This temple is among the oldest monument of the Gwalior fort, build during regime of Pratihara King Mihira Bhoja in 9th century. As per common story, Teli community ( people in oil business ) had sponsored all expenditure of temple's construction.
This temple is almost 100 feet high and uniquely different in architecture. The gate and roof look like Dravidian style while sculpture of temple wall resemble North Indian style. It seems an amalgamation of North Indian and South Indian style of architecture.
It is said that the temple is dedicated to Lord Shiva or Vishnu but there is no statue or Lingam inside the temple. These days, it is not used for worship or any other ceremony so I found hundreds of bats hanging to the ceiling of temple.
A beautiful ornamented gate was erected in the late 19th century. And now, a little but nice lawn has been developed at temple premises and now a favorite venue for the morning exercise and Yoga.
10) Gurudwara Data Bandi Chhor
This Gurudwara located within the Gwaliort fort and in opposite to Teli ka Mandir where 6th Sikh Guru Hargobind Singh arrested by Jahangir.
Story of Bandi Chhor Gurudwara: When Sikh's 5th Guru Arjun Singh executed by Mughal Emperor Jahangir then his son and 6th Sikh Guru Hargobind decided to fight against Mughal. Then Emperor Jahangir put Guru Hargobind in the prison in 1609 AD at Gwalior fort when he was just 14 year old.
After approx 2 year Jahangir decided to free Guru Hargobind for some reason then there were 52 Rajas in the prison for opposing Mughal. And all of them, not wanted to loose the spiritual Guru so Guru Hargobind requested the Rajas to free them too.
Jahangir allowed Guru Hargobind to free as many rajas he could as long as they are holding on to the guru while leaving the prison. Guru sahib got a special gown stitched which had 52 hems. As Guru Hargobind left the fort, all the captive kings caught the hems of the cloak and came out along with him.
11) Chaturbhuj Temple, temple of 'Zero'
Another ancient temple situated in the mid way from Man Singh palace to North-Eastern gate. Chaturbhuj temple is a very small temple in comparison to other monument of the fort but much popular in the region. This temple was famous for the earliest known inscription of '0' (Zero) in the central India.
Originally the complete temple were carved out of single rock during the period of King Bhojaveda in 9th century. This temple is dedicated to four arm form of Lord Vishnu (Chaturbhuj). There are relief of Varaha avtar and four armed Vishnu on the sanctum wall.
Also See: A Large relief of Varaha Avtar of Vishnu at Udaygiri Cave in MP

12) Gujari Mahal & museum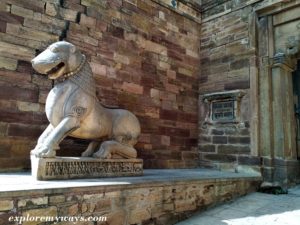 This important monument is situated very close to North-Eastern gate of the Gwalior fort. Raja Man Singh build this separate residence for his most beautiful Queen Mrignayani who was a Gujar princess.
Now, this palace is converted into an archaeological museum which kept many rare artifacts at including Hindu and Jain sculptures belongs to 1st and 2nd centuries BC .
Read Also: Museum of Mankind, best museum in Madhya Pradesh
Ticket price at Gwalior Fort
Gwalior fort complex is open all days of week from Sun rise to Sun set, but Archaeological Museum at Gujari Mahal remain closed on Monday.
An entry ticket of Rs. 25/- is applicable for Man Singh Palace, that also include permit for 'Sas Bau temple' and 'Teli ka Mandir'.
For other historical monuments of fort complex including Karan Mahal, Vikram Mahal, Sah Jahan & Jahangir Mahal, you have to pay Rs. 10/- as entry charge.
Also read : Offbeat site around Gwalior
If you find this post useful, please share and leave your valuable feedback in the comment box.
Subscribe for further travel update