Amer Fort is the most important landmark of Jaipur and famous tourists attraction. Even, it can be say that Jaipur trip is incomplete without visiting Amer Fort. There are several forts in Jaipur but Amer Fort is Queen of all, situated approx 12 Km from the the city center.
Amer Fort is also favorite among the Television industry, lots of Bollywood movie and advertisement have been shot here.
Attraction of Amer Fort, Guide for visitors
History: As per historical records the initial town of Amer was developed by Meenas in 10th century. But in the later period Amer come under the control of Kachwahas and ruled by Raja Man Singh.
Raja Man Singh build the existing Amer fort as his residence that underwent continuous improvement till the reign of Jai Singh I. Amer served as the capital of region and this fort as a residence of ruler family until Sawai Jai Singh-II shifted his capital to Jaipur in 1727.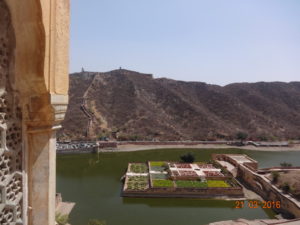 Amer fort is situated adjacent to main Jaipur-Amer road. A garden name 'Dil Aram Bagh' connect toe of Fort to the main road keeping Maotha lake on its left and another big garden on its right at lower elevation.
You have two option to reach up to the first/main courtyard of fort, you may climb several stair or via riding on a elephant back.
Amer fort elephant ride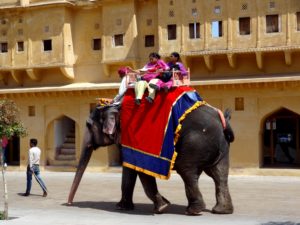 If you want to experience elephant riding in Jaipur, then you are at right place. Elephant ride at Amer Fort cost around Rs. 1100/- for 2 person, it is a major attraction of this place. It is only a five minute ride but its worth to pay if you want to feel like a king.
For taking elephant ride you have to go to the extreme right of fort where all the elephants wait for the customer. Either you go by stair or on elephant, you get entry in the first courtyard through Suraj Pole.
Jaleb Chowk (first court yard) have three main entrance Suraj Pole (Sun Gate), Chand Pole (Moon Gate) and Singh Pole (Lion gate). Chand pole is connected with road so if you are with your private vehicle you can come up to Chand pole.
From here you can also have glimpse of Jaigarh fort situated on eagles hill which is overlooking Amer fort. Jaigarh was the military post for Amer.
Historical building inside Amer Fort
This courtyard connects visitors to other part of the palace like 2nd courtyard on elevated level having Diwan-i-Aam and other courtyard having Diwan-i-Khas. For access that part of Amer Fort you have to buy entry ticket for Rs. 100/-.
Diwan-i-Aam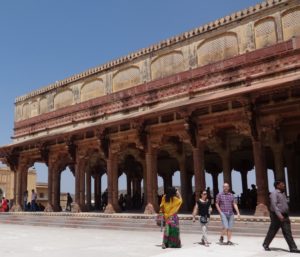 Diwan-i-Aam was a place of meeting between king and common public, where king listen their issue of day to day life. This is a nice structure of red sand stone. Several beautifully carved pillars supported this open hall.
The second courtyard connect with the 3rd one through Ganesh pole ( A highly decorated and ornamented gate). In the corner you can see their hot bath arrangement. This third courtyard was the private place and no common people could enter in this area.
Sheesh Mahal
As you enter through Ganesh pole you see a Sheesh Mahal (mirror palace) in the left and other marble building in right Sukh Mahal ( Pleasure hall) and a beautiful garden in between. From here, you can have a nice view of beautiful garden in the center of Moatha lake.
Sheesh Mahal is always a main attraction of any palace. This chamber is decorated with lakhs of small mirror that look beautiful and any smaller light within it lit the whole chamber.
Madan Mahal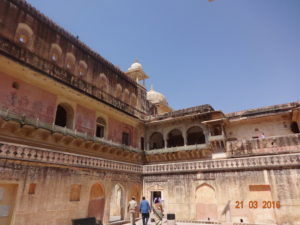 Madan Mahal lies in the behind of this third courtyard, which was the Palace of Man Singh I. It is the oldest part of the fort that was build during the reign of Raja Man Singh I (1589–1614).
At the center of this courtyard a pillared structure know as Baradari or pavilion. This pavilion was the meeting venue of the maharanis (queens of the royal family). This pavilion have with several small rooms around, with open balconies but today not in good condition.
Main focus of maintenance seems only up to third courtyard because of Sheesh Mahal and Garden. While older part of Amer Fort look haunted and almost in ruin, only a few visitors come to this area.
Ticket and Timing at Amer Fort
Amer Fort open for visitors at 09:00 AM while close at 05 :00 PM.
You can walk up to Jaleb Chauk freely but for further going towards other important structure of the fort like Sheesh Mahal, Diwan-e-Khas or Aam. You have to buy a ticket that cost Rs. 100/- for Indian while Rs. 550/- for Foreign nationals.
Eating & Shopping : On the other side of road there are many small dhaba which serves you mostly snacks kind of food like Kachori, mirchi bada, samosa like that. There is also one Government shop for the handicraft and related items to Rajasthan like Lakh ki Choori.
Jaipur to Amer Fort
There are lot of Buses AC & non-AC running from Jaipur to Amer and drop you directly on the fort entrance. In the government operated bus female passengers get concession in the fare.
More attraction of Jaipur City
You may also like to read
Intresting facts of Jaigarh Fort, Jaipur
Fort with beautiful museum, Bikaner
Largest fort wall in Kumbhalgarh Fort
Jodhpur fort, strongest fort of Rajasthan
If you find this post useful, please like and share and you may leave your valuable feedback in the comment