If you are planning for Rajasthan trip, then you must include 'Bikaner' in your list. It is one of the main tourist city of Rajasthan founded by Rao Bika of Jodhpur in 1456. Desert city of Bikaner have many tourist attraction like historical fort and palaces. Apart from many historical buildings Bikaner is also very famous for its Namkeen (Bikaner Bhujia) and sweets (Bikaji Sweets).
Due to its location in desert city become very hot in the summer and temperature reach beyond 48 degree. So, October to March month is the best time to visit Bikaner city.
Top tourist attraction in Bikaner
Fort in Bikaner
Junagarh fort is an important landmark and top attraction in Bikaner. It was built on plane unlike other fort of Rajasthan (mostly all are located on hill). This 450 years fort is quite large in size and still well maintained.
Once it was the residence of royal family of Bikaner but now converted into a museum which displays the royal life style of that era. Museum of the Junagarh fort is a must visit, even you can see chartered planes inside the museum.
Laxmi Niwas Palace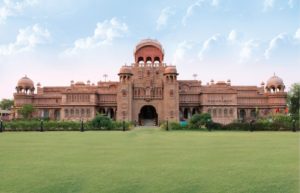 Maharaja Ganga Singh build Laxmi Niwas Palace in starting of 20th century for residential purpose. This palace having a mix architecture of modern and old style, now it is converted into a luxury heritage hotel. The magnificent structure in red sand stone is one of the popular tourist spot.
Lalgarh Palace
Lalgarh Palace was made as an extension to the existing Laxmi Niwas Palace by Maharaja Ganga Singh. Now it is a residential place for Bikaner's royal family. One part of which converted into museum and remains open to public with a little entry fee where one can see paintings, utensils, royal horse carts belong to the family.
Ganga Singh Museum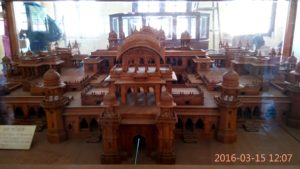 This is a small state museum located in the mid of city, it is dedicated to the life of Maharaja Ganga Singh. This museum display many life size paintings of Maharaja Ganga Singh, skin of tiger hunted by him, armors and his royal clothes.
National research centre on Camel
It is a research center for camel about 25 km from Bikaner city. Here, you can see hundreds of camels of different breeds. A little museum is there to provide information about different kind of camel. Small shops are also there for selling purses, bags and sandals made of camel leather.
Entry fee at Camel research farm is Rs. 35/- here you also get chance to taste camel milk ice cream on the entry gate of farm.
How to reach Camel research Farm, Bikaner : This Camel research farm is located in remote location, so you book your journey two way. In 300/- you can book an auto that will take you to the Camel research farm and will wait for an hour to take you back to Bikaner city.
Karni Mata Temple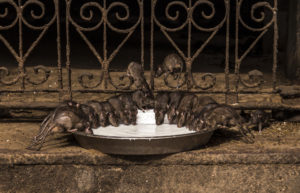 This is a unique temple of Karni Mata, located 30 km away from the city. You will find thousands of rats in every corner of temple but people consider them holy and offer them milk. For some visitors it become equally adventurous along with religious.
How to reach Bikaner
Bikaner itself has domestic air port, where daily flight between Bikaner and Jaipur is running. City is well connected with highway and train route. Network of Buses is very good in Rajasthan so you can easily reach nearby tourists city like Jaipur and Jaisalmer. For local transport auto rickshaw is easily available in the city.
If you find this post useful, please share and leave your valuable feedback in the comment box.
Subscribe for further travel update