Have you ever heard about the largest wall of India? That sometime regarded as India's own China Wall. In-spite of having interest in history and heritage sites, I was unaware of this very fact until, I watched a documentary on the Great wall of Kumbhalgarh fort. It is one of the most honored fort of Rajasthan, and UNESCO heritage site, under the category Hill fort of Rajasthan. Great history and grand structure of this fort, forced me to plan one day Kumbhalgarh trip from Udaipur.
One day trip to Kumbhalgarh from Udaipur
I took a cab from Udaipur for whole day trip to visit the Great wall of Kumbhalgarh. On returning back to Udaipur, I also visited site of Haldighati and museum dedicated to Maharana Pratap.
We got the first glimpse of Kumbhalgarh Fort, when we were just 2 km to reach. This fort is built on the hilltop at an elevation of approx 3,600 feet but it was really difficult to figure it out from a distance, because fort wall create camouflage effect with Aravalli range.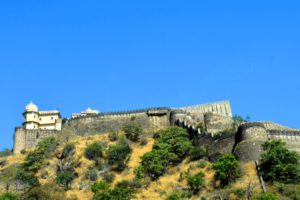 Great wall of Kumbhalgarh
As I said, Kumbhalgarh fort is famous for its wall, which is largest in India and second largest in the World after China. I was very keen to see this Great wall of India. But, this 35 Km long wall run up & down over the hilly terrain, so it was difficult to imagine the size of wall from a single spot.
As we entered through the main fort gate, one temple 'Laxmi Narayan mandir' was on the left side. We could see the fort palace on the hill top, so moved straight towards that. A zig-zag path with various gates was leading up to the top of hill.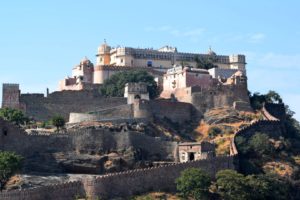 As we were moving upward the view of surrounding hills and the great wall, was becoming more amazing. Getting a larger view of this winding wall was very satisfying, because it was the highlight of the Kumbhalgarh fort and I was there for it.
This wall is 15-20 feet wide at the frontal side of Kumbhalgarh fort, while rest of wall is also 10 feet wide, so that 3 to 4 horse can move together. Height of this wall vary from 40 to 20 feet as per the topography of the region.
2400 year old Cyclopean wall of Rajgir (Bihar) was quite similar to this fort wall. Some part of that ancient wall is still left intact.
This fort wall would have been built so wide, may be to facilitate patrolling, for supplying of armors to multiple watch post and to keep an eye on outsider enemy. It is said that Rana Kumbha used to burn 50 Kg of Ghee and 100 Kg of Cotton daily to lit the Kumbhalgarh fort wall.
Monuments inside Kumbhalgarh Fort
In the mid way there was a room, identified as the birthplace of Maharana Pratap, though it was locked. On further moving up we reached to Kumbha Palace, a building divided in two section as Mardana ( for men) and Zanana ( for Women).
Rooms of the Zanana section has several paintings of elephants, crocodiles and camels to enhance its beauty. A small Ganesh temple was also there in the corner of the Zanana courtyard. See Also: most beautiful fort palace of Rajasthan.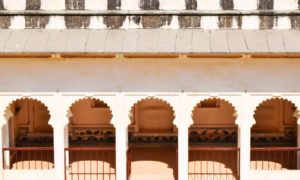 Then we moved to the top most section of the Fort, the Badal Mahal ( Palace of clouds) build by Rana Fateh Singh in 19th century. From there, it was easy to have best panoramic view of surrounding forest, hill and the famous fort wall of Kumbhalgarh.
If you observe from the top, you can see several temples and other similar structure dotted throughout the forest within the periphery of fort. As per record there were almost 360 ancient temples, out of which 300 belonging to Jain and rest to Hindus. Some important temples are still standing with pride, having unique and brilliant architecture.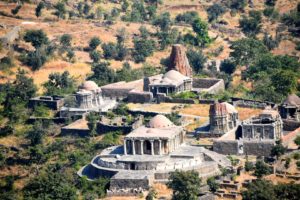 Neel Kanth Mahadeva, temple of Lord Shiva is one of the revered temple inside the Kumbhalgarh fort complex, having a 5 feet Shiving. The temple has a huge dome on the top and ceiling is supported with 24 pillars. Maharana Kumbha used to start his day with the worshiping at this temple. Read: Ancient temple having largest Shivling
Various other Hindu & Jain temples like Ganesh Temple, Kheda Devi temple, Vedi temple, Parsva Natha temple, Bawan Devi temple, Golera & Pital Shah Jain temple were also there to enrich the history and heritage of Kumbhalgarh fort .
Thing to do at Kumbhalgarh
Most of the important monuments are visible from the top of the fort, but if you want to explore them more, you need to track through undulated path in forest that might be time consuming and tiring.
And if you are on a day-trip to Kumbhalgarh, it is not possible to explore these hidden gems in a day. In a day trip you can only see the fort palaces and few temples located near the frontal wall. So, for a thorough exploration trip, you can plan your stay in Kumbhalgarh itself, which also give you opportunity of exploring Kumbhalgarh wildlife sanctuary.
Kumbhalgarh History
Rana Kumbha, a Rajput ruler of Sisodia clan build this magnificent fort in 15th century. Kumbhalgarh fort is the 2nd largest fort of Rajasthan after Chittorgarh fort. Some historian believe that the fort share the same location where King Samprati, grandson of Mauryan emperor Ashoka build his fort during 3rd century BC.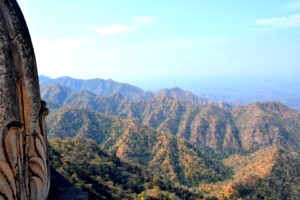 The strategic location of the fort proved this one of the unbeatable and invincible fort during the course of history. Though, there is one instance, when force of Akbar captured the fort in 1576.
From 1457 to 1459, Ahemad Shah (Sultan of Gujarat) took many attempt to capture the fort but every-time he got fail. In 1467 Mahmud Khalji, also tried to capture the fort, but remains empty hand.
Kumbhalgarh played role of a refugee center also for the Mewar ruler. When Chittor was under siege in 1535, Prince Udai been smuggled to the fort who later reached to the throne of Mewar.
Kumbhalgarh fort also get honored for being the birthplace of Maharana Pratap. It is said that Mughal's army defeated Maharana Pratap in Battle of Haldighati and taken over the control of Kumbhalgarh fort. But Maharana Pratap, one of the most heroic figure in Indian history did not sit idle but continuously creating problem for the Mughals by guerrilla warfare, and finally recaptured the fort in 1585.
Light & Sound show at Kumbhalgarh
If you want to know more about the history of Rajput rule in Kumbhalgarh and nearby region, then you should watch a 45 minute light & sound show, organised everyday at 06:45 PM.
After the show get over, Kumbhalgarh fort use to left illuminated for an hour that create magical environment. Light & sound show cost Rs. 100/-
Rajasthan Tourism Department organizes 3 day art & cultural fest annually in the Kumbhalgarh fort. Where you can enjoy several musical and dance events related to cultural heritage of Rajasthan.
Best way for Kumbhalgarh trip from Udaipur
Udaipur, almost 100 km away is the main gateway to visit Kumbhalgarh, whether you come from Delhi or Mumbai. Lake city Udaipur is also a famous tourist place of Rajasthan, so I clubbed my trip with Udaipur. I spared a full day for Kumbhalgarh trip from Udaipur.
Initially, I was thinking to explore Kumbhalgarh via state transport bus. But soon I realized that no Bus go directly to the Kumbhalgarh but it can only drop at junction point of Kumbhalgarh and Jodhpur road. For further 30 km it need to book cab.
So, I found booking a cab directly from Udaipur to Kumbhalgarh is more convenient and more economical too, as this way I could also visit Haldighati pass in the same trip.
Here, I first time experienced OLA Outstation cab, which was actually more comfortable and professional ride. The best thing of Kumbhalgarh-Udaipur trip was, it pass through scenic Rajasmand valley, which have little interference of human development.
I did not find any town en-route, though the highway was quite smooth except the last 30 Km. It took approx 2 hour to reach Kumbhalgarh fort from Udaipur and natural landscape made this ride more enjoyable.
Entry fee and timing: Kumbhalgarh fort opens at 9: 00 AM and entry stopped at 05:00 PM. Entry fee at the fort is Rs. 25/- for Indian and SAARC countries.
Maharana Pratap Museum, Haldighati
In return journey, we visited the Haldighati pass, where Mughal emperor's force had defeated the Maharana Pratap. This pass get its name from the clay of the region which almost look like turmeric ( Haldi). A museum is there to tell about the brave Maharan Pratap, who never bowed down against enemy. Here, you can see the grave of Chetak, horse of Maharana Pratap.
If you find this post useful, Explore more Historical & Heritage sites of India, on Explore my Ways
& share your valuable feedback in the comment box.