The site of Gujarat, where Lord Krishna chose to settle down and established his Kingdom after leaving Mathura (his birth place). As per Hindu mythology, Lord Krishna asked the Sea to give some land for establishing his capital. Accordingly the Sea receded back for offering piece of land.
Then, Lord Krishna created the twin city of Dwarka and Bet Dwarka with the help of Vishvkarma. Bet Dwarka as his residence while Dwarka as his administrative office. Thereafter, Lord Krishna called as Dwarkadhish in Dwarka.
Visitors guide of

Dwarkadhish temple
As per Hindu religion, Dwarka is the most sacred place for Hindus, and it seems quite logical. As, Dwarka is the only place which is among the Seven ancient holy cities (Saptapuri) and one of the famous Char-Dham as well. Where, Chardham and Saptapuri are the most sacred sites in Hindu religion. City of Dwarka is also home of Nageshwar, one of the 12 Jyotirling.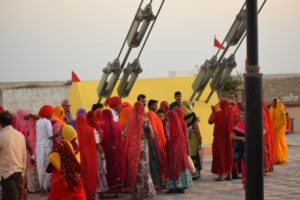 Dwarka means the gateway to salvation, that's why the city also referred as Mokshapuri, Dwarkamati and Dwarkavati. In the 8th century, Adi Shankaracharya had established one of his four Peetha here as Sharda Peetha ( Dwarka Peetha).
Also read: Puri, Chardham on eastern shore of India
Being the most sacred place, Dwarka attracts millions of pilgrims. It is also believed that original city of Dwarka, belonging to Lord Krishna swallowed back by the Sea, right after the death of Lord Krishna. At this point, it is not easy to say that it is completely mythology or base on some evidences.
Dwarkadhish Temple facts
As the city of Dwarka belongs to Lord Krishna, it has many notable temple dedicated to Lord Krishna. Among all, Dwarkadhish temple standing on the confluence of Gomti River and Arabian Sea is the main pilgrim center of the town.
It is said that Vajranabh, the great grandson of Lord Krishna had built the very first temple at this location almost 2500 year ago. That original structure of Dwarkadhish temple had been destroyed by Mahmud Begada in 1472. Later Raja Jagat Singh Rathore rebuild and enlarge the complex in 16th century, that's why it is also called Jagat Mandir.
Dwarkadhish temple build with limestone within a large compound approx. 60×60 meters. It is a five stories temple, its spires touches height of 78 meters and the complete structure is supported with 72 decorated pillars. This temple shares the typical style of Chalukaya temples, exterior of the temple and its pillars have intricate carving and sculptures.
Main sanctum of the temple house the four-arm statue of its main deity 'Dwarkadhish'. It is believed Mirabai, who dedicated his whole life to Lord Krishna had been merged with this idol at this temple.
A big flag is also hoisted on Dwarkadhish temple, which is changed five times a day. Devotee hoist this huge flag through their expenditure, when their wish got fulfilled.
Visiting time of Dwarkadhish Temple
The temple opens for devotees from 6.00 am to 1.00 pm and 5.00 pm to 9.30 pm. Everyday, thousands of pilgrim visit this temple and offer their prayer, while on the occasion of Janmasthami the crowd increase several manifolds.
Carrying camera/mobile or any leather object is strictly prohibited to the Dwarakadhish temple.
The Dwarkadhish temple lies on northern bank of Gomti river and Sudama Bridge connect the mainland to Dwarka beach. As you cross this bridge suddenly you land to a different zone ( For crossing the bridge you have to take a entry ticket in nominal price).
Dwarka Beach
Here, you will see various option of changing your mood. You can ride on the back of decorated camel or can enjoy the quad-bike.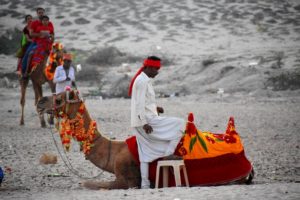 Dwarka beach is also one of the beautiful beaches of India and Sun-set is the main highlight of this place. There are several benches on the way from bridge to beach, where you can sit and enjoy the beautiful sight.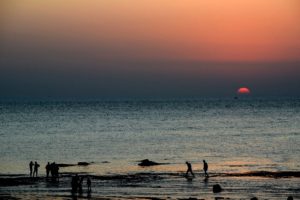 It is very mesmerizing to see Gomti river merging with the Sea near Sumudra Narayan temple. All these elements create a beautiful scene that make your day.
Apart from the main temple, there are many other temples at the Gomti Ghat dedicated to Samudra, Lakshmi and Saraswati. Pilgrim like to take holy dip in the Gomti River before visiting Dwarkadhish temple.
As I previously said, Dwarka & Bet-Dwarka are the twin city belonging to Lord Krishna. So, if you are willing to explore the Bet Dwarka along with Nageshwar Jyotirling, you can try the local sightseeing tour available in Dwarka city.
Underwater study of Dwarka
Many researches have been carried out to explain the theory of 'The lost city of Dwarka'. Archaeological study of 1983-1990 state that there was a well built fortified township with several sectors, extended up to a mile from the present shore of Dwarka.
Some pillars and parts of broken walls dating back to 15th century BC, still submerged under water. As per Dwarka's underwater study by Marine Archaeology Unit, the plan & layout of this submerged town is almost match with the plan mentioned in ancient texts.
How to reach Dwarka
Dwarka itself have a railway station which connected to the Jamnagar-Rajkot rail route. Rajkot is the nearest airport to Dwarka at a distance of 225 km.
Major cities of Gujarat also have a good inter-connectivity via road network. Govt and private agencies operate number of Buses (Sleeper/Seater) connecting to major town like; Somnath, Bhuj etc.
If you find this post useful, Explore more travel ideas on Explore my Ways
& share your valuable feedback in the comment box.