When you talk about tourists places of Rajasthan, don't forget to mention Jodhpur. It is equally important tourists destination as Jaipur or Jaisalmer. It is popularly known as Blue City of Rajasthan, as most of the house in older part are painted with a blend of lime stone and indigo, give blue shades to the city. Jodhpur has many places to visit but Mehrangarh fort & Jaswant tada are the top attraction point in the city. This city also share Thar desert with Jaisalmer.
The Jodhpur city was founded in 1459 by Rao Jodha, as a capital city of Marwar State. You can find Marwari people everywhere in country doing business, were originally belongs to this Marwar region.
Jodhpur is famous for its handicraft items like glass Bangles, Carpet and traditional clothes with nice embroidery. A number of dishes from Jodhpur is famous all over India, such as Mawa Ki Kachori, Pyaaj Ki Kachori, Spicy Mirchi Bada, Dal Bati Churma etc.
Top attraction in Jodhpur city
Mehrangarh Fort
The most important attraction of Jodhpur city, even when you book your stay each hotel advertise themselves as fort view. But don't worry you can see the fort from anywhere in the city because it lie on the plane 400 feet higher than the city.
Mehrangarh fort is among the largest and masculine fort of India. It was built around 1460 by Rao Jodha and there are several palaces inside the fort, known for their intricate carvings and expansive courtyards.
The museum of the Mehrangarh fort is one of the well-stocked museums in Rajasthan and also among the top 5 museum of India. Sword of Samrat Akbar is a notable attraction of Jodhpur fort museum.
From the fort you can have the most beautiful view of this blue city. You can have camel ride at the entrance of fort in exchange of little money.
Jaswant Thada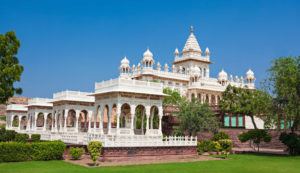 As you approach towards Mehrangarh fort, Jaswant Thada lies on the way and approx 400 meter before this fort. It is actually cremation ground for the royal family of Marwara. Maharaja Sardar Singh of Jodhpur State built it in memory of his father 'Maharaja Jaswant Singh II'.
The cenotaphs (Chhatri) and domes are decorated with intricate carving on white marble. It resembles like a temple and some time call as Tajmahal of Marwar. It also display a variety of paintings and portraits of Jodhpur rulers.
Umaid Bhawan Palace, top luxury hotel of the World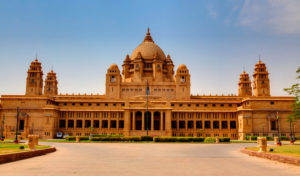 Maharaja Umaid Singh had build this beautiful building in Jodhpur for residence purpose. In 1977 the palace converted into a heritage hotel managed by Taj Hotels and one part of which used as residence of the royal family ( one of the world's largest private residences).
Maharaja Umaid Singh was the grandfather of the present owner Gaj Singh ( Bapji ) of the palace. Umaid Bhawan Palace won the best heritage hotel award of the world and it is very much costly to stay there. Even a single night stay at Umaid Bhawan Palace can cost you 10000 USD.
The purpose behind the construction of this Palace was to provide employment to thousands of people during the time of famine.
How to reach Jodhpur
The city have direct flight from most of the major Indian city. Jodhpur also have good connectivity by road and rail network with other city of Rajasthan/India. For commuting within city auto rickshaw is the best economical option.
If you find this post useful, please share and leave your valuable feedback in the comment box.
Subscribe for further travel update