Walking on the beach is always a soothing & mind relaxing thing, but have you experience walk on the Sea bed. May be, it sound same but actually it is different. India has so many wonderful beaches but Chandipur Beach of Odisha has its own importance.
Chandipur is small town located on the eastern shore facing Bay of Bengal. If you are good at General Knowledge, possibly you would know Chandipur as a DRDO's launch-pad for Missile test fire. Now a days, Chandipur attract lots of visitor from nearby states to exhibits its unique feature.
Chandipur,

Hide & Seek Beach
Beach of Chandipur is also popular as Hide & seek beach, because Sea wave in Chandipur area touch the shore during high tide and disappear when it recede back up to 5 km during low tide. I had observed tiding effect first time, during my visit to Sundaban.
At the time of low tide, you get opportunity to walk on this long stretch 3 to 4 km towards Bay of Bengal. And walking on the sea bed is the main attraction of Chandipur instead of jumping in the wave.
As the Sea wave move back slowly, it left so many smaller fish, sea shells along with other marine ingredient. Red crabs or snail also come out of there hole and can easily be spotted all over the sea bed.
Most of the fisherman or someone whose life depend on this peculiar ecology rush towards the sea to collect fish or similar items.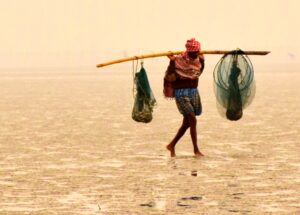 But as a tourist or visitor walking on the sea bed is must do activity at Chandipur beach. Walking on this stretch feels like walking on a wet blanket.
And I will recommend walking with bare foot so that you can feel the softness under your feet. During your walk, you can encounter with some unusual animal like I had found.
Apart from the gentle walk you can also enjoy the Sun set or Sun rise view at Chandipur beach.
Note: If you are expecting jumping & playing against the Sea wave from your Chandipur visit, then its not for you. As the time of high & low tide change day to day, and its also possible that high tide come in mid night. So, in your 1 or 2 day visit you may not even see the sea touching shore.
How to reach Chandipur
Chandipur is 15 Km from Balasore, the nearest rail-head, where Balasore is on the main Howrah-Bhubaneshwar rail route. It takes 3 to 4 hour to reach Balasore from Bhubaneswar via train or road route.
Auto rickshaw/Taxi is easily available at Balasore station and charge around Rs. 300/- to drop you at Chandipur.
Place to visit near Chandipur
Chandipur is mainly famous for its Hide & Seek beach, but if you are religious person you can visit some nearby temples. Tour operators in Chandipur provide half day trip for nearby temple visit, cost around Rs. 1500/- in private cab. This Half day temple tour from Chandipur include visit of 5 most famous temple near Balasore.
Balaramgadi Temple: At the bank of Budhabalanga River, just 2 km away from the Chandipur beach. This temple has a water pond and a rabbit park, you can enjoy boating and feeding the colorful fish in this pond.
Khirachora Gopinath temple: One of the most prominent and oldest temple of the region. This temple dedicated to Lord Krishna and story from the Krishna life carved on temple premises wall, that give it a colorful appearance.
Emami Jagannath temple: A newly build temple by Emami group with neat & clean environment. Its architecture is inspired from Konark sun temple and Jagannath temple of Puri.
Nilagiri temple & King palace: A historical place in Balasore, it was the residence of King of Nilagiri before independence. Most of the part of this palace are now in ruin.
Panchlingeshwar temple: Most sacred temple around Balasore, located around 10 km from Nilagiri temple. This temple is situated on the top of Nilgiri hill and famous for five Shivling situated under the stream of water. Here you have to walk approx 2 km from the car parking and climb 150 steps to reach the temple.
If you are not very much keen to rush from one temple to another, then you can avoid this temple tour as it become quite hectic & tiring. Apart from the temple tour, you can plan full day trip of Similipal National Park or Kuldiha forest from Chandipur itself.
Hotel in Chandipur
In-spite of being a small town Chandipur have several budget hotels; Subham hotel, Chandipur Hotel and Golden hotel are most suitable in terms of location, they are just at stone's throw away from beach.
Panthanivas, a guest house operated by Odisha's tourism department located right on the beach, but for that you have to book in quite advance through their website.

If you find this post useful, don't forget to share your valuable comment,
Get more travel ideas on Explore my Ways.