Are you in dilemma, whether to choose hostel on your backpacking trip to India or just go conventional ? Then, this post is specially for you. When you search any travel/hotel website for budget accommodation and short the results according to price, you must have seen first few results are related with Dorm-bed or Hostels. And it is very common, that people like you and me just scroll down to other results. But why so?
May be because we don't know exactly what are these hostels and what kind of stay they provide. Is it similar to staying in a regular hotels or something more complex than its name. So, people exclude them from their choice just to avoid any unseen problem.
There may be another doubts like;
Whether it is OK to book such type of stay or not?

Is it OK to stay with some unknown peoples?

Isn't it awkward to share a room with someone I never met?

Not even I will share a room, but washroom too.
And it was same for me too, till I did not experience it in real.
Choose a Hostel in backpacking trip in India
But sharing some space should not be a problem because when we travel via train on long route, we do the same. Some trains routes in India are so long that it take almost 48 hour from one destination to other. And in the mean time, we sleep on berth one above the other and use same washroom. That's what we are supposed to do in hostels.
I was planning my next backpacking trip to Rishikesh, for getting thrill of Bungee Jump. This time, I decided to go for hostel options, so that I can have the real picture instead of complete guess.
Also read: First experience of Homestay in Gangtok (Sikkim)
Hostels in Rishikesh for backpackers
I chose one from the goStop hostel chain, on the basis of price and travel rating. I booked a bed in 6 bed mix dormitory. The pictures of the hostel also very nice but actually I was not expecting to much.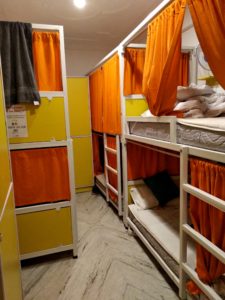 This hostel was located on the Badrinath highway in the Tapovan area of Rishikesh. Most of the tourists prefer to stay in this area because of vicinity to important landmark of the Rishikesh town like; Lakshman Jhula and Ram Jhula.
On reaching to reception desk, some young faces cheered with welcome smile. Completed formality like; showing Identity proof, noting down the details in Check-In/Check-out register, similar to what we do at regular hotel.
Then, one guy took me to show my bed in particular dormitory and handed over a cupboard key. There were one cupboard/ locker with respective to each bed. It had three double Decker bed with an attached washroom and a balcony.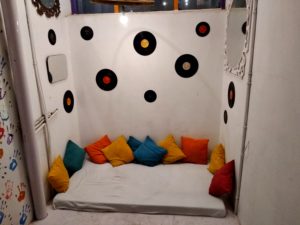 As I entered, it was the bright and colorful ambiance that drawn my attention. Every thing was very well managed with decorative elements. Lighting, posters, bedding, curtains everything was sharing an impressive color theme.
And the more amazing thing was, I met some more guys as dorm partner. I was hesitate to stay for a single night but some of them were staying there from more than 15 days. And people were so comfortable there, like it is there regular hostel, though there were some rule to stay.
As the saying, first impression is the last impression so my first impression towards this hostel was very good. I chit-chat with other traveler in the common area and share our experience of travelling.
Someone told about nearby places they covered, while someone told about where we can have lunch/ dinner on reasonable rates. And something personal too, so it was a good way to know each other and make new friends.
From my own experience, I try to explain some of the points that may help you or clarify some doubts about hostel, mainly in India.
Misconception about Hostels in India
Some time people think that these kind of stay is just for them who can't afford a nice comfortable stay. So its just a provision of providing a roof for homeless one. But you must understand its choice of the people rather than a compulsion.
I have seen many traveler who earning in 6 figures but they love to stay at such hostels.
Benefits of choosing Hostel over Hotel in backpacking trip
Need is the mother of new idea! So, hostel come into picture for proving cheap and comfortable stay at quite low price compare to conventional budget hotels. But you can find multiple reason of choosing a bed in a hostel:
> If you are the guy, who are planning a long trip but budget is your main concern.
> When you are looking a better option in budget but privacy is not an issue for you.
> You are planning a trip in group, then booking a hostel will make your trip more enjoyable. Every one can stay and enjoy together.
> Most of the hostel provide far better facility than that of any budget hotel like wi-fi, AC accommodation, restaurant etc.
> If you are a SOLO TRAVELER. Solo traveler does not mean to travel and be in isolation but Its an opportunity to meet other like minded people.
> If you consider yourself an introvert and find it difficult to make friends, then its just for you. Its an opportunity to expand your comfortable zone. Mingle with others, share your stories and make new friends.
> You don't want to pay more just for FEW HOUR of sleep, because your main goal is to explore the destination and other activity.
> Your fellow traveler can also help you in knowing the new city you just landed in. So, you easily get all the required information from the perspective of a traveler like; Where to eat, where to shop and what other thing you can do as a traveler.
Tips for choosing a right Hostel in Indian
Most of us book our stay online, so its better to consider some key factors to choose a hostel in backpacking trip. Most of the hostels specifically mention the facility they have. And if you do not find any in the list, you should not expect it too.
> Dormitory size and how many beds are there, so you can have an idea about how much of breathing and walking space you will get. Some hostel have 4 to 8 bedded dormitory while some have up-to 20 bedded dormitory. Choose you space wisely, so it can provide friendly environment instead of suffocating.
> Is it a Single sex dormitory or Mixed bedded. Sometime hostel reserve dormitory for female only to provide comparably safe environment.
> Is it have provision of Separate locker for each individual for keeping your belonging safe.
> If it has Privacy Curtain, and individual Reading Lights.
> Whether the dormitory has Air conditioner or not. The dormitory with bunk bed should have Air conditioner else it may uncomfortable to spend your night.
> Some of the hostel provide Complimentary Breakfast, while some not, so take it a note as it affect your cost of stay. So, if two hostel are available in same price but one are providing free breakfast, you know which to choose.
> Costumer Reviews is the most important factor in choosing your accommodation in a hotel or hostel. These days booking websites encourage customers via offering some cash back or credits for posting a review of property. And that is quite useful for the new traveler. Sometime you can't trust on the photograph provided by the property owner so, take a look at traveler's photo.
And it is only the reviews from travelers that tell about how well-behaving, helping, professional staff the hotel or hostel have.
Things not to expect from Hostels in India
> Unlike hotels, hostels usually DO NOT provide towels, Shops, Shampoos and other washroom consumables, so pack it with you while planning for hostel stay.
> You will not get facilities like; TV, room service or bell boy. Though, you can expect sleeping sheet in all the hostel in India.
> You are going to share bathroom with other travelers, so keep flip-flop with you as common washroom may not be as clean as in any hotel.
> A SOUND SLEEP, yes it is bonus if you get. Some of friends may not like to sleep as early as you or they may be party guys. Even if you are lucky to have very disciplined fellow but you can't stop someone snoring. So, Its better to have Earplugs and a Blindfold that will definitely help you in getting a good sleep.

> No matter how good security are there in the hostel but there is always a chance (may be 0.01%) that your valuable thing may get stolen like; Money, Cards, Passport or any other important document. So, why to take chance keep them with you, when you are out of hostel for exploring city.
Hostel accommodation in India
Few years back, there was not any such concept of staying in hostel on a trip in India. But these days, people are looking for Hostel in their backpacking trip.
As on date, you can find many small and big hostel chain running in India and growing their network every day. Still the concept is limited to big cities or much popular destinations like Delhi, Rishikesh, Jaipur etc.
Zostel is the most popular and biggest hostel chain in India.
goStops is another hostel chain which is quite stylish and vibrant.
Moustache and Backpacker Panda also expanding their hostel chain in India.
The Hostel Crowd and Vedanta Wake Up have also setup some great hostels in South India.
Difference in Indian and European hostels
Not really, even it is better to say that most of these are inspired from the hostels of European countries. But you can find hostels in every small & big city of Europe, while in India facility limited to bigger cities. Every hostel have their own rules n regulations. So, every hostel will give you different taste and experience.
Though, renting a bed in popular hostel chain in India may cost you similar to a budget hotel, but in Europe Hostel are quite cheap in comparison to Hotels.
Conclusion
Do you still feel that its not your type or staying in hostel will not suit your personality ? Give it a try at-least once, and I will not say that you will get amazing experience on your first stay, but definitely it will give you general picture of what hostel is about.
Whatever will be your experience, I bet you will love the concept. You will meet many people some like you some not. After all it will enrich your experience and attitude about travelling. Read more about my backpacking trips in India.
Is this post useful to you? Have you experience any hostel stay, what is your view about the concept??