Bishnupur or Vishnupur is the cultural & heritage capital of West Bengal! I am saying this because Bishnupur have more number of historical temples than any other historical town of West Bengal. Apart from the historical Terracotta temples, Bishnupur is also the center of art & music of West Bengal.
As per historical records, Bishnupur and nearby region was the part of Mallbhum. Malla dynasty ruled over this region more than a millennium. No other power has interfere with Mallas in this area, and the rule continued till independence.
Terracotta temples, pottery, jewelry along with other decorative items helped Bishnupur in getting recognition throughout country.
Terracotta temples in Bishnupur
Bishnupur mainly known for its uniquely architectured temples, which have curved roof, and decorated with terracotta art, made from the locally available laterite clay. Distinctive architecture of these temples seems to be inspired from the village huts. You can say these temples embrace typical Bengali style. The famous Dakshineshwar temple of Kolkata share the similar theme of architecture.
These temple have flourished Gaudiya Vaishnava faith in west Bengal, a religious movement of the sixteenth century in eastern India. Ruler of Mallabhum had built several temples dedicated to Krishna or Rama for strengthening Vaishanavism and to express their devotion.
Around fifteen of such temples or monuments dotted throughout the Bishnupur town. I starting my temple trip from the northern end of the town.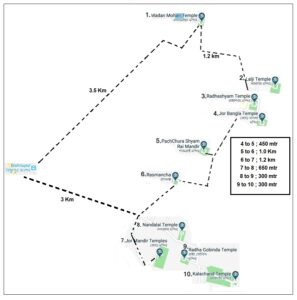 Madan Mohan temple
It is one of the most beautiful temple in Bishnupur, located in the North of the town, 3.5 km from Bishnupur railway station. Malla King Durjan Singh Dev had built this temple in late 17th century. Madan Mohan temple standing on a raised square platform having curved roof and single dome (Sikhar) above it.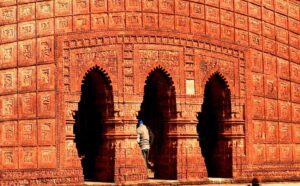 Frontal face of Madan Mohan temple has hundreds of richly carved terracotta panels. These panels display many mythological stories, mainly episodes from Ram Leela or Krishna-Leela. It has three arched entrance, column of which look very much attractive, every inches on them is covered with beautiful intricacy.
Lalji Temple
A 10 minute walk from Madan Mohan Temple towards south lead to Lalji Temple, another famous temple of town located in a big park complex. Like Madan mohan this temple also dedicated to Radha and Krishna.
Lalji temple also have a square base, curved roof and a dome shaped Shikhar (termed as ekratna temple), look similar from all four side. Malla King Vir Singh-II had build this temple in 1658.
Radhashyam temple
Another Radha Krishna temple few meter from the Lalji temple, build with typical Bishunupur style (Curved roof and a Sikhar above). King Chaitanya Singh had built this temple in 1758 and still in use for daily worship.
Jor Bangla temple
Jor Bangla temple is another landmark of the town situated adjacent to Raddhashyam temple. Malla King Raghunath Singh had built in 1656. It is quite different from rest of Bishnupur temples, it is more like twin hut actually.
Here you have to buy entry ticket of Rs. 25/- to visit the temple. It is a collective ticket and the same can be used for Rashmancha and Paanch chura Shyamrai Temple. This temple is not very big but beautiful, detailed terracotta work depict Mahabharata, Krishna-leela.
Paanch chura Shyamrai Temple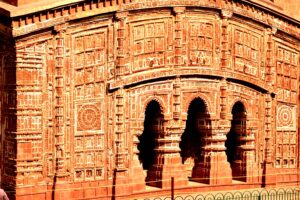 Continue further 600 meter on Rajbari road to reach Shyamrai Temple, Malla King Raghunath Singha build this temple in 1643. Because of Five tower this temple is also called the 'Pancha Ratna' or 'Paanch chura' temple.
This temple standing on low plinth having triple-arched entrance on all four sides. This temple display best of terracotta art, 'Ras Chakra' or the lovemaking scene are the explicitly displayed on the terracotta panels of the temple walls.
Rashmancha
It is biggest of all the heritage monuments of Bishnupur. This monument has a square base having side of 25 meters, and roof supported with 108 pillars.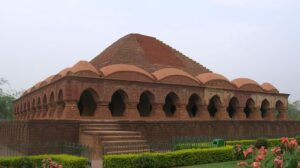 Because of so many pillars and arches it look like a mosque, but has big pyramidal roof in centre. Mallabhum king Hambir Malla Dev (Bir Hambir) commissioned Rashmancha in 1600 as a theater, venue for religious or cultural event.
Other terracotta temples in Bishnupur
Jor Mandir a temple complex having three temple in a row. Jor Mandir also stands for Pair of temple, two temples are quite similar to each other, while third one is comparatively smaller. Malla King Krishna Singh build these temple in 1726.
Ram Madhav temple is the only temple commissioned by any Queen. Churamoni Debi, wife of Malla king Krishna Singha had established this temple in 1737. Kalachand temple also situated in the same temple complex.
Nandlal temple, Radha Govind temple are other important temples in Bishnupur build on similar theme.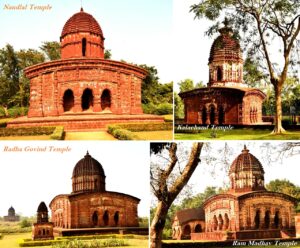 Commuting within Bishnupur
Auto-rickshaw or e-rickshaw ( locally known as 'Toto') are readily available for commuting within the town. You can also hire Auto or Toto for whole trip ( for visiting all the monuments/temples) that cost in between Rs. 300/- to Rs. 400/-.
If you are solo traveler or find no problem in walking, it will be best way to visit all these monuments and the town also. Four to Five hour is more than enough to visit all of these terracotta temples of Bishnupur.
How to reach Bishnupur
Bishnupur railway station is the intersection point of Howrah-Adra & Bhubaneshwar-Adra route. Numerous train are available on both the route, approximately it take 4 hour to reach Bishnupur from Howrah.
Bishnupur also have good connectivity with road ways too, it lies on National Highway-14 and State highway-2. Several bus ply from nearby town such as; Durgapur, Kharagpur, Asansol etc. Even, you can find direct Bus for Bishnupur from Esplanade bus stand (Kolkata ) that take almost 4 to 5 hour.
Also read: Only World heritage site in West Bengal
If you find this post useful, don't forget to share your valuable comment,
Get more article on Explore my Ways.