As you reach Jodhpur city, Mehrangarh fort will be the very first thing that draw your attention. It is standing tall above the city and visible from all part of the city. Even all the hotels sell their room on the name of Fort view. This is one of the massive and muscular fort of India, situated 400 feet above the city. The wonderful museum of Mehrangarh fort is among the top 5 museums of the India.
Visitors guide of Mehrangarh Fort, Jodhpur
Mehrangarh fort is pride of Jodhpur and was build by Rao Jodha in 1459 after shifting Marwar capital to Jodhpur from Mandore. The fort was build with maximum safety features like its location, thick and more than 100 feet high walls and several gates to provide extra safety barrier. These gates also signify the victory over enemies like Jaypol and Fattehpol.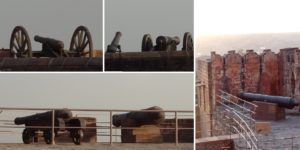 It is said that foundation stone of this Mehrangarh fort was laid by Karni Mata of Deshnok. People believe that this fort is still under the control of Rathors only because of Karni Mata blessings. During the start of construction, a man named Raja Ram Meghwal buried alive in the name of offering to God.
Mehrangarh Fort Museum
On entering main gate of the fort, you see a family tree of royal family on a stone slab in your left. From the same place you have to buy a entry ticket of the Mehrangarh museum cost Rs. 60/- (for Indian).
The museum and palaces are located on the upper part of fort so you have to walk on a steep rampart and may be tiring for kids and senior people. A lift is also available near the main gate to directly take you to the museum but that will charge you extra Rs. 35/- per person.

The museum of Mehrangarh fort is equally important and famous, there are lots of things to watch out. There are some explicit galleries of Howdah (a twin wooden chair set to sit on elephant), Palanquins (Doli) and baby cradles (Palana).
Here, you can see different types of beautiful howdah some of them even covered with gold and silver. A golden palanquins is also highlight of the museum. Even, some of these had been captured from enemy after wining various battles.
Various ornamented and colorful baby cradle is enough to tell about there luxurious life. There are several big painting showing their larger than life moments.
Apart from their luxurious artefacts, there are lots of different arms, decorated cannons, furniture, coins of different periods etc. Sword of great Akbar is one of the most notable thing of Mehrangarh Fort museum.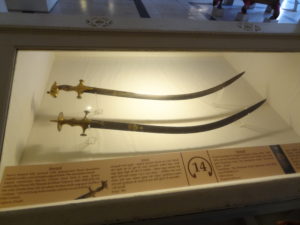 Palaces inside Mehrangarh Fort
Although this fort is mostly famous for its massive structure and its safety features, but it also has some very beautiful palaces like mirror palace (Sheesh Mahal) , flower palace (Phool Mahal) and cloud palace (Badal palace).
These palace were have top class facility of that time, you can imagine after seeing all these how luxurious life they used to enjoy. These palaces were decorated with imported glasses, furniture and with very beautiful carvings and still these palace look new and modern.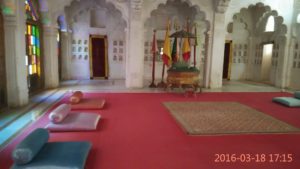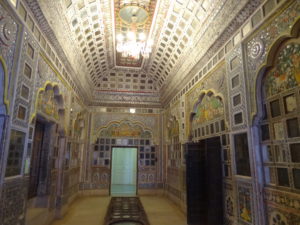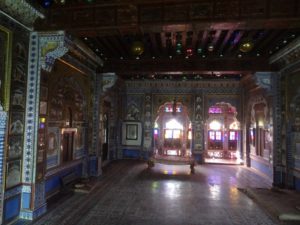 View from the Fort
There are other two important landmark of the city Jaswant thada and Umaid Bhawan Palace. Because this fort is located above the city you can have view of both of these places from Mehrangarh fort itself. From here you can also have overall view of the old city and you will know why this city called blue city.
Jashwant Thada is a cremation ground of Marwara's royal family. It was built by Maharaja Sardar Singh of Jodhpur State in memory of his father, Maharaja Jaswant Singh II. It is also called the Tajmahal of Marwar because it is constructed with white marble and decorated with intricate carving on it.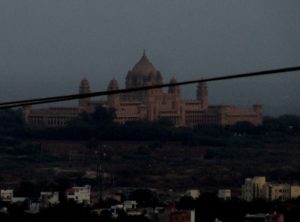 Umaid Bhawan Palace is an example of best fine architecture, which is also the biggest private residence in the world. Main motive behind the construction of this building was to provide employment at the time famine.
Now it is converted into a heritage hotel and in one part is the residence of royal family of Jodhpur. It is one of the best heritage hotel in the world but at the same time too expensive.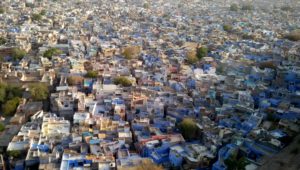 Apart from the best view of surrounding and the old city here you get chance of camel ride. Here, you can also enjoy folk music because most of the time you find some folk artist playing there music at the fort entrance. Spending your evening here and watching sun set is the best experience.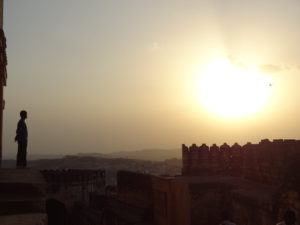 How to reach fort
Jodhpur city have nice connectivity with all means of transport air, train and roads. And when you are in the city any Auto rickshaw will drop you to the fort and charge you between Rs. 120/- to Rs. 150/-.
See why Jodhpur also known as Blue City of Rajasthan
Also see must see place of Rajasthan
If you find this post useful, please like and share and you may leave your valuable feedback in the comment