Before Independence, India was divided in hundreds of smaller princely states. And their rulers had build many forts and palaces for the protection of their states from outer forces, and sometime to exhibit their wealth & power. Still, these forts accommodate their glorious history and standing proudly. For creating these massive monuments, credit mainly goes to Rajputs and Mughals. You should not be surprised, if my list of top 10 historical forts mainly from north India have maximum entry from royal state Rajasthan.
Top 10 Historical forts in North India
1) Amer Fort, Jaipur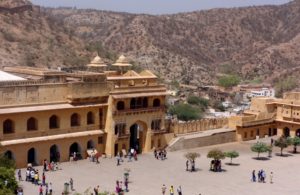 This magnificent fort featured in various movies and ad-films. Amer fort is situated at the outskirt of Jaipur, capital city of Rajasthan. Initially, Amer was the capital of the region, where Kachwahas ruled from 10th to 18th century.
This fort have several beautiful palaces, build over different time periods. Ganesh Pol, Badal Mahal, Sheesh Mahal are the main attraction of the fort. Apart from the several structure, Elephant ride at the Amer fort make it more special among tourists.
2) Golden fort (Sonar Qila)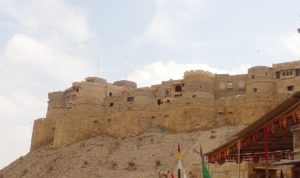 This wonderful fort located in the desert city Jaisalmer and famous as the only living fort of India. Rajput ruler, Jaisal Singh build this fort in 12th century with yellow sand stone, that shine like a gold during bright days.
People are continuously living within the fort in their ancestors house. There are many beautiful havelis within the fort, some of them been converted to hotel, while main palace in to museum.
3) Kumbhalgarh Fort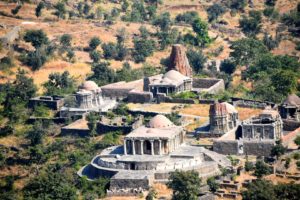 This fort mainly famous for its peripheral wall and as Birthplace of Maharana Pratap. Peripheral wall of this fort is the longest in India and second longest in the World, after China. This wall is almost 12 feet wide and 35 km long, running over the the hilly terrain.
There are many ancient temples within the fort periphery, that add the magic to the whole scene. It is said that there were more than 300 of such temples exist belonging to Jain & Hindus.
4) Chittorgarh Fort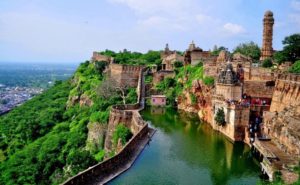 Fort of Chittor is one of the oldest and largest fort in India, covering an area of approx 700 acres, had served as the capital of Mewar. According to one theory, the initial construction of fort was done by Mauryan Ruler Chitrangda. By the beginning of 7th century, the fort had come under the control of Mewar kingdom.
This fort have seen many attacks; one of such battle between Alaudin khilji and Rana Ratan Singh has been featured in 2018 Bollywood movie 'Padmavat'. This fort also witnessed the Jauhar ( mass self-immolation of women) lead by then Queen.
All the four forts mentioned above, were included in the list of UNESCO World heritage site in 2013 as 'Hill forts of Rajasthan'.
5) Mehrangarh Fort, Jodhpur
It is the best example of Rajputana architecture and their strong will-power. You can simply call it Jodhpur fort, the most masculine fort, I have ever seen.
Marwar King Rao Jodha had build this fort in 1459, that is still standing with great pride over the hill top. Its robustness, its location and its planning made it one of the most invincible fort. A museum present within the Mehrangarh fort is one of the well stocked museum of India.
6) Junagarh Fort, Bikaner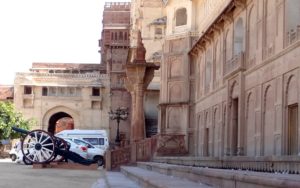 Personally, I found it the most beautiful fort, located in Bikaner city. Original fort was built by Rao Bika in 1478, and the fort name was Chintamani, renamed as Junagarh (Old Fort) in 20th century.
Unlike other fort of Rajasthan, this one is build on the flat surface. This fort have several beautiful palaces and a wonderful museum that exhibit the royal life style of then Rajputana Kings.
7) Red Fort, Old Delhi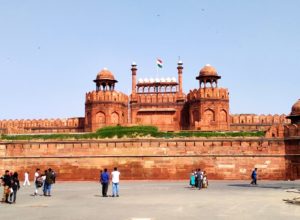 How can I skip Red Fort of Delhi, which is the venue of independence day celebration. This fort is also the icon of great history of Delhi. Mughal emperor Shah Jahan had build this wonderful fort as his residence in 1639 and for the next 200 year it remains the power centre.
Diwan-e-Aam, Diwan-e-Khas, Moti Maszid are the main structures within the fort. Every year on 15th August, Prime Minister of India address the nation from Red fort, you will always see tricolor waving on the red fort.
8) Gwalior fort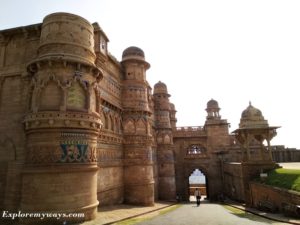 'Pearls in the fort necklace of Hind' that's what Mughal ruler Babur had said about Gwalior Fort. And he was very much true because of several important historical monuments exist within the fort. The famous Man Singh Mahal, which is the most beautiful & colorful from outside while scary inside.
Origin of this fort is unclear but it has structures belonging to 9th century too. Chaturbhuj temple, which is known for the earliest mention of Zero, lies within the fort. Apart from several monuments, there are some rock cut sculptures of Jain Tirtankara inside the fort premises.
9) Agra Fort
Agra remained the capital of Mughal for many years, before Shahjahan shifted his capital to Delhi. And during that period, this fort was the residence of Mughal emperors. This fort was in existence before the Mughals come to Agra. But different Mughal rulers added and modified several buildings within the fort.
Later on, this fort became the inspiration for the Red fort of Delhi. Similar to Delhi's Red Fort, Agra fort also has Diwan-e-aam, Diwan-e-khas, a mosque and a palace of Jahangir.
10) Fort of Fatehpur Sikri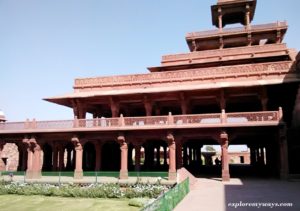 When Emperor Akbar been blessed with son with the grace of Sufi saint Salim Chisti. He decided to settle down in neighborhood of the Saint. So, Akbar founded the city of Fatehpur Sikri in 1571 and build a fort and various other monuments like; Zama Maszid, Buland Darwaja.
But after the death of the saint, Akbar moved back to Agra, and the city got deserted completely by 1585. Structures like Palace of Mariam-uz-Zamani (Akbar's Rajput wife), Panch Mahal, Birbal house are important attraction within the fort.
If you find this post useful, don't forget to share your valuable comment,
explore more Heritage sites of India on Explore my Ways.