We all have learned that Lion is the king of forest, but usually we get to see the lion king in the prison, I mean Zoo. Seeing Lion captivated in few square meter doesn't suit at all because lion itself is a symbol of power and pride. Wouldn't it be great, if we could able to see lion walking freely in his own territory and that too in India. I am talking about lion safari in Gir forest of Gujarat. Here is a quick guide for you, so that you can plan your visit of Gir National Park for a memorable lion safari without any hitch.
India is the only home of lion outside Africa. Gir forest in the southern Gujarat is the real home of Asiatic lion, spread mainly in Junagarh, Amreli and Gir-Somnath districts. Around 250 Sq. Km area established as Gir National park, protected area for Asiatic lion, is used for lion safari. Near about 550 lions are there in Gir forest.
Lion safari in Gir Forest National Park,

Quick guide
Gujarat tourism organize 3 types of lion safari in Gir National Park from October to May; 'Gir Jungal trail', 'Devalia Gypsy safari' and 'Devalia bus safari', all operate from Sasan.
Choosing the right Lion safari is the first step, then book for forest permit online.
Gir Jungle trail
If you want to go to real Gir forest, you must choose option of 'Gir Jungle trail'.
In Gir Jungle trail, you go in open gypsy with a experienced forest guide, through some predefined routes.

Gir Jungle trail operate three times a day; 6 AM to 9 AM, 8:30 AM to 11:30 AM and 3 PM to 6 PM.

Around 40 permits are there for a single slot and if you want morning slot, you have to plan in quite advance because of its high demand.

The total duration of this lion safari is about 3 hour, in which they cover around 35 km through the defined route of forest.

There is no guarantee of having a sight of lion or other wild animals, although guide and rider put their maximum effort, so that you can enjoy and know the wild life of Gir.
Devalia Gypsy safari
In this lion safari you go to Devalia safari park (Gir Interpretation Zone), which is a fenced park of 400 hectare. This park is located near Devalia village, about 10 Km from Sasan village.
Main aim to develop this park was to reduce the load of tourists from Gir National Park, at the same time providing opportunity to see entire wildlife of Gir forest at a single place. Some tourist see it as an open zoo in which visitors be in cage instead of animals.
In Devalia safari park, you get opportunities of seeing lion for sure, along with other animals of Gir forest, like; Leopards, Sambhar, Chital, Black buck, Wild Boar, etc.

Here, Cage-gypsy is used for Devalia safari as safety measure, as the density of lion & other animals is quite high as compare to Gir forest National Park.

The total duration of Devalia safari is 1 hour, it operate 7 times a day (10 permit is available for single slot) except on Wednesday.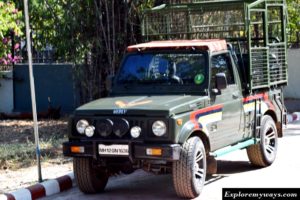 Devalia Bus safari
Here, you get chance of seeing lion and other animals through the Bus windows.
No need to take separate guide.

Have to reach Devalia Safari Park by own means, 10 km from Sasan.

Bus ride in Devalia Safari Park is just for 30 minutes only and operate 11 times a day, except Wednesday.
How to book Gir forest permit online
Forest permit for 'Gir Jungle trail' and 'Devalia jeep safari' is issued online only that cost Rs. 800/- for normal days and Rs. 1000/- for weekend and festive day. A single permit may include maximum of 6 adult and a kid up to 3 year.
Permit for 'Devalia bus safari' can also get directly from the counter in Rs. 150/- for normal day and Rs. 190/- for weekend and festive day. Click here for online booking of Gir forest permit.
How to reach Sasan from Junagarh
Sasan is located on the Junagarh-Talala road around 65 km from Junagarh and 20 km from Talala. To reach Sasan, you have to reach Junagarh first, which is the main junction point for Sasan.
Junagarh have good connectivity with other major cities like Ahmedabad, Rajkot, Somnath via train and bus as well. From Junagarh, you can reach Sasan by bus, train or private cab.
Junagarh to Sasan by Bus or train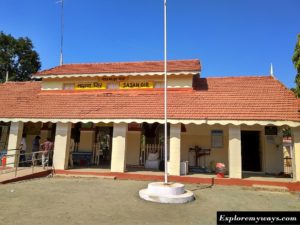 Bus: There are few GSRTC buses, ply daily from Junagarh to Talala via Sasan, which also take around 2 hour. These buses handles lots of passengers and have many stoppage in between, so its good only if either you are on Solo trip or have little luggage. 50 Rupee is enough to take you to Sasan by Bus.
Cab: A private cab from Junagarh to Sasan may cost you between 1500-2000.
Train: A passenger train also ply daily at 8:00 AM from Junagarh, which take approx 3 hour to reach Sasan.
Cost of different Lion safari in Gir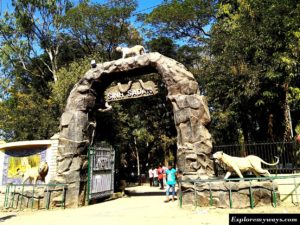 Report at reception center ( Sinh Sadan) at Sasan with print-out of online-permit 30 minute prior of safari time .

There forest authority will check your permit and identity of all persons, for which permit has been issued. Its mandatory to show I-card of all the person at the reception counter.

After verify all the necessary documents they allot you the route no. for lion safari, along with gypsy and guide. Charge of gypsy is Rs. 1700/- for 'Jungle trail' and Rs. 1500/- for 'Devalia jeep safari' while guide charges in both case is Rs. 400/-, that has to pay directly to the gypsy driver and guide.

If you are carrying high end Camera, then you have to take separate camera permit, that cost Rs. 200/- extra.
Visit of Gir Forest National Park
After completed the formality at Sinh Sadan, now its time to move ahead with Gypsy and Forest guide allotted to you.
In 'Jungle trail' 12 routes are defined within the Gir National Park, but you have to move through the path allotted to you only. Distributing the traffic to different route is for balancing the traffic equally in forest, so that disturbance to the wild life could be minimize.
Obviously, looking for the lions always the first priorities of visitor, but should not ignore other features of Gir forest. And our guide had drawn our attention towards these beautiful pair of Owls.
You are not supposed to speak louder in the forest, keep that in mind. Gir forest accommodate several kind of animals like leopards, wild boars, monitor lizard, Chital, Blue bull etc.
Forest department created several artificial water hole near the routes of Safari. When natural resources gets dry, animal can come to these water holes that also provide opportunity for visitor to see the wild life of Gir National Park .
It is also very common to see a herd of Chitals grazing around. There are many different bird species too and you can see many peafowl around.
Gir forest have several species of plants and trees, almost 80% of forest is covered with Sagwan trees. Wood of Sagwan tree is quite costly in market, so protecting these forest from illegal cutting of tree is also a challenge.
I was lucky enough that I could saw the two lions, they were not in hurry may be resting after morning patrolling. I was in the time slot of 8:30 AM to 11:00 AM of Jungle trail, though chance of seeing lion is higher in the first slot ( 6 AM to 9 AM).
Stay at Sasan Gir
Sasan is a very small village, you can book your stay within the village so you can reach Sinh Sadan comfortably. Staying at Sasan village is quite economical as compare to any forest lodge, there are many budget option at Sasan, starting from Rs. 500/- per night, like Hotel Umang ( Where I stayed).
There are many restaurant on the main Junagarh-Talala road that offer Kathiyawadi Thali, ranging from Rs. 100/- to Rs. 150/-.
Best time to visit Gir National Park
As the region of Gir National park is very close to the Arabian Sea, it face moderate temperature in winter, but considerably hot in summer. So, its batter to plan your lion safari from October to February and book the first slot ( 6 AM to 9 AM), if possible.
Apart from Lion safari in Gir forest, you can also plan desert safari in white desert of Kutch on Gujarat trip.
You may also like to read
Backpacking to Sundarban National Park
Full day trip to Bhitarkanika National Park
Day trip to White Desert (Runn of Kutch)
A day in Thar Desert, Jaisalmer
Gurudongmar : Highest lake of India
If you find this post useful, please share and leave your valuable feedback in the comment box.
Subscribe for further travel update