If you want to know more about the historical aspect of India, you must visit Gwalior in MP. Being the strategic location, everyone wanted to rule Gwalior. City have seen rule from Turk to Mughal and Rajput to British, and all of them left some influence on the art and culture of the region. Few historical monuments of the city like rock cut Jain temples and magnificent Fort of Gwalior at Gopachal Parvat, Jai Vila Palace and Samadhi of Rani Lakshmibai deserve a must visit.
Lets know about these must visit places of Gwalior
Rock cut Jain temples, Gopachal Parvat
Gopachal hill situated in the mid of Gwalior city. There are several rock cut Jain temples in the foot hill of Gopachal Parvat, having many sculptures of Jain Thirthankara.
Most of these temples carved out in the 15th century during the period of Dungar Singh, King of Tomar Clan. These rock cut sculptures varies from 5 feet to 40 feet in seating or in standing pose.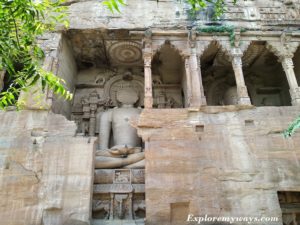 The design over & around the sculptures is so beautiful that it look like, the sculptures are placed in a temple. There are many other beautiful figures around the sculptures like elephant, horse or lions.
These Jain temples in the foot hill open to visitor till 11:00 AM only. While on Gwalior trip, you must spare some time for Gopachal Parvat and rock cut temples.
Gwalior Fort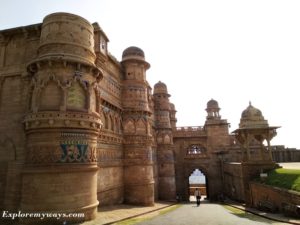 Fort of Gwalior, situated on the top of Gopachal Parvat, possibly in existence from 5th century AD. Many dynasty rules this region from the Gwalior fort and remain a power seat for more than 1000 year.
There are many monuments including palaces and ancient temples within the fort complex. Man Singh Palace, Sas Bahu temple and Teli ka Mandir are the most notable historical monuments of Gwalior Fort.
Emperor Babur described it as "the pearl in the necklace of the forts of Hind" because of great architecture and robustness. There are several rock cut sculptures of Jain Thirthankara, within the fort premises.
Jai Vila Palace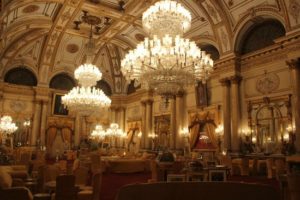 Jai Vila Palace was the residence of Royal family of Scindia dynasty, this white palace was built in 1874 during the period of then Maharaja of Gwalior Jayajirao Scindia.
Jai Vila Palace is one of the finest example of European architecture in India, and design credit goes to Sir Michael Filose. Palace is famous for a large Durbar Hall (100 x 50 feet in size) having beautiful interior furnished with gilt and gold. The huge carpet and two gigantic chandeliers amplify the royalty of the court.
These chandeliers are the main attraction of Jai Vila palace, that may be the World's largest with 12 meter high and 3.5 ton in weight. The museum within the palace have some of the unique and rare items. Timing of the Jai Vila Palace is from 9:00 AM to 5:00 PM, while closed on Monday.
Samadhi of Rani Lakshmibai
Gwalior was the center of Indian rebellion of 1857, and the most prominent figure of this movement 'Rani Lakshmibai' sacrifice her life here.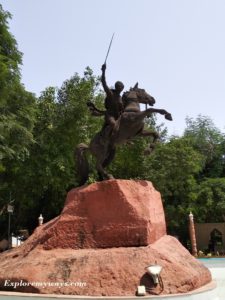 Samadhi of Rani Lakshmibai is situated 400 meter from the Phool Bag. She ( Jhansi ki Rani ) been shot dead by British soldiers at this very place. Here you will see a 3D image of Jhansi ki Rani, fighting with British soldiers.
The statue of Lakshmibai at this place is about eight-meter tall. And you will see a continuous flame near the statue in respect of this brave figure. A must visit for all patriotic Indians to see and pay respects for the great Rani Lakshmibai.
Tomb of Tansen & Ghaus

Mohammad
Tansen was great musician and one of the nine gems in the Akbar court while Ghaus Mohammad was a Sufi saint and religious teacher of Mughal emperor Humayun and Tansen. Both the tombs lies in the same part and approx 1 km from Gwalior fort.
Phool Bagh
Situated in the mid of city, this garden accommodate a mosque and a Gurudwara and Zoo. This garden was inaugurated by the Prince of Wales in 1922 on his visit to Gwalior.
Italian Garden
Located in the front of Jai Vila palace which was build in Italian style. Beautiful fountains, cascading waters make this more beautiful. The lush green gardens make the place even more beautiful.
Offbeat sites near Gwalior
There are more place you can explore during your Gwalior trip like; 64 Yogini temple and Bateshwar group of temples that are around 35 Km from Gwalior, located at Mitavali and Padhavali village respectively.
More tourist places of Madhya Pradesh
If you find this post useful, please share and leave your valuable feedback in the comment box.
Subscribe for further travel update