It was 1:00 AM (midnight) When my train reached at Junagadh junction. Luckily, I had booked Railway retiring room in advance. For the next day, I had a plan of going to Sasan Gir. Next morning, I walked towards city because I wanted to have some feel of the place before leaving Junagadh. And I did not really know before stepping into the Junagadh city, that it has its own Taj Mahal ( Mahabat Maqbara).
On the exit of Junagadh Railway station, I could see an old, double story arcade building, looking like a palace. But dust of the time had vanished its shine, plaster from the surface torn off randomly.
Old bricks were almost got black and weeds were peeping from the joints, possibly, the building was more than 100 year old. This was Bahaduddin building, a gateway was at the center and above which a high clock tower was standing.
Mahabat Maqbara, Taj Mahal of Gujarat
While passing through this gate, another historical landmark of Junagadh city drew my attention. Few minarets and dome were looking above the nearby houses, so I rushed to that place. Two great monuments were standing very casually in a road side compound.
No one was there to introduce them, like such kind of structures are very common in Junagadh but actually it was not. There was an introductory board at the complex gate, almost in rusted condition and it was too difficult to read.
Somehow, I managed to read and got to know that it is Mahabat Maqbara, commonly known as Taj Mahal of Gujarat and main attraction of Junagadh .
Mahabat Khan himself started its construction in 1878 but completed by his successor in 1892. While other monument was housing grave of Bahaduddin, who was the minister of Nawab Rasul Khan.
Historical building of Junagadh, a reflection of mixed cultures
Main pillars and arches of Mahabat Maqbara create Gothic appearance, as in some European church. Domes and surrounding minarets were speaking about the Islamic elements, even one of the monument had layout quite similar to Great Taj Mahal. Minarets of it had winding staircase, which were looking magical and mystical.
I think, it was a rare element of architecture, generally minarets of such monument have inside-stair. These stairs helps you to enjoy the architectural beauty from various levels. Inside and outside walls have colorful and beautiful floral carving. Inner chamber of this Maqbara is closed for visitors because of having silver doors and windows.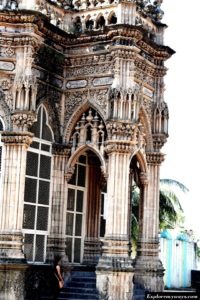 Top of Maqbara ornate with hundreds of small and big domes, making it the only of its kind structure in India. Concept of so many smaller domes, may have been borrowed from some ancient Hindu temples. Like Kandaria Mahadev Temples of Khajuraho have 84 mini spires, around the main one.
At the first sight, these structures seems be part of Alif-Laila or Aladdin Story of Baghdad. It was a complete treat to eye, and also an opportunity to witness such a rare glimpse of Indian history.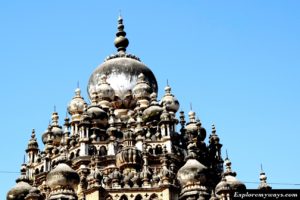 Though it is a state protected monument, but here you will not find any guard or care taker. And it seems that the Govt is least bother for its maintenance. Where monuments of the Mughal era are still retaining its glory, but this 100 year old struggling monument quite uncertain for its future.
Mahabat Maqbara is just 400 meter from the Junagadh junction, standing right opposite of Junagadh district court. Juma Maszid is another historical building next to Maqbara compound having similar kind of winding minarets. Next to the Maszid another historical building which is now a medical college. Same road connect with Dhal road that directly leads to Uparkot fort.
Other place to visit in Junagadh
Uparkot fort is an ancient fort which have its root from the Mauryan Era. This fort accommodates several unbelievable construction like deep wells dug in the hard rock, and some ancient caves. From the fort you can enjoy nice view of the Junagadh town and Girnar peak as well.
Girnar is the highest point of Gujarat at an altitude of 1110 meter, it also have sacred value for Jains and Hindus both. 'Ashokan edicts on the rock' is also important tourist attraction of Junagadh city on the way to Girnar hill.
More tourist places of Gujarat
If you find this post useful, please share and leave your valuable feedback in the comment box.
Subscribe for further travel update