It was midnight, when I reached Ahmedabad, then with the help of an auto-rickshaw landed in a budget hotel. Next morning, I woke up early and went out to know the surrounding area. Soon I got to knew that I was in old area of Ahmedabad. One old fort named 'Bhadra Fort' was there just 50 meter from the hotel. The surrounding area and path way around fort was carpeted with beautiful tiles. It was the first glimpse of any heritage monuments in Ahmedabad. There was a historical mosque too, on back side of fort, firstly I moved their.
Top Heritage monuments in Ahmedabad, A travel guide
Ahmed Shah Mosque, oldest mosque in Ahmedabad
Initially, I was hesitate if I am allowed to visit or not in the mosque. Although, I did a try and entered in premises, it was not very much big, but old enough to draw attention of a history lover. This was the earliest mosque of the city, which was build in 1414 during the time of Ahmed Shah-I.
So particularly, it is known as Ahmad Shah's mosque or some time Sahi Jam-e-Maszid, it was a private mosque for the royal family. This mosque cover an area of approx 500 sq. meter, also have 10 big domes on roof top with five arched gateway, in which the middle one was comparably larger.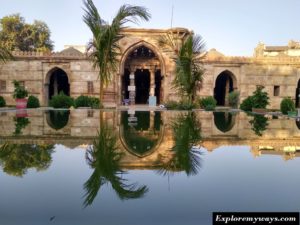 There was a small water pool in front of mosque, where one can wash their hand and feet before pray to the Supreme. But for me it was feel good factor because I could see the reflection of mosque in still water and that inspired me to capture this in my cell phone.
Before I tell about my further journey, isn't it better to peep a little in the history of Ahmedabad city.
History of Ahmedabad Region
Ahmedabad was inhabited since 9th or 11th century, that time this region was known as Ashaval, which was under the rule of a Bhil King. Karna, then Chaulukya ruler of Anhilwara ( Patan) made a successful attack on Ashaval and established a city called Karnavati on the banks of the Sabarmati River.
By the 14th century, Gujarat had come under the control of the Delhi Sultanate. Delhi Sultunate used to appoint governor in Gujarat to control and manage the region. But during 15th century, then governor Zafar Khan Muzaffar declared himself independence from the Delhi Sultanate. He laid foundation of Muzaffarid dynasty and titled himself Sultan of Gujarat as Muzaffar Shah I.
Sultan Ahmed Shah-I, the grandson of Muzaffar Shah deforested the area in left of Sabarmati River and established a new city Ahmedabad in 1411 AD. The area remain under the rule of Muzaffarid dynasty until 1573, then Mughal emperor Akbar conquered the Gujarat.
Ahmedabad getting prosperous during the Mughal rule and became main trade center, mainly in textiles, that used to export to European country. Mughal ruler Shahjahan also spent prime of his life in the city, he constructed Moti Shahi Mahal in 1622, which is now home of Sardar Vallabhbhai Patel National Memorial, a museum and exhibition center.
After the fall of Mughal rule in 1758, Ahmedabad come under the control of Maratha. And till independence, Maratha ruled the city under the sovereignty of British rule.
Because of the long history of Ahmedabad and presence of various monuments of historical importance, Old Ahmedabad declared as India's first UNESCO World Heritage City In July 2017.
Bhadra Fort, Ahmedabad
Coming back to the fort again, it was actually a fort come palace but not as bigger as the forts of Rajasthan. It may not be comparable with other amazing forts of India but it have the historical importance, it is as old as the city of Ahmedabad.
Ahmed Shah-I from Muzaffarid dynasty, laid the foundation of Bhadra fort, right after the establishment of Ahmedabad as the new capital of Gujarat Sultunate in 1411 AD.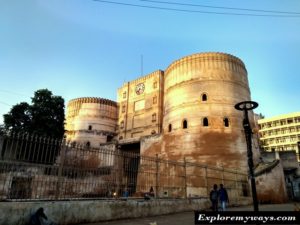 Some of notable Mughal emperor like Shah Jahan, Jahangir and Aurangjeb ruled Ahmedabad city as Governer of Gujarat. In 17th century, Mughal governor Azam Khan had built a Sarai ( temporary rest house for traveler) in the fort, which today itself known as Azam Khan Sarai.
Bhadra Fort is not very popular as a tourist destination. Frankly speaking, I did not heard about it before coming to the City. But while you are in Ahmedabad as a traveler, it deserve a visit.
Though, the city got its name from the Sultan Ahmed Shah-I but fort got its name from the 'Bhadra Kali temple', set up during Maratha rule, near one of the east side gate of fort.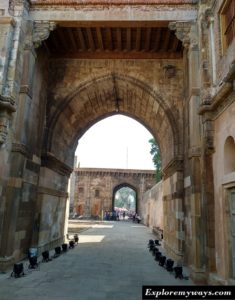 There is no cost involve in visiting the Bhadra Fort but you have to show your identity card to the official who keep record of visitors in a register. You can go on the top of Fort complex too. Where one tower-clock brought from London also been installed in 1878 by British East India company.
Most of the part of Bhadra fort is in ruin, while a little area is in use for some government office. As I said, it is a small fort complex, so expecting to much from this would not be right. Yeah, but from the top of the fort you can observe the daily street market, it is like Chandni Chauk of Ahmedabad.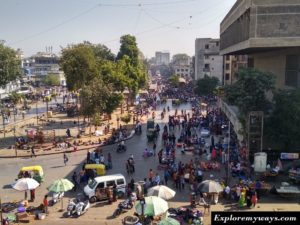 From the top of Bhadra Fort, it was easy to have glimpse of historical 'Teen Darwaza', another historical landmark of the city . I also had seen the miniature model of this Teen-Darwaza during my trip to Run Utsav in Kutch.
Also read: Uparkot fort, the ancient fort of Gujarat
Teen Darwaza
The Teen Darwaza located 300 meter in the east of Bhadra Fort. It has three arched gateway of 25 feet height, middle one is about 17 feet wide while rest two are of 13 feet. Ahmed Shah-I built this honored gateway just after the establishment of the city and commissioned in 1415.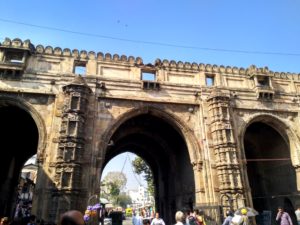 The area between Bhadra fort and Teen Darwaza was know as Maidan Shah, now the venue of daily market. If you see today, the area in between is recreated as per the historical record with the fountain and other decorative ingredient.
Today, the Teen Darwaza is an integral part of Ahmedabad heritage due to its highly decorated buttresses on piers.
This Teen Darwaza also has some inscription of 1812, during Maratha rule in Ahmedabad; it was order of then governor Chimnaji Raghunath for both Hindu & Muslim, declaring equal right to women in inheritance of ancestral property.
"Let the daughter get her due share of fathers property without any hitch. So is Lord Vishwanath's command. If you defy, the Hindu will have to answer Mahadev and the Musalman will have to explain to Allah or Rasool".
Jama Masjid, biggest mosque of Ahmedabad
After walking 300 meter from Teen Darwaza towards east, there was another mosque 'Zama Maszid' or Jumah Maszid (Firday Mosque) in my right, It was much bigger in size in comparison to Sahi Jam-e-Maszid. Sultan Ahmed Shah-I constructed this mosque in 1424.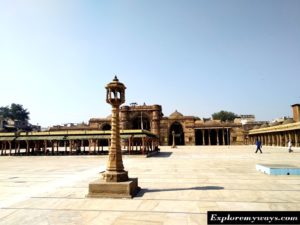 This mosque complex is 110 meter long and 66 meter wide. Main mosque structure lie in the western side of complex, which have 3 large arched gateway, 15 domes on roof in 3 series and 260 columns as supporting structure.
It is the most important historical monument of Ahmedabad and a beautiful example of Indo-Saracenic style of architecture. The three main domes in the center carved with lotus flower and pillars have carved bells with hanging chain that usually see in Hindu Temples.
The central and largest arched gateway to prayer hall have two grand size column, that was actually base of its principle minarets which were collapsed in the 1819 earthquake. Even though, its minarets has broken but still the structure look itself complete and perfect.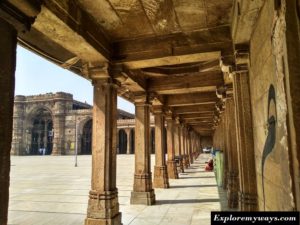 A big courtyard is in the front and galleries on other three edge with series of beautiful decorated pillars. This big courtyard is completely covered with big size stone slabs.
It has a rectangular basin in the middle of courtyard for ritual ablution. Zama Maszid is a must visit historical monument in Ahmedabad but women are not allowed in the main prayer hall of the mosque.
Badshah-no-Hajiro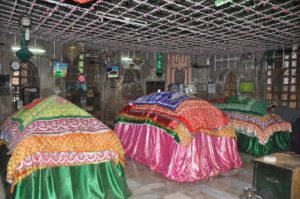 It is a burial place of Sultan Ahmed Shah-I, located next to Zama Maszid but its approach is through narrow street. Usually the tomb get overlooked because of so many shops around and the narrow street. The tomb also has graves of Sultan Muhammad Shah and Sultan Qutubuddin Ahmedabad Shah II, other two subsequent ruler of Ahmedabad.
Here too, women are not allowed to enter inside the tomb. It was actually a mosque where sultan got buried. It has a square layout, with one bigger dome over the central chamber. There are four other smaller chamber with small domes at each corner. It is all decorated with wonderful carving and stone latices (Jali). On Ahmad Shah's tomb flowers and chadars are still offered.
Rani-no-Hajiro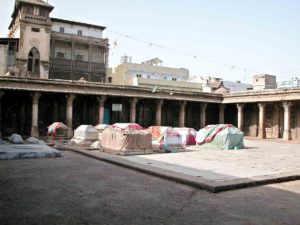 Just at 100 meter east of the Ahmedshah's tomb, you can see the place where graves of the queens along with other wives of sultan exists. This place in Menak Chauk is known as Rani-no-Hajiro.
This is a square building having each side of 40 meter, and a courtyard in between. This courtyard accommodate eight marble-graves of queens of Ahmed Shah I and other Gujarat Sultanate rulers.
The Old Ahmedabad have so many historical mosque, and it is not wrong if I say that you can find mosque on every 30 or 40 meter in area.
Stay & Eat in Old Ahmedabad
There are various budget options are available for stay in old Ahmedabad, starting from Rs. 600/- night but here is the major problem of food. I mean, if you are OK with the typical Muslim food ( beef ), then will not be problem for you.
There are numerous Muslim-Dhaba, but for a person like me, it is not easy to find something to seat. You can find few snacks stall near the Menak Chauk, otherwise food options are very limited in this area.
Other monuments in old Ahmedabad
Sidi Bashir Mosque (Shaking Minarets)
Today, only the remains can be seen of this historical mosque having only central arched gateway with two main minarets. Sidi Bashir, one of the slave of Sultan Ahmed Shah-I had constructed this mosque.
This mosque was destroyed in 1753 during the war between Marathas and then Sultan of Gujarat. Still the existing minarets are three storeys and the tallest in Ahmedabad. If you shake one minaret, the vibration get transfer to other minaret.
But I did not tried this, as the entry to the shaking minarets is prohibited because of safety reasons.
Dada-harir-vav
An another heritage monuments close to Ahmedabad Junction ( 3 km away). It is a 15th century step well built by Dhai Harir, chief lady in the royal harem of Mahmud Begada. Adjacent to this step-well, she had also built, a mosque and a tomb for herself, later she had been buried here.
Also read: Queen's step well, Patan ( A World Heritage site)
It is a five stories deep well, built using sand stone in Solanki architectural style. There are several carved pillars to support the different elevation. It has an octagonal plan on the ground and an rectangular approach of 190 feet long.
Kankaria Lake, fun zone of Ahmedabad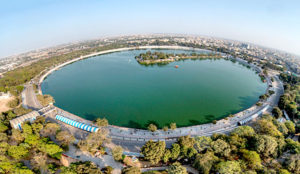 Apart from various heritage monuments, there is one historical lake in Ahmedabad, which now turned in Fun-zone. Possibly, its name derived from the Kankar ( pebbles). As per some historical evidence, this lake is located nearby the old Karnavati city which was established by Karna ( Chaulukya King).
Though, some inscription near the lake tell that Sultan Qutb-ud-Din Ahmad Shah II also contributed in its construction. Now, it is a fun-zone of modern Gujarat, which have several public attractions such as a zoo, toy train, kids city, water rides, water park, food stalls, and other entertainment facilities.
Dutch Cemetery
It is a 17th century dutch cemetery, situated in a public garden near gate no-1 of Kankariya Lake. Though, it is one of the heritage monuments of the Ahmedabad city but still its condition is not good and it needs more of preservation and protection.
These were the graves of Dutch traders, who were in business of import/export of cotton cloth, yarn and indigo in Ahmedabad and permanently settled in the city. These graves share the Indian and Western styles. You will find many Ahmadabadi, who never heard of this cemetery, but its a history of the city.
More historical places of Gujarat
If you find this post useful, please share and leave your valuable feedback in the comment box.
Subscribe for further travel update