Would you like to taste Cocktail of adventure and heritage? Though, it is a rare combination but sometime it does exist. And sorry if you misunderstood me, I am not talking about tasting any 100 years old chilli wine. It is about a distinct place on the World map, it is about my backpacking trip from Kolkata to Sundarban Forest.
Kolkata-Sundarban backpacking trip
When world was choosing their New 7 Natural Wonder in 2011, Sundarban was among the finalist. So, it should not be an exception, if it was in my bucket list.
But it was planned in the last moment, and thanks to Tour De Sundarban who helped me in last minute for this wonderful backpacking trip. As per schedule, I reached at their office in Tottee lane, Kolkata. From there, we all backpacker left to Sundaban in a AC coach.
But before we move ahead, we should know a little about the unique forest of Sundarban.
Sundarban forest and its location
Literal meaning of Sundarban is beautiful forest, which lies on the Bay of Bengal and spread across the two countries; India and Bangladesh. It is the largest mangrove forest on the Earth, that's what I read in my school text books.
Due to its unique ecological system, Sundarban region marked as an important Biosphere Reserve and crowned the tag of UNESCO Heritage site in 1987.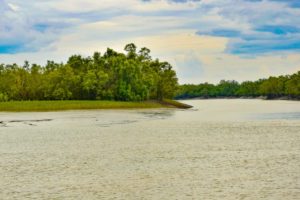 This forest got its name from a tree that locally called Sundri ( Botanical name: Heritiera fomes). Before visiting this unique forest, I was thinking that its a forest of Sundri tree only but it was not like that.
It was a complete forest having 80-90 species of mangroves. And it is very similar to some dense forest we found on land with various size and types of plants that could be a grass, a bush or mid size tree .
Sundarban forest covers 10,000 sq. km, 60 % of the forest falls within Bangladesh and rest in West Bengal (India). This mangroves forest lies in the delta formed by the confluence of several rivers like Ganga, Hoogly, Padma, Meghna and Brahmaputra popularly known as Ganga-Brahmaputra delta. The delta also called Sundarban delta, largest river delta of the world.
Hundreds of river channels and creeks divide Sundarban region in to several islands, almost 20% of the Sundarban is water-body. At some point, these channels are just 10 meter wide while at some point beyond a kilometer.
Royal Bengal tiger of Sundarban
Sundarban is the natural home of Bengal tiger, which is the major attraction of this forest, and draw ample numbers of tourists to Sundarban. Here, Tiger have learned to survive in spite of unfavourable conditions.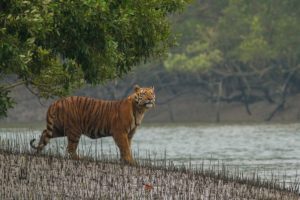 It is said that Bengal tiger are more cleaver and fast than other tigers of India, they can swim from one island to other and survive in scarcity of food.
Some of the area within the Sundarban designated as Tiger Reserve and Sundarban National Park as a project for the protection of tiger. To preserve Sudarban forest and wildlife, the management get fund from the state, central govt and World Wildlife fund (WWF).
Killing of Tiger, destroying of wild life and deforestation is completely ban. Still, some indecent happen where human harm to wild life or some time tiger kill the human. Around 40-60 man loose their life every year in such encounters.
In last two decade govt launched many program engaging local people for preservation of the Sundarban and got success up to some extent.
A significant growth have been observed in the strength of tigers. As on date around 224 Tigers are in the Sundarban, 104 in the Indian side and rest in Bangladesh region. We got enough about what is Sundarban and why it is so famous among locals as well as global tourists.
It's time to tell you about the complete itinerary of my Kolkata-Sundarban backpacking trip. It was a all inclusive, 1 night 2 days trip of Sundarban from Kolkata to Kolkata.
Sundarban trip from Kolkata, complete itinerary
We left Kolkata around 8:30 and reached Eco Village resort (Satjelia) by 2 PM after a mix journey via road and river. We had a typical Bengali lunch at the resort and then went for a casual walk to the adjacent village.
Tour operator in Kolkata, who organize Sundarban forest trip almost share the same itinerary and they call it Village Walk.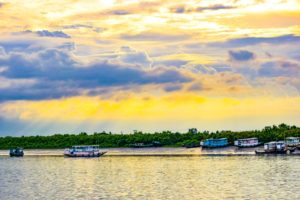 Village Walk: Arif ( the guy coordinating the whole trip) accompanied us, it was about a little introduction to the village life of Sundarban people.
And there I got to knew that in-spite of being one of the most fertile region, it is not easy to farming here because of abundance of salinity in water. Whole year people collect rain water in artificial pond and use that for crop cultivation.
Most of the people engaged in fishing/pisciculture. Collecting honey from the forest is another integral part of these people lives. Here people live with limited facility, though electrification has been done in recent year.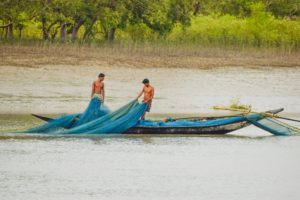 Bird Watching: Sundarban is also famous for having several species of kingfisher and for visiting them we went for boat ride in Datta river ( As per Google map) which locally known as Gomur River.
In this half n hour ride we could not see any due to rain. Although, we got aware about some peculiarity of the region.
There were some bamboo poles standing on the edge of forest's marshy land, connected with ropes. Arif told us that these pole help in catching fish with the tide pattern in this area.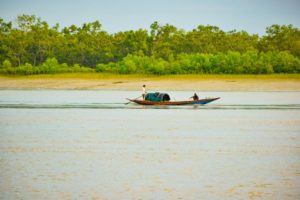 Tiding pattern in Sundarban
He introduced the concept of High & Low tide in the Sundarban area. In a cycle of 24 hour this region get 2 high tide and two low tide; means water increase its height for 6 hour then recede in next 6 hour and this cycle continue throughout the year.
Fisherman hang their net across the bamboo and when high tide come fish swim over the net and reach to the land side. When the water recede fish left behind, and it become very easy to collect left over fish from the mud.
In the evening, we got some time to leisure in and around the backpacker's resort. There were many games, books, posters and hammock for time pass.
As the evening got mature, the region got full of sound of some Bhajan and celebration. It was 3 day Mansa festival running, Sundarban people celebrate this fest to thanking Goddess Mansa who protect them from snakes.
It is said that there were a regular death happen due to snake bite but since the people started worshiping Goddess Mansa, no one got killed by snakes. Goddess Mansa and Bandevi are local deities of the region.
Night Safari in Sundarban forest
We took dinner around 8:30 PM that was equally good and homely as lunch, after dinner we got a surprise night boat ride. And it was time to witness the lesson we took in our afternoon ride. As we were about to board the boat, we felt the difference in the water level.
It was almost 3 meter higher than we have last seen. This natural phenomenon was a literally wonder to me and I had no such idea before coming to Sundarban.
It was complete dark so almost impossible to see any other thing around. Basically this ride was just to chit chat with co-travelers and befriend.
Having a ride in almost calm water and in complete dark was quite soothing and something new. Then Arif asked us to dip hand in the water, as we were in country boat so it was easy to do so.
Sparkles in Sundarban River: Initially I thought, it is to thank the river for allowing us to ride because in India we generally show gratitude in such a way.
But as we dipped hand in the water, there was some sparkle in the water. Means, it was going to be another lesson for us, the river had Phytoplankton ( Its a kind of micro weeds/organism floating on the top of sea or river, they get energy from the photosynthesis)
Till now, we had become little familiar with Sundarban and It was time to say good night. It was a hut where I supposed to spend that night, look-wise it was quite matching the village style but with attached bath. There was a mosquito net too, as we were amidst the water logged forest.
Boat safari in

Sundarban National Park
On the next morning, we just took Liqueur Tea (local name for black tea) and by 07:00 AM we were ready for Sundarban Safari. Today, it was a bigger boat with provision of on board breakfast/lunch and toilet facility.
Apart from us there was 3 more member on boat for hospitality. It was like a house for boat man family; lower portion have kitchen and sleeping arrangement while upper deck had a sitting arrangements for tourists with multiple benches & chairs.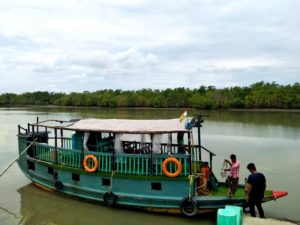 Initial forest island was surrounded by net to prevent the interference of nearby village people/fisherman with wild life of Sundarban. But on proceeding further towards forest net went disappeared, those area also restricted to the fisherman.
Our boat stop at Sajnekhali, mangroves interpretation center for getting the forest permit, as it is required to go inside the Sundarban reserve forest.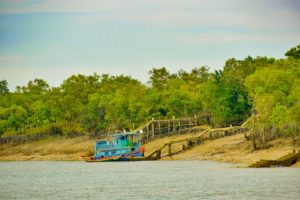 Mr. Mistri, a forest guide with more than 20 year of experience of Sundarban joined us from there. He was helping us in better knowing of Sundarban.
As we were going side by side to the forest he was explaining names of different plant though it is very much difficult to recollect all that. Our boat man had a eagle eye, he could easily spot the wild life of Sundarban forest which was difficult for us to figure out.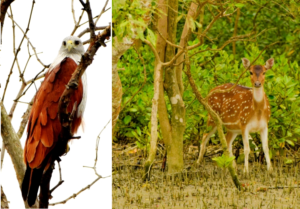 Wild Life of Sundarban Forest
Apart from the home of Bengal Tiger, Sundarban have quite rich flora and fauna. Sundarban have around 40 species of mammal and reptile but Salt water crocodiles and Water monitor lizard and wild cat are the main attraction among them.
All the Sundarban safari is mainly on the name of Tiger, but for having a glimpse of tiger you must be much luckier. In the morning by 10:00 AM, it was quite difficult to spot any animal as the forest was almost submerged in the water. But as the day progressed we could have spotted Salt water crocodile, water monitor lizard and few spotted deer along with few birds.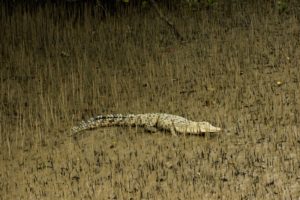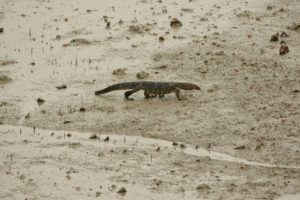 Due to human interference from the centuries, Sundarban have lost several animal species; like Javan rhinoceros, water buffalos, Swamp Dear, hog dear etc. And the list of extinct species still keep on growing.
During the ride we stopped at Dobanki and Sudhanyakhali islands. Dobanki it is the farthest point for most of the Indian side Sundarban Safari. In Dobanki, there was a watch tower and a 300 meter raised walk-able caged platform popular as Canopy walk. This area was full of red crabs and conical mud snail, what we actually seen from that canopy walk.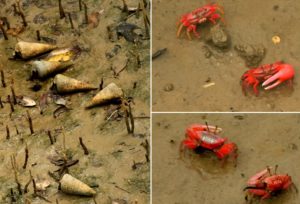 At both the watch points, there were few artificial water ponds for collecting rain water. Many wild creature come to these ponds in search of water as finding sweet water is really difficult in Sundarban. Sudhanyakhali point was mainly to showcase different species of mangrove trees.
In that ride, we came across a beautiful scenic point when we were turning towards Dobanki point from the Vidhadhar river. It was a kind of junction point of 5 rivers and we could see the meeting points of these river to sea at the horizon.
On returning from the Sundarban Safari we have seen the clear difference in the water level, the land which was submerged in the morning were came out of water by the noon. This marshy land had hundreds of spokes around every little and big trees and these spears knows as breathing roots.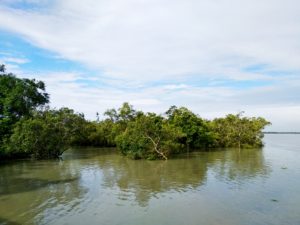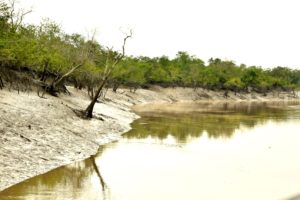 It was a complete day safari, in which we have seen different aspect of Sundarban from its beauty to its wild life and its vastness.
After almost 8 hour of safari we get dropped at Gosaba island, again we took ferry up to Godkhali and back to Kolkata by a tempo traveler.
Cost of Sundarban trip from Kolkata
This 1 night 2 days backpacking trip of Sundarban, from Kolkata to Kolkata cost me Rs. 4200/- including almost everything. It was a good deal and great experience with Tour De Backpackers.
There are number of tour organizers in Kolkata, who offer 1 day to 2 Night 3 day trip and cost may vary from Rs. 4000/- to 7000/-.
Reaching Sundarban from Kolkata
If you are looking for an option to reach Sundarban by your own; Take train from Kolkata to canning> Bus from Canning to Godkhali> ferry from Godhkali to Gosaba island (Gosaba is the main junction point for Sundarban trip); you can book your stay with any hotel/guest in Gosaba or you can go to other island via taking ferry from Jyotirampur (village on Gosaba island)
Tips for Sundarban visitors
1) For the Sundarban visit its better to be in slipper than in shoes as you will see water all around.
2) Keep the torch: Being a forest area illumination is not so prompt so you may need torch for stepping out from your guest house/hotel.
3) Mosquito repellent: As a water logged forest area Sundarban is full of mosquito or other insects so All-out kind of thing may not work there. So for a good sleep at night keep some mosquito repellent or insure mosquito net in the room.
4) Mind your step: Boat is very important and integral part of the life of Sundarban people, be it a large or small boat, a tourist boat or fishing boat. As a mark of respect they worship their boat and consider its head (Pointed edge) as sacred, and no one suppose to put his feet on that.
So, keep this point in mind during boarding or de-boarding. Personally I had put my foot on that due to lack of knowledge, and the boat man really frowned on me.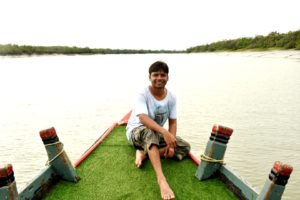 You may also like to read
Full day trip to Bhitarkanika National Park
Day trip to White Desert (Runn of Kutch)
A day in Thar Desert, Jaisalmer
Lion Safari in Gir National Park
Gurudongmar : Highest lake of India
If you find this post useful, Explore more travel ideas on Explore my Ways
& share your valuable feedback in the comment box