Shared trip of North Sikkim was testing our stamina and strength. After half-day of continuous travelling, again it was time to move to Lachen, another 3 hours away from Lachung. We already completed one part of our trip that was about Yumthang Valley and Zero point while Gurudongmar lake trip was yet to complete.
Trip to Gurudongmar lake (Lachen)
We wanted to reach Lachen (Hill village in North Sikkim) before it get dark. So, after quick lunch at Lachung hotel we moved on. Got down to Chungthang again as it was the only junction point. Chungthang has an army check post, where related permit to be shown. Even if you are carrying plastic water bottle, then it is last point.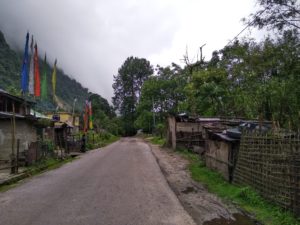 The road from Chungthang to Lachen was in much better condition, so reached Lachen by 5:30 PM. Here, we got accommodated in 'Hotel Iceberg', it was more like a guest house than hotel and ahead of our expectation.
Every room fitted with geyser and floor was completely carpeted with cloth-mat. Because of very low temperature , it was difficult to be bare foot in room if it was not carpeted.
We took dinner in their cozy dining room around 7 PM, because next morning we were supposed to leave early for our farthest destination Gurudongmar Lake.
Lachen to Gurudongmar lake
Gurudongmar Lake was 70 km from the Lachen and today we were supposed to travel around 270 Km. So we all wanted to start it early, accordingly we left the hotel before 5 AM.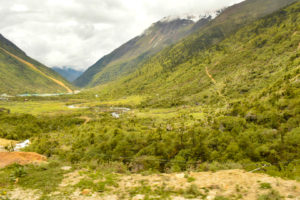 By 6:30 AM we were at Thangu valley, where a small food shop was. We all have our breakfast there as per individual choice, but yes that pair of steamed bread was also there as part of packaged trip.
There we got to know that the Army check-post at Thangu valley will open at 7:30 AM, so there was no other way than waiting. We should also respect all these rules because it all for our safety.
After 7:30 AM we again resume Gurudongmar lake trip, and after one and half hour met 1 more check post. This army check-post was located at an altitude 15000 feet, it was too cold there so no one get down of vehicle. Our driver Prashant quickly showed the permit and we move ahead.
There was a line written on a wall at this check post, that is worth to mention here.
"When you go back, please tell them

For making their tomorrow

We are giving our today" – Indian Army
Mesmerizing beauty of Gurudongmar
As we crossed that check post, the surroundings getting changed, the forest, tree or even grass going disappear. The road from this point also become smoother and no more bumpy ride.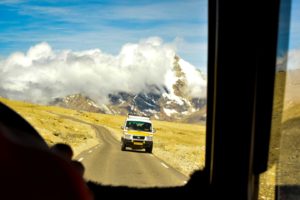 The surrounding hills become smooth and it was more like sand dunes than a rocky edgy hill. Harsh wind must have shaped up these hill in the dunes.
It was a cold desert, every hills was having different shades. The weather was so clear, that we could see the clouds's shadow dancing on these hills.
After almost half n hour ride through this wonderful landscape, finally we were at Gurudongmar lake.
Frankly speaking it was beyond my imagination, I had never seen such a deep blue lake before. Snowy mountains in the background were adding more contrast. Lake water was so crystal clear that every pebbles was visible. And the blue sky was also shining like a mirror.
Because of unmatched purity and perfection, this place was looking like a film set which might prepared to shoot some scene from Heaven. And there should not be any doubt why God chose Himalaya as his adobe.
Gurudongmar Lake, story behind the name
Gurudongmar Lake is the highest lake of India and among the top high-altitude lake of the World. This lake was at 17800 feet and 200 Km from Gangtok. It cover almost 290 acres of area and having periphery more than 5 km. This lake have a sacred value among Buddhist and Sikh as well and also a point of dispute.
According to a legend Guru Rinpoche (usually known Guru Padmasambhava ) visited this place in 8th century while coming back from Tibet. Local people were not getting drinking water because this lake remain frozen most of the time. Then Guru Padmasambhava placed his hand on a part, then onward that part stop freezing during winter.
Another legend tell that it was Guru Nanak Dev, founder of Sikhism who visited this lake in 15th century. And he helped the local people by unfreezing a portion of this lake by touching with his walking stick. Since then, that portion did not freeze even in winter. Considering this as a sacred place for Sikh-people, Sikh regiment of Indian army constructed a Gurudwara in 1997 at the bank of lake.
Both the stories claims that it was their Guru who blessed this lake and got its name from. But Namgyal Institute of Tibetology, Gangtok furnished some historical document/evidence, that strengthen the claim of being it a place related to Buddhist. So, the construction done by Sikh regiment handed over to Lachen Monastery in 2001.
Also read: Trip to Baba Mandir and Changu lake
Lack of Oxygen at Gurudongmar lake
Water, sky, rock or sand can give you so much satisfaction, its really hard to think while sitting on a comfy Sofa of a decorated living room in a big metro city. It is good that the place does not have adequate Oxygen level else SMART human probably pull it to some city.
Unwillingly, we had to move back from there as I mentioned Oxygen level was not adequate there. As per rule also, we have to cross Thangu valley check-post by 2 PM. So, nobody can stay there for long. But we had to come back to Gangtok on same day, so were in more hurry.
( Kid below 5 year or old-age person should avoid Gurudongmar Lake trip because of high altitude of 17800 feet this site does not have adequate Oxygen. If any one having breathing problem, he should also avoid.)
Lastly, we reached Gangtok by 6 PM and it was time to say good bye to all my co-passengers. I started this trip as a solo trip but it end like a family trip. All the trip buddy was very friendly and an integral part this memorable trip. And Nagar uncle ( 3rd from left) was the star of our trip, who encourage everyone to live every moment.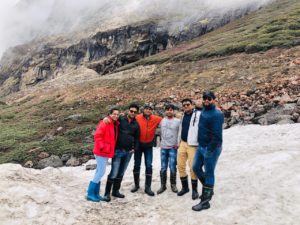 Lachung-Lachen trip from Gangtok
This was 3 days 2 night Lachung-Lachen trip, full of natural beauty, great waterfalls, roaring Lachung and Teesta River, beautiful valley of flowers, snow capped mountains while the climax of whole trip was heavenly Gurudongmar lake. Food and other facility we got during our stay at Lachunga and Lachen was really good.
A total 500 km (approx) of winding ride, spending minimum 7 hours/day in journey was totally worth to explore such an amazing treasure. Even the cost of trip is also pocket friendly. Anyone who are on his Gangtok Trip, must explore North Sikkim. Though, nowadays thousands of tourists visit North Sikkim but still you can have your share of adventure. Read: How you can book shared trip to North Sikkim?
If you find this post useful, please share and leave your valuable feedback in the comment box.
Subscribe for further travel update