Nature has favoured India, because it has offered all its colours n features to India. India is one of the few country which has a snowy mountain, deep forest & rich wildlife, long beautiful beaches and equally beautiful desert. This time, I was heading to Jaisalmer (Rajasthan) for experiencing Camel safari and Camping in the Thar desert.
Read also: 10 Must see place of Rajasthan
It was a family trip to Jaisalmer by train. Before an hour to Jaisalmer we met some travel agents in the train. These agents usually board the train one or two station before Jaisalmer, and try to sell their deal to the tourists.
They can offer accommodation with complete itinerary around Jaisalmer like Camel ride, Jeep safari, Camping with Cultural program at desert.
But, we had already booked our stay in Hotel Haveli through Makemytrip, so we did not buy any deal. It was midnight, when we reached Jaisalmer station. We got free pick-up from station to Hotel Haveli, the hotel was just 2 km from station.
Sam sand dunes

Tour packages & Cost
On the next morning, we discussed various Desert package available in Jaisalmer with the hotel owner. Finally, we found a tour package that was actually a Half day tour for desert safari in Sam sand dunes from Jaisalmer.
This half day tour package included travelling to Sam sand dunes desert area 50 km from Jaisalmer, Jeep Safari, Camel Ride in the Thar desert. Cultural night with typical Rajasthani dinner in a desert camp, and returning back to hotel in midnight was also included in same trip.
Itinerary of this Half day tour seemed suitable to us, and good enough to have an overall experience of desert activities in Jaisalmer. And, this Half day package was economical too, it cost us 1200/- for each.
Half day tour in Sam Sand dunes, Jaisalmer
On next day, our journey started from Jaisalmer around 2.0 PM in Mahindra Bolero. Road on this route was like a sinusoidal wave, with many up and down; It was like a smooth roller coaster ride.
This road trip has offered view of sandy plane with less vegetation except bushes, wind mills and small Desert villages on either side of road (most of the house in these villages built from mud only). May be development didn't find the road, on which we were.
After 1:30 hr of this roller coaster ride, we reached to 'Payal Camp' in the Thar desert. From there, we were supposed to move towards Sam Sand dunes for desert activities as per prefixed itinerary. Soon, another driver had reached with his 4×4 Jeep to assist us in further trip.
Camel & Jeep Safari in Sam sand dunes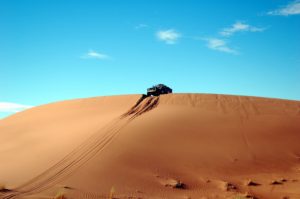 Sam sand dune was just a kilometre away from the desert camp, within 5 minute we reached there.
On reaching sand dune, driver released some pressure from the tires so that jeep could run easily on sand. Now, for Driver it was time to show his mastery in the desert. He increased the volume of music system in jeep and started rash driving.
Initially, it seem a thrilling and scary ride. But soon we realised, without this bumpy Jeep ride in sand dune, the fun would have been incomplete.
Climbing Jeep on sand dune, then sudden drop from dune was best part of the ride, several times he did this. It was more like playing with sand dunes than driving, he was very much expert and he showed all his skills.
Then he dropped us in the middle of sand dune, and now it was time for Camel ride. Here, you will find number of camels waiting for the tourists to offer ride comparably in cheap price. But, it was actually included in my package so, driver himself arranged camels for us.
Camel man demonstrated us, how to sit carefully on camel, because sitting on a camel is somewhat technical. And if you don't follow their guidelines, you will fall down for sure. It was a 15-20 minute camel ride on sand dune where camel man holding the rope of camel.
After finishing this package ride, camel-man asked us for a race on camel, we did that too. But for that we had to pay some extra charge out of the package cost.
See also: Elephant ride at Amer Fort, Jaipur
After that, we clicked number of pictures and made videos, played with sand, and relax there for a while.
There were some ladies in their traditional attire, dancing in front of tourists in exchange of some money. These people are bound to do all such stuff, because they have limited mean of earning in the desert area. Men offers camel ride, while women shows their traditional dance all sake of little money.
Sun-set, highlight of Desert
In Jaisalmer, tourism is the main source of income. Now it's time to click some picture of Sun-set, as Sun-set is always a highlight of any location whether it is a desert, Sea beach or a lake.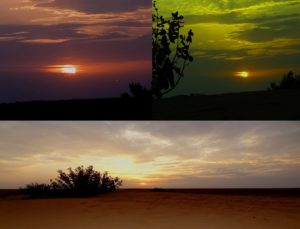 Cultural program at Desert Camp, Jaisalmer
After finishing desert itinerary, we reached back to Payal Camp. Where, we all got welcome in very cultured way, with putting Tilak on forehead, Phool-Mala and Aarati. The whole scene was justifying the Indian theme of Athiti Devo Bhava.
In the middle of compound, there was an arrangement of folk singing and dance performance by some local group. Most of the camps in Thar desert arrange such types of cultural program for their guests. Here, sitting arrangement was in circular way and middle space was left for the dance performance.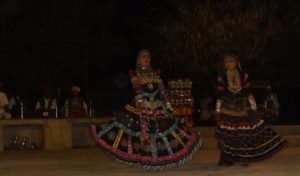 As all the guest arrived back from their desert trip, Cultural program got started. It was a group of 7 people, five of which were playing music and singing, while two young girl were dancing.
Initially, they have chosen folk songs on which girls shown their typical Kalbelia Dance, they were very much perfect in that. In a little time, they involved every one, it was a complete treat to eyes.
In the end of their performance, they played filmy songs and cultural night shifted to DJ night, every one jumped to the middle and danced with performers.
After enjoying the dance, nice traditional food offered to all the guests in which you always found Sangri ki sabji which is a typical food of desert villages. It was around 11:00 PM when we left the camp for Jaisalmer. It was a great time in the Sam sand dunes inside Thar, though it was a half day tour only but it was full of fun.
You may also like to read
Day trip to White Desert (Runn of Kutch)
Backpacking to Largest Mangroves forest in Sundarban
Explore Bhitarkanika; The Amazon of India
Lion Safari in Gir National Park
Gurudongmar : Highest lake of India
If you find this post useful, please share and leave your valuable feedback in the comment box.
Subscribe for further travel update