Around 2300 years ago, Chandragupta Maurya established Mauryan rule from the Magadha. Within a short span, Mauryan empire spread across the length & breadth of ancient India. The Uparkot fort of Junagadh in Gujarat is an example of existence of Mauryans in the region. One big rock on the way to Girnar hill, still retaining rock edicts of Ashoka (most notable ruler of Mauryan empire).
Uparkot fort has been devastated and rebuild several times in last two millennium. And now, it is quite impossible to find any association with Mauryans or later ruler Guptas.
Still, Uparkot fort retain its importance as the main tourist spot in Junagadh. In recent history, Uparkot fort was the center of Koli rebels against the Mughal rule. Koli captured the fort about 13 months and executed various raids to disturb Gujarat Sultanate.
V

isitor guide of

Uparkot Fort
In a half day halt at Junagadh, I did not want to loose any chance exploring this historical site. Uparkot fort was just 2 Km from the Junagadh Junction, so I decided to walk up to the fort. On the way, I got chance to see Mahabat Maqbara and other historical buildings of the town .
A narrow road (Dhal road) leading to Uparkot fort was having old market on both side. As I reached the fort, I saw more pilgrim than history lover because of Kodiyar Mandir, an old temple of Goddess Kali at the entrance.
After crossing one gate there was another one and then one more. These gates were having some decorative carving and figures, expert mention it as Toran (Term use for decorated gates). Read more: Torans of Sanchi stupa
Buddhist Caves in Uparkot fort
There was no guide to help me, but following others was one way to explore one spot to another. Then I saw a direction board for Buddhist Cave, before coming to fort I did not know about this. I moved straight in that direction because I love exploring such ancient and unique structures.
There was an entry ticket of Rs. 25/- for visiting Buddhist caves. It was a double storey underground caves that was dug during 2nd or 3rd AD for Buddhist monks. Excavating such caves will not be easy even today, the smoothness on the cave walls, floor and ceiling was really amazing.
Few cylindrical pillars were also carved out to prevent the cave from collapsing. Some human figures had also been carved out on the pillars head. Most of them have surrendered against time, but still it is not hard to figure it out.
To witness such a ancient caves was a pleasant experience to me. I had seen such and even more beautiful cave shelters at Udaygiri-Khandagiri cave at Bhubaneshwar belonging to same era.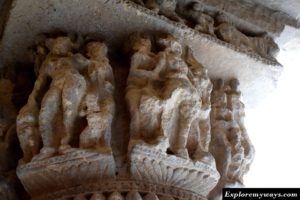 Ancient wells in Uparkot fort
I saw another direction board mentioning 'Adi Kadi Vav', and it was difficult to guess from its name, what I am going to see.
Adi Kadi Vav was a deep water well, dug out of the hard rock. Almost square access on the top, each side was 13 meter and depth approx 70 feet. Even, it was possible to reach up to water level via a long flight of stairs.
At lower portion it was having circular wall. But it was very disheartening to see the well water, polluted by some irresponsible visitors.
There was another well Navghan Kuvo approx 400 meter away from Adi Khadi Vav. This step well is named after the Chudasama king Ra-Navaghana. Exact period of construction of this well is not confirm but possibly that it may be older than 1500 years.
There was winding stairs to reach till the water level, may be constructed in later period. Expecting water at such height and digging for that, itself a challenging thought.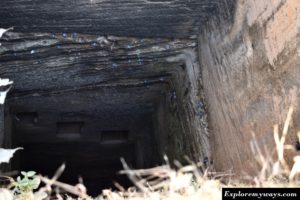 Also read: The most beautiful step-well of India
Historical Mosque in Uparkot Fort
Now it was time to explore the old building of fort premises, that was visible from all the surrounding roads. It was Jama Maszid, believed to be constructed from the remains of some Hindu temple by Mahmud Begada.
This mosque had thin minarets at each corner standing above the building. Today, most of the structure are in ruin and not in use for Namaz or other religious gathering.
It was a mosque, but seeing some Hindu ritual and a perception of Buddhist hymn from its wall was really really amazing. This is the India, where sometime boundary is not enough to create boundation.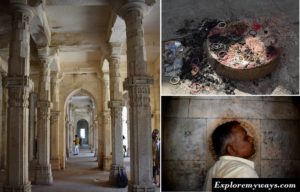 Historical pumping station
There was one very interesting spot and I was not expecting anything like that. It was an old water pumping station along with an artificial pond (Nawabi Lake). Finding an pond, completely filled with water at this much height, was itself an amazing thing.
At the time of Britishers, this system was in use to supply water to Junagadh town. Still some people were playing with the old machines and testing their arm power. Also read : Water management system at Jaigarh fort
Cannon– On 50 meter south, there was one big cannon 'Kadanal Gun' stationed at the fort wall. It was more than 10 feet long and having 10 inch barrel. It is said that, this cannon was brought from Diu, where Turks left it after their defeat against Portuguese in 1538.
How to reach Junagadh
Junagadh have good connectivity via rail and road route. Various trains are available from Ahmedabad, which is approx 320 km from Junagadh.
Bus services (Sleeper & Seater ) are easily available in major cities of Gujarat so you can choose your trip via Bus for Junagadh. Nearest airport is at Rajkot approx 100 Km from Junagadh.
Girnar hill, another attraction of Junagadh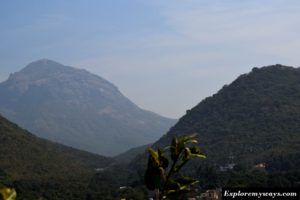 Girnar hill is the another important landmark of the Junagadh town. 'Peak of Girnar' is the highest point of Gujarat at 1110 meter. The path to Girnar-peak has hundreds of Hindu and Jain temples so lots of Hindu and Jain pilgrim visit this place throughout the year.
To reach up to Girnar peak one has to track around 16 Km so this point also attract to adventure lover. Do you know the highest point of Madhya Pradesh?
More tourist places of Gujarat
If you find this post useful, please share and leave your valuable feedback in the comment box.
Subscribe for further travel update