When I was making a travel plan for visiting interesting points of Madhya Pardesh, Pachmarhi was not the part of my itinerary. Then a friend suggested me to add Pachmarhi in the list, honestly I did not heard much about the place. After surfing net for a while, I got to knew that Pachmarhi is the only hill town of Madhya Pradesh and famous for its forest and wildlife.
Pachmarhi, only hill-town in MP
This town has average elevation of 1100 meters. Dhupgarh, the highest point of Madhya Pradesh at 1350 meter also located in this region. Once, I had read about Satpura's deep forest in our school text book. Fortunately, I got a chance to revise that chapter, there were many beautiful hills, deep & green valleys, rare medicinal forest and so many waterfalls in surrounding of Pachmarhi.
The town have some naturally formed caves which have religious importance too. There are several beautiful waterfalls around Pachmarhi town lies in the forest, good to test your trekking strength. Due to its rich ecosystem, area around Pachmarhi also added in the list of UNESCO biosphere reserve.
Nowadays, Pachmarchi also offers some adventure activities to attracts young and enthusiastic visitors. All these qualities make Pachmarhi a perfect blend for all kind of visitors; It may be a wild life photographer, nature lover, adventurer or religious one. And only after visiting Pachmarhi you will know, why this place known as 'Queen of Satpura'.
So, here is the quick travel guide with 4 days itinerary and other required information you need.
Pachmarhi travel itinerary for 4 days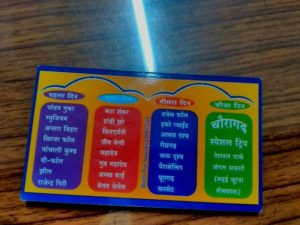 As soon you land in this tourist town you got 4 days itinerary of Pachmarhi on back of visiting card of any hotel/tour operator. Mostly, all the important attractions like cave temples, scenic beauty of deep forest and waterfalls around Pachmarhi town have been covered in this 4 day itinerary.
You can categorize these tourists spot in two; places falls under forest area and non-forest area. To visit the spot under forest region, you need to take prior permission from Bison Lodge tourist information center to enter in forest reserved area.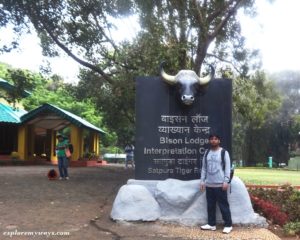 Bison Lodge is the oldest building of Pachmarhi town. It was constructed in 1862 as a temporary residence of Captain Forsyth then forest officer. Captain and his team use to stay here during exploration and survey of the surrounding forests. In the later period this town developed as a British military station.
Even, as on today most of the part of Pachmarhi covered with military cant and very little area for the civil town. Now this is converted into a museum and information center for the tourists. The gallery display information about flora-fauna and tribal life of the region. It also display life size statue of Bison, tiger and other wild animals and bird.
Gypsy for Pachmarhi exploration price
Gypsy is the common option available to get around Pachmarhi town, cost you Rs. 1425/- per day. And for visiting places inside reserve forest you have to take forest entry permit of gypsy from Bison lodge that will cost you additional Rs. 1100/- which include guide charges.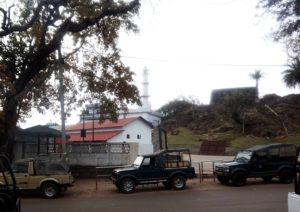 Apart from gypsy you can hire motorbike or a bicycle. It is nice to spare one day from your trip for cycling around the town. For commuting within the town you do not need any means of transport because it is quite small town and everything you get on walking distance.
Valley & Waterfalls in Pachmarhi
Pandav Gufa, rock cut shelters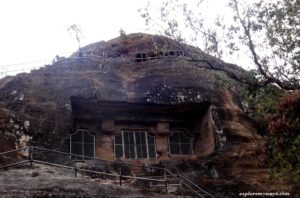 The very first landmark that draw your attention is Pandav Gufa, This is a group of five rock cut shelter and believed to have a close connection with Pandavas (Characters of Mahabharata).
Pachmarhi got its name because of these five rock cut shelters. It is believed Pandavas had spent some time here during their exile period.
But a study tells that these rock cut structure belongs to Gupta periods ( approx 1500 years old) and was dug for the Buddhist monks. The top portion of this big rock is covered with ancient bricks, and from there you can have 360 degree view of surroundings.
This simple looking rock shelters is a result of great efforts and dedication of that time. A beautiful parks also has been developed on the foot of these rocks which have many varieties of plants, flowers and cactus.
Also Read:
Bhimbetka rock shelters in (MP)
Udaygiri-Khandegiri cave in Bhubaneswar
Handi-Kho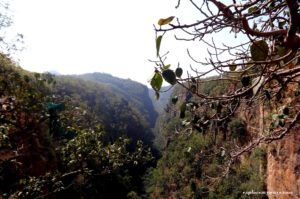 This is closest view point of town, where one can witness the bowl shape valley, It is wide in the center and narrow at the both ends. The very famous Chauragarh temple can be seen from here. You will find some people, those sell the view of temple using binocular.
Priyadarshni Point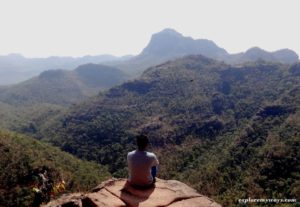 It is the next view point of Pachmarhi town after Handi-Kho, you have to walk around 400 meters from the road to reach this point. It is one of the most eye catching point of the Pachmarhi. Beware this point may motivate you for the suicide because it looks so perfect from a standing cliff. Green Valley
Green Valley
Its another beautiful point in between Mahadev caves and town to click some nice pictures of the surroundings. Here, you can have panoramic view of the green hills and valley.
Sunset at Rajendra Giri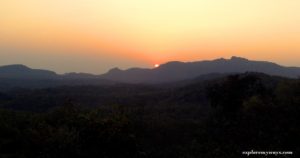 This park was developed in the memory of visit of Dr Rajendra Parsad that time president of India. It is a beautiful park having multiple species of rose and other flowers, people can enjoy the beautiful view of Sun-set.
Waterfalls in Pachmarhi reserve forest
Bee Fall
It is the most popular among all waterfalls around Pachmarhi. It is a two level waterfall, the upper one is almost flat where elders and children can enjoy. And second level is vertical where water fall from a height of more than 100 feet.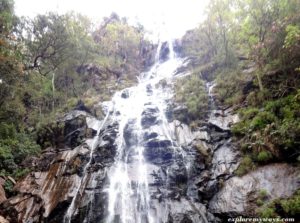 There are hundreds of stair steps to reach the foot of the fall. These steps are big and steep that may be challenging for kids and elders. One can reach to the toe of water fall using stairs and can enjoy the bath under the waterfall. This waterfall got its name because of sound generated which seems like humming sound of bee.
Silver and Apsara Fall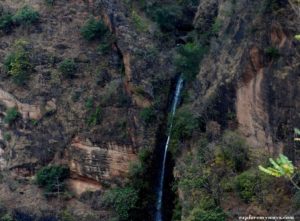 Silver fall, Apsara fall and Panchali kund are the three level of same water stream. The lowest one is Silver fall, where water fall in a deep valley from a height of 400 feet. Because of its distance from view point, it look like a white and thin line in a big valley. The view of the valley is amazing here.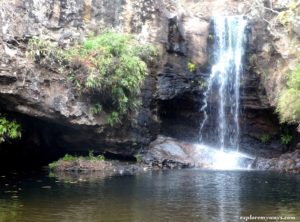 In the upper stream of the Silver fall, water collect in the naturally build pool which is quite shallow and easily accessible. But these days quantity of water in the pool is small because of lesser rain.
Before independence British lady used to enjoy this pool, so local tribes named it 'Apsara fall' because of their white skin. Panchali Kund or Dropadi Kund is a small pool in the upper stream of Apsara fall, where the main stream of water split in five smaller streams.
one has to walk around 3 Km up and down to reach these points through forest. But the track is not much difficult so kids can also enjoy here.
Duchess Fall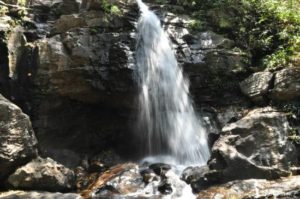 This is also popular waterfall and big like Bee Fall. It lies in the remote forest 12 km from the town. One has to track 4 km through forest to reach up to the fall.
Reechgarh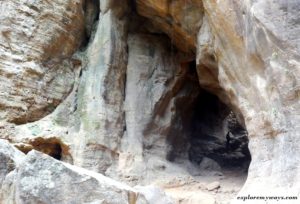 It is a natural habitat of Bear (Reech) which located near the way to Dhupgarh. The place is quite amazing, it looks like one rock fallen on another and make an entrance at bottom. After crossing this entrance, you find yourself in a closed compound of natural rock. It looks like an open theater, which have big entrance at one side and narrow exit on opposite end.
Dhupgarh, highest point of MP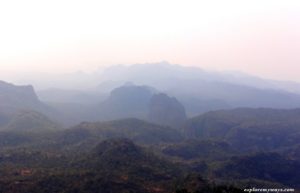 It is the highest point of Satpura range and Madhya Pradesh. It is located at a distance of 10 Km which is reachable by motor vehicle. On reaching the top, you find an unimaginable flat ground at such height.
This point is famous for the sun-set and sun-rise view. There is a old building which consist a gallery, where you can see the photograph of surroundings captured by some known photographers.
The area is well maintained, there are big flat stairs & benches to sit and enjoy the view of surrounding valleys. On the way to Dhupgarh you may enjoy steep ride along with the natural beauty of forest. And if you are lucky, you can have glimpse of any forest animal like bison.
Pachmarhi temples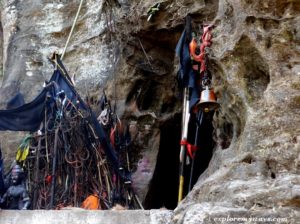 Pachmarhi also have some important sacred places around, mainly dedicated to Lord Shiva (Mahadeva). The most sacred is Chauragarh temple located at the 2nd highest peak, where people offer Trishul.
Jatashankar Mahadev, Bada Mahadev and Gupt Mahadev are other important sacred place located within natural caves. These places are not commercialize as you see on other places, visiting these temple in completely natural environment is a different experience.
Also read: Cave temples of Mahadev in Pachmarhi
If you find this post useful, please like and share and you may leave your valuable feedback in the comment