Chandragupta Maurya and Great Ashoka are the most famous characters of Indian history, they ruled Magadha from Patliputra (Patna). Taking few steps back in history brought you to Bimbisara period, who was contemporary to Gautama Buddha and ruled Magadha from Rajgrih (now Rajgir). Rajgir has many points of tourist attraction and historical landmark related to Buddhism and Jainism, that help in knowing the great history of the region.
Rajgir also mentioned in Mahabharata, where Bhim had a wrestling match with Jarasandha. In that match Bhim split him into two after getting hint from Lord Krishna. During Mahabharata period, Jarasandha was the ruler of ancient Rajgir.
Rajgir was also the favorite place of Gautama Buddha and Mahavira for meditation. Mahavira had spent almost 14 years here, while Buddha spent several month on Gridhra-kuta (Vulture hill ) for meditation.
Rajgir, Attractions and historical landmark; Guide for visitors
1) Cyclopean Wall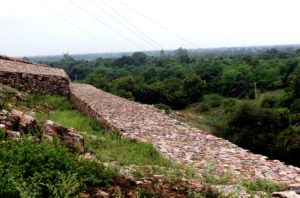 Region of Rajgir was fortified by a huge wall, which is believed to have a length of more than 50 km. In some area you can see the ancient wall in its original form.
Beauty of this wall is that mortar was not used in the construction and stones are placed in a fashion to have minimum clearance and void filled with smaller stones.
Width of Rajgir's cyclopean wall is about 7-8 feet and the top surface of wall is equally plane to a road. Making such a massive structure in that Era seems impossible.
2) Son Bhandar or Bimbisara Khajana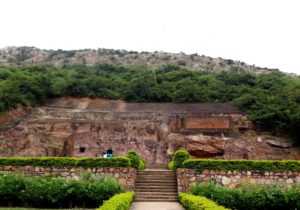 These ancient cave chambers of Rajgir also known as Bimbisara treasure, a major attraction lie at 500 meter from the Rajgir-Nalanda highway. These cave chambers dug before 2000 years, still one of the cave in its original form. It looks like a perfect chamber in the hill and its roof has arch shape. There are some small sculptures belonging to Jain Thirthankara in this chamber.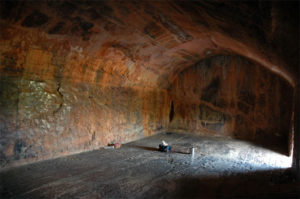 Here, in this cave you can see mark of gate like shape on the hillside wall, that is believed to be a hidden way to great treasure ( Son Bhandar ) belongs to Magadha King Bimbisara.
On the same wall you will see two row of letters in unknown language. Some historian believe these inscription were carved in ancient Shankha-lipi ( shell script) which is still to decipher.
Some people believes that decoding these lines may open the way to Son Bhandar. Guides tell that this path from the cave leads to Saptparni Cave. Similar kind of inscription can be seen at Udayagiri caves near Vidisha of MP.
Second cave is broken and almost in ruin, it also has sculpture of Jain Thirthankara. Local guide tells you that Lord Cunninghum had shoot canon on the caves for the seek of great treasure, but he could not got succeed.
At the main gate of Son Bhandar you will see a direction board of Jarasandha Akhada, showing 1 km from here. But because of security reason people advise you to avoid this spot, as it is inside forest and there is no maintenance of the path and this ancient site.
See more important heritage sites of India
3) Vishwa Shanti Stupa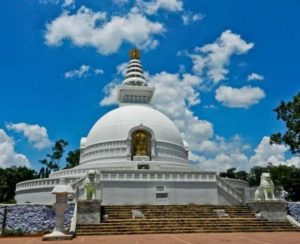 Stupa of Rajgir is an important landmark and major attraction of Rajgir, it draw more tourists than any other spot of town. It is one of the many Peace Pagoda (Shanti Stupa) established by Nichidatsu Fujii a Japanese monk to spread Buddhist philosophy of life through out the world. Also read Great Sanchi Stupa
Shanti Stupa is made of white marble and situated on the top of Ratnagiri hill. It has four golden statue placed in all four directions. These statue depict the different phases of Buddha's life like birth, enlightenment, teaching and death of Buddha.
There is a colorful Japani Temple also situated adjacent to this Stupa. Being on the top of hill, this place provide you a nice of surrounding hills.
Note: This place has lots of monkey, so if you carry any eatable, you have to be more vigilant. Here, you will also find many people selling herbs, claiming best for diabetes and all such diseases.
4) Rajgir
Rope way
To reach on the top of hill for visiting this Stupa you have two option; either taking rope-way or a footpath. It has an elevation of around 400 meter. So, choosing footpath may be difficult for older people and children.
Rope-way of Bihar is considered the oldest rope-way of the country. It is a single chair type rope-way and quite adventurous and may seems scary for weak hearted person. It move continuously, so you have to be very quick while boarding and leaving the chair.
Rajgir rope way costs Rs. 60/- per person and available up to 5:00 PM.
One major drawback is children below 10 year of age are not allowed at Rajgir rope-way. So, families with the children are bound to take foot-way that takes around 20 to 30 minute to reach on the top.
5) Venu Vana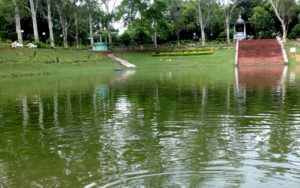 Magadha King Bimbisara was very much influenced from Buddha and his philosophy of life. When Buddha visited Rajgir for meditation and to spread his teaching after enlightenment, Bimbisara provided him a quite space 'Venu Vana' for stay and meditation.
Nowadays, Venu Vana has been developed as a beautiful park right on the main Highway. It is a wonderful place to spend time in peaceful environment, surrounded with many tree and a big pond in the middle.
There are thousands of colorful fish live in this pond, you can get opportunity to feed them. You have to pay only Rs. 5/- for enter in Venu Vana park.
6) Griddhakuta Peak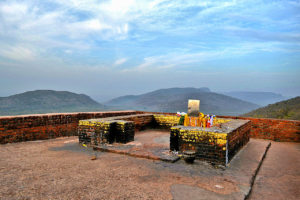 It is another important landmark of Rajgir. It has great importance among Buddhist tradition and also mentioned in several Buddhist literature like Theravada and Mahayana Sutra.
At this place Buddha preached to thousands of monks after his enlightenment. This lesson become the second turning of the Wheel of Dharma. It lies on hill-top and visible from the site of Vishwa Shanti Stupa.
7) Bimbisara Jail
This historical landmark of Rajgir lies on the main Rajgir-Nalanda highway(NH-120). Ajatshatru had imprisoned his father 'King Bimbisara' because Bimbisara had opened his treasure for Buddhist monks and to spread Buddhist culture.
King Bimbisara had chose this location himself for his own imprisonment because he wanted to see the Griddhakuta peak from here. Buddha used to meditate and preach his sermon at Griddhakuta peak.
This historical place is in complete ruin now. Only top portion of jail's wall can be seen and it looks like a foot path of boulders. Its inner portion filled with earth to protect it from collapsing.
It is also said that the Hathkadee and iron Chain also found from this site, which is placed at Nalanda museum 16 km from Rajgir.
8) Hot Spring at Rajgir
This is place of religious importance among Hindus, located on the main highway in the Rajgir town. There are numerous temple of Hindu God Goddess, lie in the foot of Vaibhavgiri hill.
Here, hot water comes out naturally in seven stream Saptadhara which originate from Saptparni cave. This hot water believed to have religious and medicinal value as well. This place is full of crowd like any other religious place and there are many Pandas to capture you and force you to perform puja and all.
Water of these stream and main pond (Brahma Kund) having dark color due to presence of high Sulfur content. And people believe that this water has power to cure many skin diseases.
One cool water park also situated adjacent to this spot. Mainly a swimming pool where people can enjoy in summers. There are many budget hotel to have food in front of this place.
9) Saptparni Cave
These caves are famous for the first Buddhist Council held after the death of Buddha. Here, hundreds of monks had gathered in that council and Ananda ( Buddha's cousin) had been appointed as successor of Buddha. It is also believe that Buddha had spent many days here before his death.
These cave lies on the Vaibhav Giri hill, and you have to track approx 1 km to reach this ancient site. Path of these cave start from Hot Spring ( Brahma Kund) site and pass through Pippala cave. You will see ruins of some Buddhist and Jain temples on this track route.
10) Veerayatan Museum
This museum is located 1 km from main highway. This is a small museum dedicated to the life of Mahavira and his philosophy. This site have an art gallery depicting many stories via hand-designed murals on the themes of non-violence, love and humanity.
Tourist attractions near Rajgir
Pandu Pokhar- These days Pandu Pokhar become the main attraction of Rajgir. Its a kind of amusement park having many sports and water activities. Nice place to visit with families for more detail of the activities and charges click here
Ghoda Katora Lake– This is a beautiful lake situated around 15 km from Rope way base of Vishwa Shanti Stupa. It is surrounded with hills and lots of greenery. Shape of this lake resemble with horse, so got its name. This is a picture perfect place and to spend your time amidst of nature.
Nalanda Ruins- One of the main University of ancient world and now a UNESCO World heritage site, located at Nalanda around 16 km from Rajgir. This place provide a good opportunity to peep into glorious past.
Pawapuri- This place a great importance among Jain people situated 19 km from Rajgir. The Mahavira, 24th Thirthankara attain enlightenment at this place in 5th century BC. Jal Mandir and Samosaran are the main attraction of Pawapuri.
How to reach Rajgir
Air: Loknayak Jayaprakash airport situated at Patna is about 105 km from Rajgir. This airport is well connected to major Indian cities like Mumbai, New Delhi, Jaipur, Kolkata, Bengaluru, etc. From Patna you can hire direct taxi to Rajgir.
Rail: Rajgir town itself has its own railway station which is connected with few train to Delhi, Patna, Gaya. You can take auto from station to reach various spot.
Road: Rajgir is well connected by road, lies on the Bihar sharif -Gaya route. And there are regular state-run deluxe Buses from Patna and Bodh Gaya.
Auto rickshaw and horse cart are readily available for travelling within town.
If you find this post useful, please like and share and you may leave your valuable feedback in the comment box