Until the early 19th century, Indian history was not aware about the Mauryan Empire. Discovery of Sanchi Stupa added an important chapter of Mauryans to the Indian history. If you are really interested in Indian history, Sanchi is one among the initial and important chapters. Visiting such heritage site is something like travelling back in time. Here is a quick travel guide to visit Sanchi Stupa with necessary information.
Sanchi Stupa, Complete t

ravel guide
Buddha sculpture of Gautam Buddha near one Torana of Great Stupa of Sanchi
Location of Sanchi Stupa
Great Stupa of Sanchi is situated about 12 km from Vidisha railway station. This heritage site lies at a distance of 400 meter from Vidisha-Bhopal highway and exactly opposite to Sanchi railway station. Sanchi Stupa complex lies on the hill-top along with other two smaller Stupas. How to reach Sanchi from Vidisha Junction
Historical Importance of Sanchi Stupa
History of Sanchi Stupa goes back to 2300 year back, when India was under the Mauryan rule. Ashoka had married to 'Devi' at Sanchi, was the daughter of a merchant of nearby Vidisha town. Ashoka's son Mahendra and daughter Sanghamitra who taken Buddhism to Shri Lanka, were born from Queen Devi.
Emperor Ashoka had embraced Buddhism in later period of his life, and build numerous Stupa for spreading Buddhist philosophy throughout the country.
Construction & Architecture of Sanchi Stupa
In 3rd century BC, Ashoka build the initial structure of Stupa at Sanchi over the relics of Buddha. That Stupa was made up of bricks and half in size of present structure.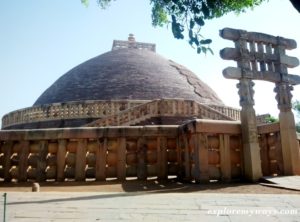 After fall of Mauryan rule, Pushymitra sunga destroyed the original structure. Again, other Sunga ruler renovated it during 1st century BC. The toranas we see today (ornamented gates) were not the part of original structure, they were built during renovation.
The great Stupa of Sanchi is the oldest stone structure of India in such a good condition. Being the oldest stone structure and close connection with Buddha & Ashoka made it one of the most important UNESCO World heritage site of India.
Stupa-1 (The Great Stupa) is the oldest among the 3 main Stupas present in Sanchi heritage complex. The present structure we see today got shape after the renovation in 1st century, while the initial construction was a brick structure and half in size.
This semi spherical dome shape is standing over the relics of Buddha. This Stupa has a circular boundary of stone (better to say a stone railing). It has four architecturally rich toranas (gates) in all four directions.
Apart from the beautiful decoration, carving of these gates says several stories about the life of Buddha and Ashoka. There is one more elevated platform around the main Stupa connected with flight of stairs.
Possibly this platform would have been built during the construction of these toranas, so that anyone can easily appreciate the stories from the relief on toranas.
Toranas of Sanchi Stupa
It depicted the story of war over the rights of Buddha's ash remains. The Mallas kingdoms of Kushinagar wanted to keep ash remains of Buddha after his last right. Similarly, other nearby follower kingdoms also wanted the same.
A war erupt because of this dispute and finally Buddha's ash remains (relics) divided among 8 royal families and his disciples. Other story of collecting these relics by Ashoka from royal families and making of thousands of Stupa.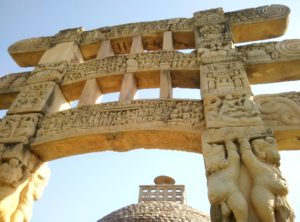 Here, you can see the relief of different episode of Buddha's life like his birth, leaving of Kapilvastu in search of knowledge, teaching to his disciples, enlightenment and death.
Even, history of Bodhgaya get to know from one of the relief on torana, where a temple is shown around a Pipal tree (Bodhi tree). As per historical records, Ashoka had built a temple at Bodhgaya at the same place where today's Bodhi temple stand but that is no more exist.
Some of stories on torana associated with Rajgir the Magadh capital. These toranas are like painted canvas, That tells lots of important story about the Buddha's life.
Other monuments in Sanchi complex
As I said there are two other Stupa along with many smaller Stupa within the complex of heritage site. Stupa-3 lies near the main Stupa while to reach Stupa-2 you have to walk down many stair behind the main Stupa.
There is remains of a Buddhist monastery and a pond behind main Stupa, where one can also see a 'great bowl' of stone. A few Hindu temples of Gupta period also exist in the same complex but mostly in ruin today.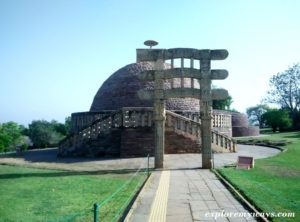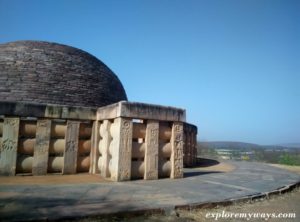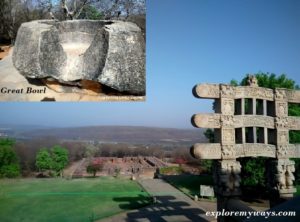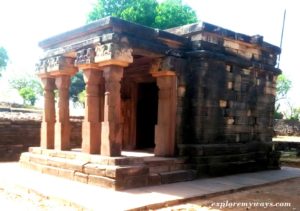 Ashoka Pillar at Sanchi
There is a broken Ashoka pillar standing in front of one of the toranas. One part of the pillar kept near the Stupa while head part placed in the Sanchi archaeological museum.
Head of Ashokan pillar has sculpture of four lions, now emblem of India. Emperor Ashoka erected such pillars across the India, inscriptions on these pillars used to spread the instruction of Ashoka.
Sanchi Museum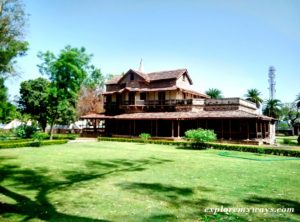 Sanchi museum is on the mid way from Highway to Sanchi Stupa. In the year 1919, this museum was developed by Sir John Marshall. Even the very old cottage of Sir John Marshall still stand close to museum.
Here you can see several ancient sculptures, pottery item and tools associated with site of Sanchi. It is a nice place to know more about history of Sanchi Stupa, main attraction of this museum is Ashoka's pillar head (4 lion statue).
Sanchi Stupa e

ntry fee
Sanchi stupa complex open from sun-rise to sun-set but museum open from 9 AM to 5 PM. For visiting Sanchi heritage site you have to pay INR 40, there is one clock room too where you can put your luggage. The same ticket can be used for visiting the Sanchi museum .
I hope this quick 'travel guide of Sanchi Stupa' may be helpful to you, please write your valuable feedback in the comment box