It was the time, when India inclined towards Buddhist and Jain philosophy. Approx 2000 years ago, India had many center of Buddhist learning, and monks travel from one place to other to spread their philosophy. Usually they live away from crowd and amidst of nature. And mostly spent time in caves or forest away from the town. Caves of Udayagiri and Khandagiri, situated in Bhubaneswar are one of such examples. Know more about these caves:
Udayagiri-Khandagiri Caves in Bhubaneswar, Visitors guide
There are total 33 caves as on date if we combine caves on the Udayagiri hill and Khanagiri hill both. Most of these caves dug-out in the 2nd century BC during the reign of Raja Kharavela while few are natural.
Raja Kharavela was the most notable ruler of Mahameghavahana dynasty, came into existence after fall of Mauryans. Udayagiri and Khandagiri caves are the protected monuments and National heritage, maintained by Archaeological Survey of India.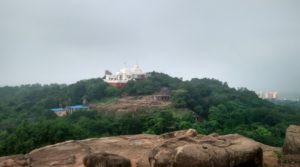 These caves are situated on two adjacent hills Udayagiri and Khandagiri, which was also known Kumari Parvat in ancient time. There are 18 caves on Udayagiri Hill, while 15 on Khandagiri hill.
Hathi Gumpha, Ganesh Gumpha and Rani Gumpha are most important among all of the caves of Udayagiri. As these caves are on high elevation, exploring these cave also provide you a bird view of Bhubaneswar city. There is a Jain temple on the top of Khandagiri hill.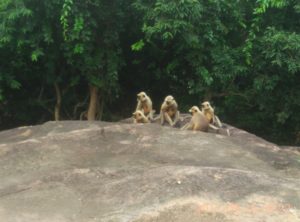 Entry fee at Udayagiri & Khandagiri caves
For visiting caves of Udayagiri & Khandagiri you have to pay INR 10/- as a entry fee for Indians and visitors from SAARC countries, while 10 USD for other foreign visitors. The site remains open from Sunrise to Sunset.
Main caves at Udayagiri hill
Hathi Gumpha
A naturally formed cave with large opening of eye shape. It is the first cave you see after climbing up long stair at Udayagiri.
At Hathi Gumpha, you can see seventeen lines inscription on rock written in Brahmi script by Raja Kharavela, making cave of historical national importance.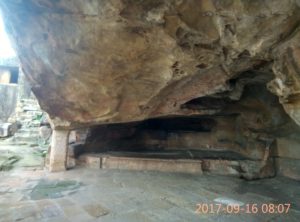 Ganesh Gumpha
After a little walk in left from Hathi Gumpha, you will see two elephant sculptures standing in front of a beautifully carved cave. There is a figure of Lord Ganesha carved out on the wall of its right cell. The elephant holding garland in their trunk.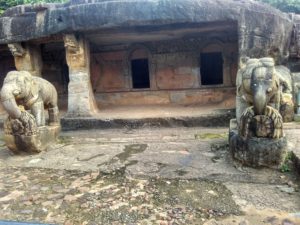 Rani Gumpha
Largest and most popular cave among all the caves of Udayagiri or Khandagiri. Rani Gumpha is a double storey rock-cut cave having veranda on both the floors; seven columns on upper floor while nine columns on the lower portion.
These cells have some beautiful carved figures of King's victory march, wild animals, trees, men and women playing musical instruments.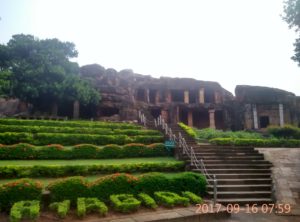 Vyaghra Gumpha: Also known tiger cave because of its entrance resemble like open mouth a tiger. It is one of the most photographed caves of Udayagiri.
Caves of Khandagiri hill
There is a temple on Khandagiri hill, which have image of Jain Tirthankaras, Mahavira and Bhagwan Bahubali. There is one double storied Jain monastery near the temple.
Navamuni Gumpha: It has sculptures of nine Jain Tirthankaras and Sasana Devis
Barabhuji Gumpha: It has twelve armed Sasana Devis. There are few Tirthankara sculptures also there. The Sasana Devis considered to be form of Hindu deity Durga.
Trusula Gumpha: There are three sculptures of Rishabha Deva in the standing posture and 24 rough image of Jain Tirthankaras.
Reach from Bhubaneswar Junction
Caves of Udayagiri and Khandagiri are just 6 km from Bhubaneswar Junction and very close to Baramunda Bus stand.
Air: Biju Patnaik International Airport, Bhubaneswar is just 7.5 km from theses Khandagiri caves that have good connectivity with other major Indian cities.
Rail: Bhubaneswar junction is major rail head, numerous trains pass through Bhubaneswar on Howrah to Puri or Howrah to South India route.
Road: Lots of AC/ Non-AC Buses ply regularly from other city of Odisha to Bhubaneshwar and main bus stand of Bhubaneswar is just 1 Km away from this site.
Local Transport: For the local transport you can book Auto rickshaw or Ola Cab service.
See More tourist attraction of Odisha
If you find this post useful, please share and leave your valuable feedback in the comment box.
Subscribe for further travel update
​