You possibly heard about the 'City of Nawab' but have you ever heard 'City of Begum'? I am talking about Bhopal, ruled by four Beghum during British period. The city also got its name as 'City of Lake' because of various water bodies it has. Apart from water bodies, there are some nearby attraction around Bhopal that can be included in your travel itinerary.
And if you plan a 3 days trip to Bhopal, it will be sufficient to explore place within and nearby.
Bhopal

travel itinerary

for

3 days
Day 1: Van Vihar National Park, Museum of Mankind/IGRMS, Bharat Bhawan
Day 2: Visit Great Sanchi Stupa along with nearby Udayagiri Caves in before noon then come back and explore some heritage buildings like Sadar Manzil, Saukat Mahal, Moti Maszid, Zama Maszid
Day 3: Visit Bhojpur temple and Bhimbetka rock shelters and come back to the city and explore Birla Temple and Upper lake in the evening.
Lets know a little about each of these places:
Upper Lake, Bhopal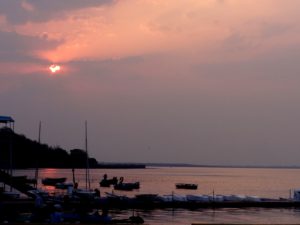 If you ask any Bhopali, that what should I visit being a visitor in Bhopal. I am very much sure that he will advise you to visit upper lake. It is the most favorite spot of the city, any time you can find number of people hanging out there.
It is also very much popular because of various water activities like Pedal boat, Speed boat, River Cruise. Even, you can see many youngsters engaged in boat riding or other water sport.
Lots of ducks quacking around, quite entertaining for kids. One old steam engine also been kept there, an opportunity to click a snap with the ancestor of Indian Railway family.
Also Read famous boat ride of Bhedaghat
Manav Sangrahalaya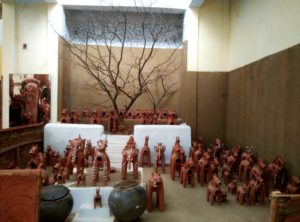 Probably you have seen lots of museum but trust me exploring this will be a different experience. Most of the museum retain some valuable things related to our proud past but this museum is mainly about present.
It's an opportunity to learn, how one Indian state is different from the others. This museum is about the lifestyle of mainly the tribal people living in different states of India.
It's about architecture & size of their houses, material they use to construct, how they earn their livelihood, what are their beliefs and festivals, how they celebrate etc.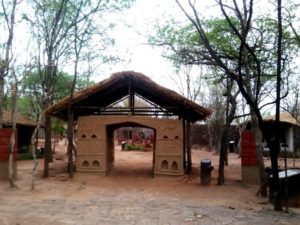 Apart from the lifestyle of people there is one gallery for the common science. This museum covers more than 200 acres of land and everything you see here is life-size.
It is a must visit spot of Bhopal, where you get real life experience. You can see more than 50 life-size huts belong to different Indian states. This museum is also known as Indira Gandhi Rashtriya Manav Sangrahalaya (IGRMS).
There is one MP Tribal museum also, on the Shyamala hill road approx 100 meter before the Museum of Mankind. This museum mainly exhibits the life style of tribal communities of Madhya Pardedh. There are various galleries that display art & craft belongs to tribes, their way of living, how they celebrate and how they worship nature god.
Van Vihar National Park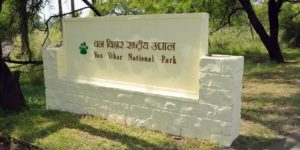 Located at the bank of Upper Lake and its entrance is quite near to one of the entry point of Museum of Mankind. Although, it named as National Park in 1981, but it is more like modern Zoo where carnivores like lion, tiger, panther kept within wired fencing.
Whereas herbivorous animals like deer can be seen moving freely. And it is quite pleasurable to see these beautiful animal in their natural habitat. There are variety of snakes like Cobra and Pythons along and several bird species.
For exploring this park, you can walk or can ride bicycle on the dedicated path. You are also allowed to take your own vehicle at some entry charges but the best way is either by walking or via bicycle. Park usually open from sun rise to 6:00 Pm and cost of Entry is only Rs. 15/- for Indians.
Birla Temple in Bhopal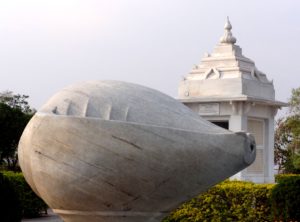 Another important attraction of the city, standing over the top of a hill. Also referred as Laxmi Narayan Temple, painted with yellow and red and build in very soothing environment.
Birla Temples are known for its architecture and finishing, it is one of the many temples across the country build by Birla family. Being on the top of a hill it provides beautiful sight of the historical city and lake.
Bharat Bhawan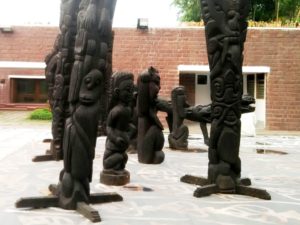 Bharat Bhawan is also important landmark of Bhopal, where you can see different art galleries from beautiful paintings or abstract art like sculptures from the numerous utensils. Located at the Upper Lake bank, 500 meter before the Boat Club developed with beautiful terrace lawn.
You can spend some time there, watching sun set. Later on you can enjoy some of the documentary or drama, which play on every evening in the auditorium of Bharat Bhawan. Entry charge is only Rs. 10/-
Famous mosque in Bhopal city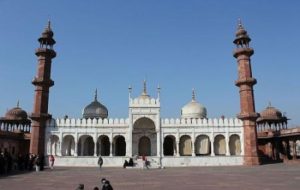 The city is also famous for the presence of various mosques; the most famous is Moti Masjid, built by Sikandara Begum in 1860. And other equally important mosque is Taj-ul Masjid or Zama Masjid build by Shah Jahan Begum.
These mosques reflect the presence of Mughal in the region as well as the women empowerment in that period.
Historical buildings of Bhopal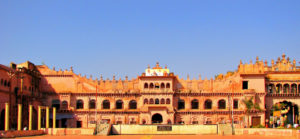 Shaukat Mahal and Sadar Manzil are the famous historical building of Bhopal; architecture of these building are quite different from the other structure near to it. It have an amalgamation of Indo-Islamic and European Gothic style.
The famous Sadar Manzil was the royal courtroom of Nawabs in Mughal period. A Frenchman from the Bourbon Dynasty of France had designed this palace. Today the building serves as the headquarters of the Municipal Corporation.

Heritage sites near Bhopal



Sanchi Stupa
The World Heritage site of Sanchi famous for Great Sanchi Stupa is approx 45 km from Bhopal, that can be access easily via train or via Bus.
Mauryan emperor Ashoka constructed this great Stupa, which have relics of the Buddha, this is the oldest survived stone-structure of India.
There is another two Stupas and a Buddhist monastery also. Here you can see the broken Ashoka pillar, which still retain Ashokan edict.
Bhimbetka rock shelters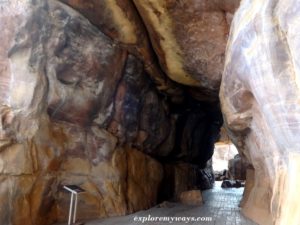 It is another World Heritage site near Bhopal on the Hoshangabad highway. This site has hundreds of rock shelters where early human learn to settle at one place.
Here, you can see lots of cave paintings drawn by those early human, some of them are dating back of 10,000 BC. Bhimbetka rock shelters is the best place to learn about the history of human development.
Bhojpur temple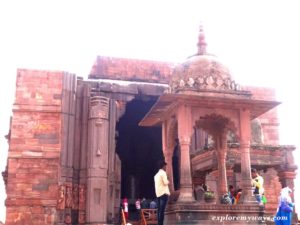 This heritage site is famous for 1000 year old Bhojeshwar temple, which have a large size Shiva Lingam, might be the largest in any temple. It is said that construction of this never been completed and still construction material can be at the back of site.
I observed one unique thing about this temple is its construction drawing still engraved on the nearby rocky plain. MP Govt also organize a cultural event 'Bhojpur Utsav' to promote this site.
Hopefully, my 3 days travel itinerary to explore Bhopal and nearby places will help you.
More tourist places of Madhya Pradesh
If you find this post useful, please share and leave your valuable feedback in the comment box.
Subscribe for further travel update