It was 6:00 AM only, when I reached Vidisha after an overnight journey from Delhi via Bhopal Express. Vidisha is a small town 40 km from Bhopal, capital of Madhya Pradesh. This trip was about Great Stupa of Sanchi, a UNSECO heritage site. So, I hired an auto rickshaw for Sanchi, which was 10 km from Vidisha. There are some ancient cave temples nearby Vidisha popular as Udayagiri Caves. I asked auto driver to go through caves of Udayagiri, and the deal got final in Rs. 300/-.
Udayagiri caves
Within 10 minute we were at the Udayagiri Caves, which is a combination of 20 rock-cut structures on Udayagiri hill. Some of these are only little chamber while some are sizeable cave temples of Lord Shiva and Lord Vishnu. Read More: How to reach Udayagiri caves
There are a few damaged rock pillars near cave temple having some early inscription. The inscriptions found on the rocks and pillars tell that this site belong to Gupta period ( 4th Century AD).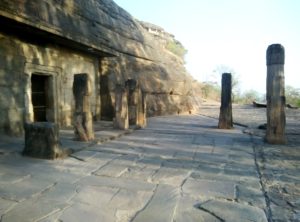 Udayagiri caves is an important archaeological site but still need to manage properly. There was neither a guide nor a guard, the site look complete abandon. May be, this site is not on the priority of ASI (Archaeological Survey of India) because it draw a little no. of visitors.
As per historians these cave temples are the earliest Hindu temple throughout the whole country. But due to lack of advertisement Udayagiri caves are almost unknown and even if you try to tell about it, people get confuse with the Udayagiri and Khandegiri cave of Odisha.
Varaha image at Udayagiri Caves
All of these small or big caves are belongs to some or other Hindu God Goddess. Cave no-5 is the most famous and photographed, here you see a big relief of Lord Vishnu in Varaha avatar.
According to mythology Lord Vishnu took an avatar of 'boar headed man' kind of creature when he rescue mother Earth (Bhudevi).
According to legend Bhudevi had been kidnapped and drowned by Hiranyaksha into cosmic ocean. Then Lord Vishnu emerges in Varaha avatar and save earth by taking her out on his tusk. The same stories has been depicted here on the cave wall.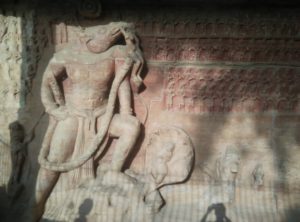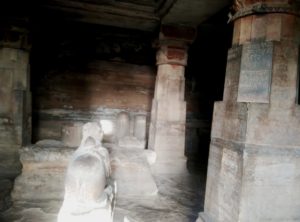 Here, every little cave chamber has some sculpture of God-Goddess. Cave no-13 is also an important one, where you can see sculpture of Lord Vishnu in laying position.
Cave no-6, adjacent to cave-5 also have several God sculptures like Durga and Ganesha on both side of cave entrance. Entrance of these cave temples are remain closed with iron bar gate, so you can only peep through.
You can see several little chamber on both side of this passage, and can see inscription in Sankha lipi on the passage rock that is still to decipher.
Similar kind of inscriptions can be seen on the Bimbisar treasury in Rajgir (Bihar). The site look almost deserted and you have to rely on the information from locals.
It was a good decision to visit Udayagiri caves. At the same time, it was quite disappointing to see the ignorance of ASI or State govt. This kind of monuments are the real gems of Indian history and a subject of nation pride.
After roaming for an hour, it was time to say goodbye with the hope of getting better condition in future. At a distance of 8 km from Udayagiri caves another important landmark 'Sanchi Stupa' was awaiting.
Why everyone should visit Sanchi Stupa
If you find this post useful, please like and share and you may leave your valuable feedback in the comment