Khajuraho in India, is a dream destination for any heritage lover. India has many heritage sites but Khajuraho temples have its own charm. A visit to Khajuraho temples will amaze you, will make you proud and will enrich your knowledge about the diverse Indian heritage. Here is a quick travel guide to visit World famous Khajuraho temples.
Travel guide of Khajuraho temples
Khajuraho was a religious capital of Chandela dynasty around 1100 years ago. During that period, every Chandela ruler had shown great interest in making some of the World's most beautiful, amazing and unique temples at Khajuraho.
Today, Khajuraho temples draw maximum number of foreign tourists in the central India. Presence of so many romantic and erotic sculptures, make these temples one of the unique historical site in the World. Some of these sculptures are quite loud in expressing their lust, anyone can associate these temples with Kama or Kamasutra.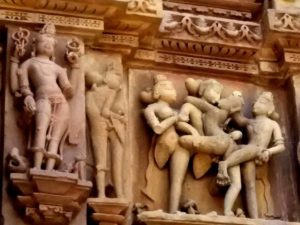 Not only the sexual images, but other architecture details of Khajuraho temples are equally amazing. All the temples covered with thousands of small and mid size sculptures, depicting or can say celebrating various stages of life. But main question still unattended, why Chandela ruler carved sexual images on Khajuraho temples ?
Because of uniqueness and beautiful architecture, Khajuraho temples have marked their presence on the World map as UNESCO World heritage sites.
Still, 25 of such temples exist in Khajuraho, broadly divided in two main group's i.e. Western and Eastern group of monuments.
Western group of monuments in Khajuraho
This is the main temple group of Khajuraho, which earned the World heritage title. Vishvanath temple, Lakshman temple and Kandaria Mahadev temple are the most notable temples among this group of monument.
Vishvanath temple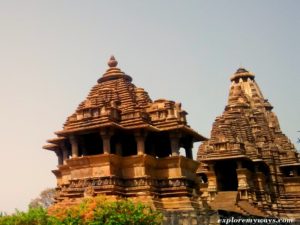 An important Hindu temple dedicated to Lord Shiva, sharing its name with Vishvanath temple of Varanasi and of Uttarkashi. It stand on a high platform with a Nandi temple in front.
This temple is decorated with beautiful carving and many beautiful sculptures of various kinds that include animals, Apsara (nymphs). Middle wall gallery is mainly for the erotic images. Temple porch has some ancient inscriptions regarding its history.
Lakshmana temple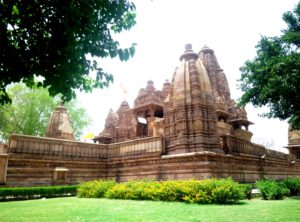 Lakshmana temple is the oldest monument in the Western group, dedicated to Lord Vishnu. It has several sculptures of Lord Vishnu in various forms (avtars) along with hundreds of elephants and horse sculptures.
Like other temple of the group, it also has an erotic art gallery. Temple platform also has four smaller temples at each corner. There is one Lakshmi temple and one Varaha temple in front of Lakhshmana temple.
Also see: Varaha relief at Udayagiri Cave, MP
Kandariya Mahadev temple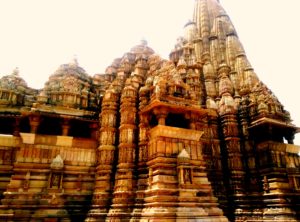 Kandaria Mahadev temple is the most important and best survived temple of the western group of monument. This temple is dedicated to Lord Shiva, also has highest Sikhara (tower) among all.
Main tower of Kandaria Mahadev has 84 miniature spires which made it distinct from other temples. The temple's architecture plan is quite similar with Vishvanath and Lakshmana temple. This temple also shares its platform with Jagdamba temple dedicated to Goddess Parvati, the batter half of Lord Shiva.
Apart from these main temples, Chitragupta temple dedicated to God Sun, Parvati temple and one Islamic temple also part of Western group of monument.
Timing & Entry fee at Khajuraho temples
Western group of monument are lies within a large compound, maintained by Archaeological Survey of India (ASI). To visit these monuments one has to buy entry ticket costing Rs. 40/- for Indian and Rs. 500/- for foreign visitors.
Western group of monument of Khajuraho open early in the morning with Sun rise and close around Sun set.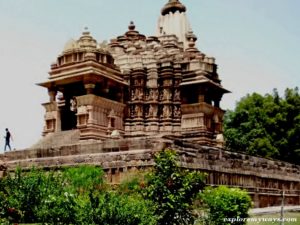 Matangeshwara temple
There is another important temple named Matangeshwara adjacent to Lakshmana temple but outside the bounded complex. It is the only temple of Khajuraho belonging to that era, still in use for daily worship. It has a quite large Shivalingam of 2 meter height.
Read more: temple has the largest Shivaling ?
There are two museums associated with history and heritage of Khajuraho; One is just in front of western group of monuments and other one is approx 500 meter away on the same road. These museums have various broken sculptures found during the excavation and restoration of site. You can see several old photographs of Khajuraho site.
Light & Sound show at

Khajuraho temples
Madhya Pradesh tourism also organize a light & sound show in the complex of western group monuments. This one hour show is in Hindi and English language, with different time slot in evening.
Eastern group of monuments
These temples are mainly situated in the old town of Khajuraho. There is no cost involved in visiting these monuments, though ASI takes care of these. All these temples close at Sun-set, so its better to club your morning walks with visit of these temples.
Vaman temple, Juwari temple, Brahma temple and Ghantai temple are the most notable temples of Eastern group of monuments.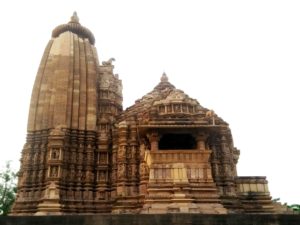 Apart from these monuments some Jain temples of Khajuraho is also part of eastern group. There are various life size statues of Bhagwan Bahubali, Parshavnath and Mahavira.
There are some other important temples like Duladeo Shiva temple, Chaturbhuj temple build in typical Khajuraho style, usually known as Southern group of monuments.
Budget accommodation in Khajuraho
Various budget hotels, home-stay available near the Western group of monuments on Jain mandir road, it is the main market area of Khajuraho. If you looking for shared accommodation, 'Zostel' or 'Yogi Ashram' offer shared room/dormitory for backpackers.
If you are on luxury tour, you can book your stay with 'Radisson Jass' or 'The Lalit' or Tourist Village Khajuraho.
Thing to buy in Khajuraho
You will find many stalls or guys selling booklets of temple's erotic art gallery near the western group of monuments. Even you can see Kama-shutra on every stall very casually.
Main market is also filled with paintings and statues of sensual sculptures borrowed from Khajuraho temples. If you are really fascinating about it, you can buy painting but don't forget to bargain.
Nearby tourist attractions
During your Khajuraho visit, you can go for Raneh water fall and Ken Crocodile sanctuary.
Some hotel also organize one day tour to Panna National Park along with Asia's only active Majhagaon diamond mine approx 50 km away from Khajuraho.
How to reach Khajuraho temples
Khajuraho is a small town in Chhatarpur district of Madhya Pradesh, approx 650 km from Indian capital Delhi.
By Air: There is an Airport in Khajuraho which is about 10 km from main town. Direct flights available from Delhi, Mumbai, Agra and Varanasi.
By Train: If you are a budget traveler you can try train from Delhi via Jhansi or from Allahabad. Khajuraho itself have a railway station 15 km from town but with limited availability of trains. So you have to plan in quite advance.
Mahoba is the other nearest railway station that is 70 KM from Khajuraho. There from you can book a taxi for Khajuraho.
You will find lots of Auto rickshaws for Rajnagar at the exit of Khajuraho Railway station, they all pass through Khajuraho and charge only 10 to 15 rupees for share ride.
By Bus: There is only one or two bus available Khajuraho directly from Bhopal/Indore in night. You can also find limited Bus from Mahoba, but I will not recommend personally. Condition of these buses are not good and they take almost 4 hour for this 70 Km journey.