During my 1st visit of Bhopal, I could not visit Bhimbetka for some reason. So, just to explore Bhimbetka rock shelters, I planned another trip of Bhopal. Prehistoric cave paintings at Bhimbetka helped this site in getting label of UNESCO Heritage site. Unfortunately, people in India are not much aware about it, so I decided to write a travel guide to visit rock shelters of Bhimbetka.
Bhimbetka rock shelters, travel guide
Bhimbetka rock shelters is one of the rarest site across the Globe, where one can see the proof of early human settlement. If I say early human that means, this site much older than the settlement of Harappa and Mohenjo-daro.
The name Bhimbetka come from Bhima ( Character of Mahabharata) as his sitting place. Rock shelters at Bhimbetka spread over a 10 sq. km area and have almost 750 of such types. Most of these are in deep forest, so for the safely reason only 15 of them are open to visitors.
Prehistoric

Caves at Bhimbetka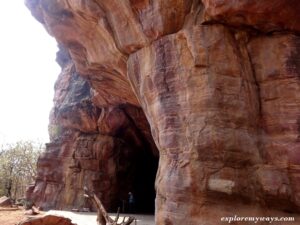 Here at Bhimbetka rock shelters, you can easily understand that why nature is the biggest architect. Most of these shelters are naturally formed caves and the shapes of these are amazing.
It look impossible that any weathering effect can shape these cave like this. Its like nature itself had planned to setup a colony for early human and to teach them to live at one place rather than hunting and moving.
Then, these human learnt to settle at one place, they also learnt farming and domesticating the animals. All these thing may be understand by looking at the cave paintings drawn on these caves.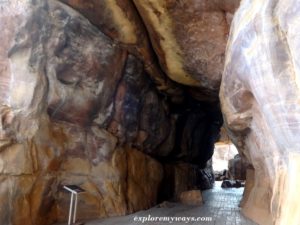 Auditorium cave (shelter no-3) is the largest and most significant cave of this group, it look well designed having 8 meter high entrance and 20 meter deep. Some rocks are hollow in between and some projected like umbrella.
Cave paintings at

Bhimbetka
There are lots of rock paintings in these caves as a proof of early human in this area. These cave paintings are drawn using the colors made from vegetables, herbs and minerals found in local region.
There are numerous paintings of animals like elephants, deer, horse, oxen etc. Some paintings depicting hunting of animals, celebration and war.
These cave paintings help to understand about their life style. Archaeological Study tell that some of the cave paintings of Bhimbetka are even 30,000 year old.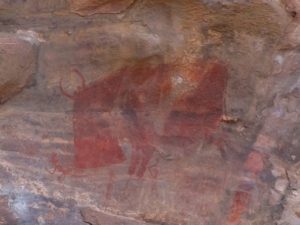 Some of the Bhimbetka's cave shelters named according the painting drawn on them. Like, zoo rock have herd of lot of animals like deer, elephants and tigers.
One cave named as 'Boar cave' where you see a painting of a big boar attacking on human. This is the only painting where any animal attacking on human.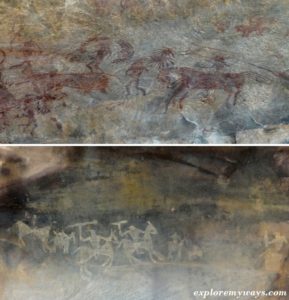 Possibly these cave paintings were drawn for decoration purpose to their respective home(shelter). And these art have passed through one generation to another and another.
Even today, we can see roughly drawn paintings of animals, tree or like that on the wall of mud house in villages. We can say that these prehistoric cave paintings of Bhimbetka were the ancestor of today's wall arts.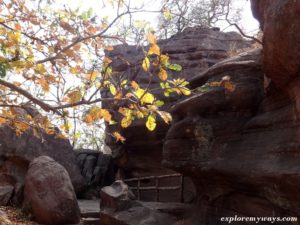 Bhimbetka is recognized for its cave painting worldwide but here you can see many rare plants (mostly herbs) and different type of natural rock formation which look like a face or an animal. This site is located on a height so it also provide nice view of surrounding.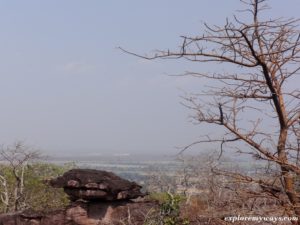 Reach Bhimbetka Rock Shelters from Bhopal
Nearest International Airport is located in the outskirt of Bhopal and 57 km from Bhimbetka. While from the main city of Bhopal, Bhimbetka is around 45 km.
It is good to hire a cab for both side to visit Bhimbetka rock shelters and plan your stay at Bhopal (various budget option are there).
Cab charges for visiting Bhimbetka from Bhopal will cost between Rs. 1200/- to Rs. 1500/-. You can also visit Bhojpur Temple in the same trip, which is only 20 km from the Bhimbetka.
Nearest railway station: Obedullaganj is the nearest railway station from Bhimbetka at 8 km away, There are many regular train on this route (Bhopal-Itarasi). An auto can be book from there to visit this site.
Read more: How to plan a trip to Bhopal?
Bhopal to Bhimbetka by bus
The main site is 3 km from the Bhopal-Hoshangabad highway, so you can board any bus going to Bhopal-Itarsi or Bhopal-Piparia. Bus will drop you on the main highway near 'Hotel highway treat' but there is no transport facility for balance 3 km.
So, if you are ready to walk then its OK, but try it in early morning because this 3 km deserted road do not have any tree and it may be difficult to face the Sun in noon.
Ticket charges at Bhimbetka caves
While move towards main site of Bhimbetka rock shelters from highway, you met a check-post. To cross that you have to pay an entry charge depending on your mode of transport.
Its Rs. 25/- if you are on foot or cycle, Rs. 100/- for two wheeler, Rs. 200/- for Auto rickshaw and Rs. 300/- for car.
More tourist attraction of Madhya Pradesh
If you find this post useful, please share your valuable feedback in the comment box.
Subscribe for further travel update
​