Isn't it exciting when you came to know that you going to witness something amazing. Something associated with the tag like biggest, highest, longest, deepest or something like that. I was also excited, when I got a chance to visit the Bhojpur temple, the temple having largest Shivlinga ( Linga is a representation of Lord Shiva).
And it will not be a surprise, if you didn't heard about such temple. India is really a great country for the explorer, here you can find anything unexpected anywhere.
Bhojpur temple facts
Actually, the temple name is Bhojeshwar which have the largest Shivlinga, as the temple is situated in Bhojpur village, so commonly known as Bhojpur temple.
The ancient temple of Bhojpur is 25 Km from Bhopal city. King Bhoja of Parmara dynasty had build this great temple during 11th century.
He must have been a great devotee of Lord Shiva, so he thought to build such a big Shivlinga. Name of the temple also derived from Bhoja+Eshwar (God of Bhoja) and so this village got its name Bhojpur.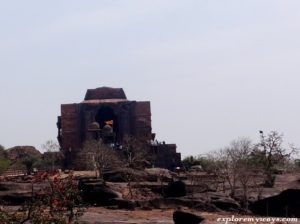 Incomplete

Bhojpur

temple
Bhojpur temple built on the rocky plane, and temple's construction drawings still engraved on the Surrounding rock.
From the drawings, it is came to know that Bhojpur temple could never been completed. Due to some unknown reason its construction work stopped abruptly.
There you can also find unfinished building component and a large ramp behind the temple which was for carrying building material to the temple site.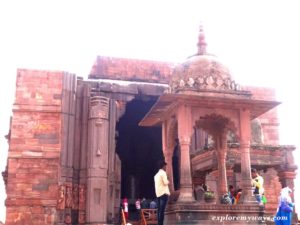 Structure and architectural plan of Bhojpur temple is quite different from the contemporary temples. Other temples of that time such as Khajurho temple or Konark sun temple, were always have a ornamented conical dome (Shikhara) and big Mandapa which connect to the inner sanctum. But, Bhojpur temple is architecturally simple, having flat roof and almost no decoration on outer wall.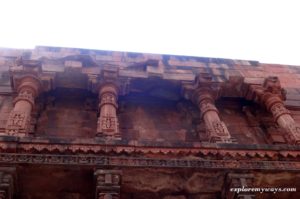 There was only a carved balconies on each wall and few sculptures on both side of main entrance to the sanctum. These balcony do not have any access, possibly it could not build due to sudden stop of construction work .
Bhojpur temple

Shivlinga s

ize
Here, you directly enter into main sanctum which is build on a raised platform. It has the huge Shivlinga of 7.5 feet, standing over big square slab and having net height 5.5 meter from the floor.
There are 4 huge monolithic pillar in the sanctum for supporting the roof, each of them are 12 meter high and around 30 ton heavy.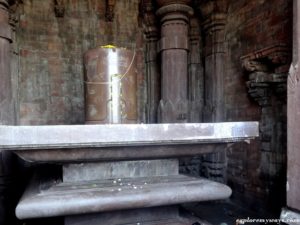 You get a jaw dropping view here that is quite amazing. While looking at this huge Shiva Linga, a lot of question come in your mind. For whom, it was made ? How people worship this much big Linga? How priest or other people reach to the Linga because it is quite high and there is no approach to reach. But no one is there to answer all these queries.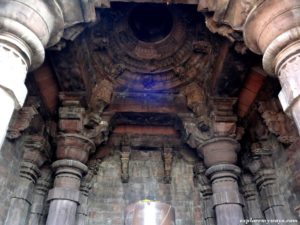 This ancient Bhojpur temple is still in use for worship and attract huge crowd during Maha Shivaratri. Even, to promote this monument, MP Government organize Bhojpur Utsav cultural event.
Apart from Bhojpur temple, you can also visit museum related to Raja Bhoja, located at 200 meter from the temple at the bank of Kaliasot River. You can try reading the drawing engraved on the surrounding rocks.
Explore Ashapuri temples from Bhojpur
On the trip of Bhojpur Temple, you can also visit the nearby Ashapuri Temples, only 3 km from Bhojpur temple. These are a group of temples built during 11th century, mainly known for Bhootnath temple.
If you are interested in prehistoric period and want to witness some of the rare place on the Earth. Bhimbetka rock shelters (A world Heritage Site) 20 km away, is a perfect place to explore, where one can see the proof of early human's habitat. There you can see lots of cave paintings drawn by these early human.
How to reach Bhojpur temple from Bhopal
Due to close proximity of Bhojpur temple from Bhopal, all can be cover in a day visit. The best option is to hire a cab from Bhopal for a day that cost around Rs. 1200/- to Rs. 1500/- .
See more tourist places of Madhya Pradesh
If you find this post useful, please like and share and leave your valuable feedback in the comment box