Literal meaning of Deoghar is 'Adobe of God'. Baba Baidyanath Dham of Deoghar is one of the twelve Jyotirlinga ( The most sacred temples belongs to Lord Shiva). So, the city is mainly famous for its religious tourism. Thousands of devotee visit this place daily from across the country. Read also temple of Largest Shivalinga
Story of Baba Dham: According to Hindu mythological scripture, the Lanka king Ravana had worshiped God Shiva at Deoghar for getting supreme power. To please God Shiva, Ravana offered his ten head as sacrifice. Every time Ravana cut his head, God appeared as a doctor and cured him.
As God Shiva himself played a role of doctor ( Vaidhya) at this place, this place got its name Vaidyanath / Baidyanath or Baijnath Dham. So, many visitors come here for the relief from their suffering or disease.
Baba Baidyanath Dham Deoghar, Temple information
Baidyanath Dham of Deoghar is a temple complex, where main temple belong to God Shiva. There are 21 other temples also, belonging to other God and Goddess are existed. Main temple of Shiva/Baidyanath is the largest among all and having a height of 72 feet.
Architecture of main temple resembles to a White Lotus. Original date of its construction is unknown but some believe that the temple is very ancient and once Rama king of Ayodhya also visited this place.
Top of the temple have Gold Chhatra ( umbrella vessel), donated by Raja Puran Singh, Maharaja of Gidhaur. You will get to know about these donation from the photos displaying on the walls.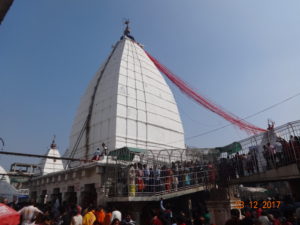 There are various other temple but among them Parvati temple is most significant. It is also believe that heart of Sati fell at Deoghar, so consider one among 51 Shakti Peetha.
Top of main temple and of Parvati temple tied up with numerous red sacred thread as symbol of unity. So, lots of newly wed couples visit Baba Dham, as they believe visiting this temple will make their relationship strong and everlasting.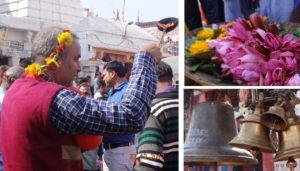 Tips &

information

for

Baba Dham

visitors
1) The whole city evolved around Baba Dham temple, on the theme of religious tourism. There are various budget hotel along with number of Dharmshala belongs to one or another Pandas.
2) There are number of Dharamshala nearby Baba Dham temple and if you are in a group, you can opt for that. Staying in these Dharamshala is more economical but with limited facility and most of these have four bedded room.
3) Don't forget to take your blanket if you have plan in winter. There are various budget restaurants near these Dharamshala to cater your hunger, they offer food on very low prices.
4) Most of the year this place attract huge crowd. So, its better to get up early for the easy access to the main temple else you have to face long queue. Due to much of crowd it become hard even to get a glimpse of Linga in the sanctum of main temple.
5) If you don't want to stand in queue for long, you can easily find some Panda who will help you to enter in the mid of long queue in exchange of some money.
6) There is also facility of VIP Darshan at Baba-Dham which cost Rs. 500/- that shorten your distance just 50 meter.
Most of the important temples like Jagannath Temple or Lingaraja Temple does not allow photography but at Babadham you can freely move with camera and take some snap.
Deoghar is also famous for its Peda (sweet prepared from milk). Almost every shop nearby temple have Peda on its counter.
How to reach Baba Dham at Deoghar
Air : Deoghar does not have direct connectivity with flights. The two most nearest domestic airports lies at Patna (Bihar) and Ranchi (Jharkhand), both are equally distant around 270 km from Deoghar.
Rail: Although Deoghar have a railway station but Jasidih Junction(JSME) which is 7 km from Deoghar is the main key point to reach Deoghar.
Jasidih lies on Patna-Howrah route and almost all train of this route have stoppage here. You will get plenty of Auto rickshaw from station to reach Baba Dham that will charge Rs. 100/- for full auto.
Road: Deoghar have well road network . There are regular bus service available from Patna Ranchi, Jamshedpur and other important city of Bihar, Jharkhand. Most of the long route Buses run in night.
For various other information of Deoghar/Baba Dham you can go to official website of Temple Management
See more sacred place of God Shiva
If you find this post useful, please share and leave your valuable feedback in the comment box.
Subscribe for further travel update