Udayagiri Caves is famous for the oldest cave temples in India, located near the Vidisha town, 45 km from Bhopal (Madhya Pradesh). It is India's most important archaeological sites from the Gupta period, and the site is under the protection of Archaeological Survey of India. Lets see how you can reach to Udayagiri caves.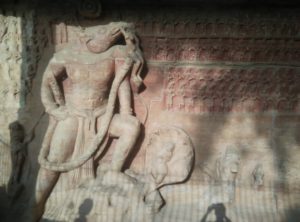 How to reach Udayagiri caves
Udayagiri caves are 4 km from Vidisha town and 13 km from the World heritage monument of Great Sanchi Stupa.
By Flight: Nearest airport is at Bhopal, hardly 45 km from Vidisha so you can book a taxi to for Udayagiri cave and Sanchi both.
By Train: Maximum train on this route have stoppage at Vidisha. from station you can hire a auto just for Rs. 300/- for covering Udayagiri caves and Sanchi. Two hour is enough to explore Udayagiri caves.
By Bus: Regular buses are there from Bhopal to Vidisha and it is about 1 hr journey.
Udayagiri has a series of rock-shelters, ruined buildings, inscriptions, water systems and fortifications. The complex consists of twenty caves, mostly belong to Hinduism. The site have a unique sculpture of God Vishnu in Varha Avtar.
Moreover, as I found this site need proper maintenance and somebody should be there to guide. Only your Auto or Cab driver tell you some details about these ruins.
Note: There are a number of places in India with the same name, such as important & sacred hill named Udayagiri at Rajgir (Bihar) and the Udayagiri and Khandagiri Caves in Odisha.
See Also: How to reach Sanchi Stupa
More tourist places of Madhya Pradesh
If you find this post useful, please leave your valuable feedback in the comment box