The only hill station of Madhya Pradesh, Pachmarhi which is mainly famous for its virgin forest and wild life. But, it has several wonderful adobe of Lord Shiva in the naturally formed caves around Pachmarhi. As the Lord Shiva always love extreme places, which are beyond luxury and very far from the reach of common peoples. He always test the strength of his devotee so if some one really need any wish from Shiva, he has to come to these extreme places to show his devotion. Several religious points of Pachmarhi , mainly the cave temples of Shiva Mahadev provide opportunity to feel the adventure in your pilgrim visit.
Read more :forest and wild life around Pachmarhi
These religious spots are not commercialize like other pilgrim sites and that's why not many people aware of this. Still, it is one of most sacred site for the people of adjacent state like Maharastra, Gujarat.
Religious points of Pachmarhi & Cave temples
Jatashankar Mahadev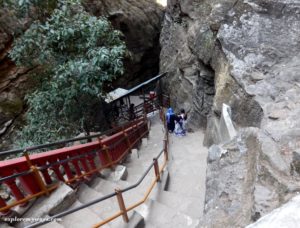 It is one of the most sacred place around Pachmarhi dedicated to lord Shiva, just 2 km from the main town. It is located in the bottom of a narrow valley for that you have to step down almost two hundred stair.
Its location and its path is quite adventuresome that scare you and also attract you. At the bottom you find a pool that considered holy and at the time of Shivaratri, devotee take bath in that pool.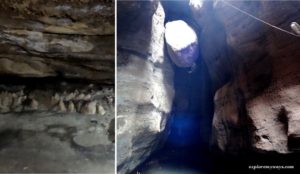 There is a cave at the Jatashankar where you can see hundreds of projected stone which seems like Shiva lingam. In that cave, here is another naturally formed shape of a hooded snake (Sheshnag), under that hood is main lingam.
While you are step down towards Jatashankar mahadev, a temple comes in between and you think it is the main temple of Jatashankar. But it is actually a Hanuman temple, here you will amazed after witnessing a floating stone. And it is said that this stone was the part of Ram-Setu that was built by Lord Rama during the journey to Lanka to bring back his wife Sita.
The environment here is completely natural and divine, here water is continuously seep from the mountains, lots of beehive hanging here'n there. There are lots of small stalls which sell Ayurvedic medicine prepared from the local herbs of Pachmarhi.
Gupt Mahadev temple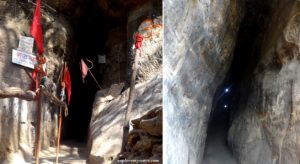 Gupt Mahadev is one of the most famous among all the cave temples of Pachmarhi town, located at 12 Km far from main town. There is a Shiva lingam place inside the narrow and deep opening within a hill.
This opening is around 40 feet deep and so narrow that it is impossible to pass through without rubbing the body with surface of cave. Even, i have seen some people scared of entering in this but for a experience you must visit inside.
Bada Mahadev temple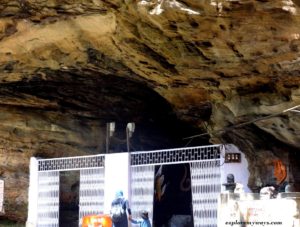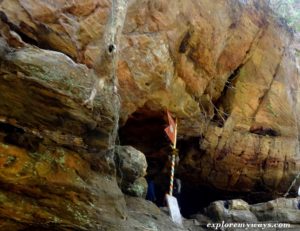 At a walking distance from the Gupt Mahadev there are another two caves dedicated to Lord Shiva but much wider and higher. You will see water dripping from the cave walls and roof. Visiting these places gives you a feeling of devotion and adventure simultaneously.
Churagarh, temple of Trishul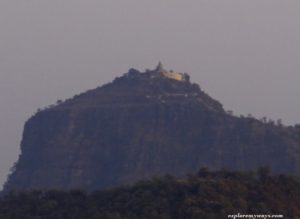 This is the most popular and considered most sacred temple of Pachmarhi dedicated to Lord Shiva. It was built by Sangram shah of Gond dynasty ( Gond is a tribal communities belongs to that region). The temple is located at an elevation of 1330 meters which is the second highest peak after Dhupgarh. Read Also: temples of Madhya Pradesh having largest Shivlinga
It is 16 km far from Pachmarhi and its path goes through Gupt Mahadev up to which you can reach via Jeep but rest 4 km distance have to be travel by trekking through deep forest. To reach up to the peak you have to climb 1350 steps.
At the time of Maha Shivaratri, Lakhs of devotee reaches here. This temple is unique because people offer Trishul at temple, hundreds of Trishul can be seen stacked within temple.
This temple also offers nice view of surrounding forest and valley, and quite famous for the sunrise and sunset view.
Nagdwari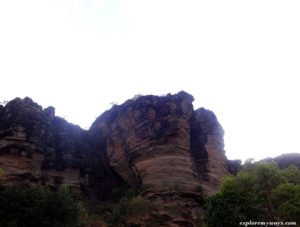 Nagdwari is another sacred place around Pachmarhi, dedicated to Snake God. It lies 2 km down while on the way to Dhupgarh. Apart from its sacred value, It is a wonderful eye catching point.
Here, nature itself have shaped the adjoining hills as snake hood. This is a starting point of a 12 km track route to Kajari village which is pass through deep forest. At the time of Nag-Panchami, thousands of pilgrims gather at Kajari village to celebrate this festival of snake God.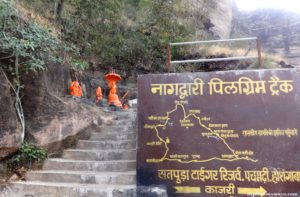 Chauragarh temple and Nagdwari lies within forest area, so you need to take forest permit.
Read more : famous points lies within reserve forest and need forest permit
Visit of Cave temples of Mahadev Shiv around Pachmarhi will make your pilgrim visit more satisfying.
Share your valuable feedback in the comment box