India is the country of full of surprise, this is again proved in my recent trip of Konark. Most of us have read about Konark Sun temple in our school books. There are number of Sun Temple in India but 'Konark Sun temple' is the most famous among all. It's grand size, beautiful and unique architecture and hundreds of detailed sculptures helped Konark sun temple in getting the crown of UNESCO World Heritage site in 1984.
Konark is a small town at the eastern shore of Odisha around 35 km from Puri and 65 km from capital city Bhubneshwar. These three cities make Eastern Golden Triangle of India.
Konark Sun Temple,

Architecture & Sculptures
Konark's earlier name was Kainapara, and was an ancient port city in Odisha. Narasimha Deva-I, the ruler of Eastern Ganga Dynasty build this ancient Sun temple at Konark in 13th century. As per record, there was a smaller temple of Sun God at the same location belonging to 9th century.
Some historian believe that Narasimha Deva build this temple as a sign of his victory over the Muslim invaders from Bengal side. This temple's architecture resemble with a grand size chariot of Sun God, which had two Mandap (Nata-Mandap and Bhog Mandap) and Vimana (main sanctum) as per the typical Hindu style.
As you enter the temple complex, you will see huge sculptures of Lions over the elephants at the frontal stair of Nata-Mandap. It is quite usual to see such statue of lions or lions over elephants in most of the Odishi temple ( but still I could not figure out the concept behind it 🙁 ).
Nata-Mandap is build over a square shape raised platform, it has access stairs from all the four sides. As on date only pillars are left, but the sculptures carved on the pillars and on the outer face of its platform still retaining the glimpse of its glorious past.
These sculptures are mainly based on the dance theme. Here, in the sculptures you will see male-female dancers in various poses from different dance forms, and artists playing different musical instruments.
The artisans worked hard to fill every details on the wall panels. Almost 1200 artisans put their continuous effort for 12 years to complete its original structure. It sound very similar as 20 thousand workers had worked for 20 year to complete the Great Taj Mahal
Next to Nata-Mandap, there is another raised platform having Bhog-Mandap and main sanctum (Vimana). Bhog means consume, living life utilizing all the materialistic rather than spiritual.
This Mandap is also square in shape and 30 meter in height with a pyramid top. This Bhog-Madap has access from three side (North, South and East) with flight of stairs. You can see the life size sculpture of horse near the east side stair, it is like horse are pulling the big chariot.
Decorated panels/ elements from the wall of Bhog-Mandap had fallen with time, even the wall could not stand completely. In spite of rigorous effort of ASI, only few such panels have remained intact.
Outer face of this raised platform also decorated with numerous sculptures depicting various theme and stages of life. Here, you can see the farmer working in field, a King in the battle field, ladies doing makeup or playing with their kids.
Some panels are dedicated to various God Goddess, you can also see various episode from the mythology; Ramayana, Mahabharata etc. Here, artists have tried hard to touch almost all the aspect of life.
There are 12 pairs of ornamented wheels on this big chariot of Sun attached to the outer face of Bhog-Mndap's platform. Each of these wheels of 16 spokes ( 8 big & 8 small) having a diameter of 12 feet. The intricacy and precision of work on these wheels make them icon of Konark.
Konark temple is one of the few Hindu temples whose planning and construction records are still available. These palm leaf manuscripts written in Sanskrit, found from a nearby village in 1960s are still preserved in the ASI museum.
Read: Ancient Shiva temple whose construction drawing is still engraved on the stone.
Erotic Sculptures at Konark sun temple
Until I visited Odisha, I thought Khajuraho temples are the only exception that have erotic sculptures but when I visited Konark Sun Temple, it changed my view. As I said, there are various theme carved on the walls of Konark temple, Kamasutra theme is the important and most prominent among all.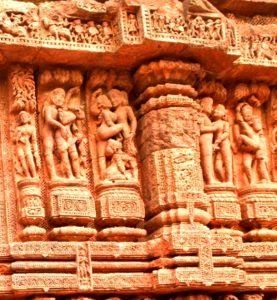 There are hundreds of sculptures celebrating male-female bonding around the Bhog-Mandap and its platform. Some of these are showing couples in intimate poses, while some in coitus position. If you have not read about Kama-Sutra don't worry, here artists did not left anything for imagination.
Sometime we think that western world are more open-minded than us, but visiting such site change the previous theory. Here, most of the erotic sculptures of Konark sun temple are smaller in size as compare to similar images of Khajuraho temples. But definitely temples of Khajuraho that belongs to 11th century, would had been the inspiration for sculpture artists at Konark .
You can also find these kind of sculptures in various temples of Bhubaneshwa and Jagannath Temple in Puri.
Most of the parts of Konark temple turned in to ruin, so you always find continuous restoration work on temple. Bhog-Mandap have been packed with big boulders and steel structure to prevent it from collapsing. Even, it is also prohibited to reach over the platform of this Mandap for the safety of visitors.
The Main sanctum (Vimana) of Konark temple, which was around 70 meter in height is no more exist. Due to its heavy weight it was collapsed in 1837. Odisha have faced many storm that may be the main cause of damaging the Konark Sun temple.
You can see some of fallen sculptures at the Konark Archaeological Museum located in right portion of temple complex which is maintained by the Archaeological Survey of India.
See more important heritage sites of India
Story behind construction of Konark temple
Apart from the history of Konark, there is an interesting story too behind the construction of Konark's famous Sun Temple. It is said that parents of Narasimha Deva were facing difficulty in having a child. Some saint suggest them to pray to Sun God, then Narasimha Deva born after continuous prayer for 12 years.
So, Narasimha Deva considered that number 12 is lucky for him. He decided to build a great and unique temple in respect of Sun God. Narasimha Deva engaged Siva Samantaraya Mahapatra as the chief architect along with 1200 workers for construction of Konark Temple.
He also declared that the temple must be completed in exact 12 year, not a day less or more. And at any point of time workers should also not be less or more than 1200. And if the work not complete following the declared condition, all the workers have to loose their life.
When Siva Samantaraya left his home for the construction of this temple, his wife was pregnant. After some time his wife gave birth to a boy. This child was growing with inborn talent of building construction methodology. During this period the child had face many difficulties as other child also make fun of him, that he has no father. One day, when the child was in his 12th year, he decided to meet his father.
Here, construction work of temple was also about to complete but only erection of Mangal Kalash was left. They are facing difficulty in erection of that and even they were not able to decide for further step.
Only a day was left, when son of Shiva reached the construction site. Shiva was happy to see his son but also knew that it was last day for all the workers as if the work could not get complete.
Then his son said that he can help them. He inspect the construction site and with the help of magnetic pillar, finally erected Mangal Kalash. But as the son realized that he is 1201th worker which was not allowed and if the king will know, it may lead to horrible consequences.
So, he jumped from the top of temple to save all the 1200 workforce. But due to a death within temple premises, site become unsuitable for establishment of any deity. And the Aruna Stambha, which was supposed to be erected inside the main sanctum never been placed. This Aruna Stambh then shifted to Jagannath temple of Puri which is still standing on the lion gate of Jagannath temple.
Ticket & Timing at Konark temple
The Sun temple and the museum are maintained by ASI, for getting entry in the temple complex there is entry ticket of 40/- for Indians.
The timing for visitors is from Sun rise to Sun set. And best time to visit Konark Sun temple is October to March. Tourists who visit Sun temple also have option to enjoy on Chandrabhaga Beach, the golden beach of Konark.
How to reach Konark
Being a small town of Odisha, Konark does not have direct connectivity with flights or rail.
Air: Bhubneshwar is the nearest airport to Konark which is approx 65 Km away. From airport you can hire a cab to Konark.
Rail: Puri is nearest railhead and 35 km from Konark. Puri have good connectivity with Howrah and various other major city. From Puri you can hire Taxi or Auto for Konark.
Road: Road conditions are good and nearby cities like Puri and Bhubneshwar are well connected with other major Odisha cities by good network of Buses ( AC /Non-AC). There are few Buses also available for Konark from Bhubneshwar and Puri but condition and frequency of Buses are poor and not advisable.
OTDC and other private agencies also organize tour to Konark and other nearby attraction, from Puri and Bhubaneshwar.
See More tourist attraction of Odisha
If you find this post useful, please share and leave your valuable feedback in the comment box.
Subscribe for further travel update
​