Jagannath Temple of Puri or Jagannath Dham is one of the most sacred Temple for Hindus. This temple belongs to Lord Jagannath (Jagat+Nath) meaning Lord of peoples. It is one of the Great Char Dham of India, and every Hindu wants to visit these Char Dham as a key to attain Moksha.
Many Hindu sages like Adi Shankaracharya, Ramananda & Ramanuja been closely associated with the temple.
Rath Yatra festival of Puri is a world famous event, held during month of June-July. During Rath Yatra, millions of people gather in Puri from across the Globe to be part of this great Chariot-fest.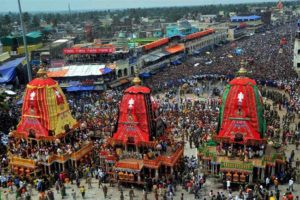 In the fest, three big chariot are being made from wood. Idols of Jagannath, Balabhadra and Subhadra placed on these chariot and thousands of devotee pulled them.
This Yatra start from the Jagannath temple through Bada Danda (Grand Avenue of Puri, a road of 100 meter wide) and reach to Gundicha Temple. These idols kept there for 9 days and then taken back to the main temple.
To witness this grand celebration of Rath Yatra you have to make all arrangement for travel and stay in quite advance.
Visitors guide of

Jagannath Dham, Puri
The Jagannath temple complex lies on the eastern shore of Odisha state in Puri. Present temple complex was built by Eastern Ganga dynasty in 12th century.
King Indradyumna made the initial construction of Jagannath temple when he discovered the hidden idol of Lord Jagannath from the nearby forest area.
At the main entrance 'Singhadwara' you see two statue of big lions, that is very common to Odisha's temples, may be they are guarding the temple. You will also find the exact replica of Lord Jagannath at the entrance.
There are three other entrances along with Singhadwara facing in all four directions. All the gates got their name from the animal guarding them, these are Hathidwara (Elephant Gate), Vyaghradwara ( Tiger Gate) and Ashwadwara (Horse Gate).
There are many Mandapa (Elevated floor) for the Pooja and Hawan. There is one area for distribution of Parsad after offering to Lord Jagannath.
The main temple's top painted in white that is renovated portion over the ancient temple which was formed from sand stone. On the ancient portion you can see many beautiful sculptures, most of which in ruin. Inner portion of the main hall is full of colorful sculptures with some mythological stories.
Main idol of Jagannath kept at far distance in the main sanctum, you can only see that and pray from distance. You have to take help of priest for offering your Parsad to God.
Shaktipeeth inside Jagannath Dham
After getting through main entrance there are big wide stairs connecting to the main temple. On these stair Pandas use to perform Pooja and other religious Kand.
There are number of other smaller temples belonging to Other God and Goddess within this temple complex. Among all, Bimala Temple a Shaktipeeths, is the most important one. As per Hindu mythology Goddess Sati's feet fell here in Puri. Mahaparsad of temple is incomplete without offering to Goddess Bimala after Jagannath.
Other important shrine inside the temple complex belongs to Mahalakshmi, Surya, Saraswati, Bhuvaneshwari, Narasimha, Rama, Hanuman and Ganesha.
Jagannath temple darshan timings
The temple gate open as the Sun rise and close with the Sun set, but main sanctum close for an hour in after noon.
Locker facility at Jagannath Dham, Puri
Jagannath Temple situated in the center of City and very close to Puri beach. There is tight security at the temple entrance with CCTV camera to check any unauthorized activity. Carrying mobile/camera and leather goods like Shoes, purse or belt are not allow inside Jagannath temple.
You can deposit all the restricted item at the deposit counters, just near the entrance of Jagannath temple. There is also facility to deposit your luggage at the counters at no cost. Usually, you have to deposit your mobile, luggage and shoes at different counters.
Stay & Eat
There are many good hotels along the beach and in main market area, where you can stay during your visit. Many pure veg- restaurants available near by the temple where you can enjoy food even without garlic or onion.
How to reach Jagannath Dham
Air: Capital city Bhubneswar is the nearest airport 65 Km away from Puri. From there you have option of private Cab or you can go with budget friendly option of shared cab (AC /Non-AC) from Calpana Square in Bhubaneswar.
Bhubaneswar itself have so many temples and ancient sites to explore, and also a part of golden triangle city of Odisha.
Rail: Puri itself a major rail-head, having good connectivity with Howrah and many other major city of India. Puri railway station is very well maintained and neat & clean.
Road: Road connectivity is also very good. Many AC/non-AC Bus are available from Bhubneswar and from other city of Odisha. Road condition are very nice and it is just 45 minute journey from Bhubneswar.
During your visit to Jagannath Dham at Puri, you can also visit Konark Sun temple, a UNESCO site in Odisha about 35 km from Puri. You can opt for a half day tour from Puri to Konark.
See More tourist attraction of Odisha
If you find this post useful, please share and leave your valuable feedback in the comment box.
Subscribe for further travel update
​