This 400 year old (appx.) architecture marvel attract every kind of visitors, you may be historian or a normal student, a kid or senior citizen, group or solo traveler, a love bird or just friends, whatever you are….there is no chance that you never thought of visiting this great monument. Yes, i am talking about The Taj Mahal, a UNESCO World heritage site and one of the new Wonder of the world. Here is a complete travel guide along with necessary information to visit the Taj Mahal.
Travel guide to visit Taj Mahal
Historical facts of Taj Mahal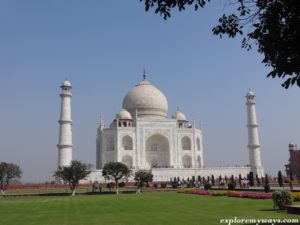 This great monument took its shape as a mausoleum of Shah Jahan's wife, died in giving birth of their 14th child. Shah Jahan had many princess but Mumtaz Mahal was the most favorite one.

It is believed that its architecture got inspiration from Gur-e Amir (Tomb of Timur) in Samarkand, Uzbekistan, Humayun's Tomb and Jama Masjid of Delhi.

It took continuous effort of 20,000 worker for almost 20 years to complete.

Mostly, all the treasure drained out in the construction cost of Taj Mahal, about 32 million of that time.
Architectural layout of Taj Complex
Taj Mahal complex have a rectangular layout with three sub section, the first one is Jilaukhana, a convergence point of 3 side entry ( from East, West and South). A main gate separate it from the main Taj compound which is having a squire garden ( Char-Bagh) and the Taj Mahal.

Char-Bagh is a combination of 4 symmetric gardens, and the path way divide each of them in 4 again. Char-Bagh is a typical style of Mughal Garden inspired from Persian gardens ( There are so many Mughal Gardens in India from Jammu-Kashmir to South India, having a typical style of layout). Even the Rashtrapati Bhavan also have a beautiful Mughal Garden.

There is a raised platform having pool inside called Hawd al-Kawthar (Tank of Abundance). It lie in the midway from main gate to the Taj Mahal. A favorite place of visitors who seek a perfect picture with the Taj Mahal.

Taj Mahal lie on the southern bank of Yamuna River. There is another Mughal Garden (Mehtab-Bagh) on opposite bank. Main Taj compound have boundary on three side except the river side. It seems that architect had included Yamuna in his master plan. Mehtab-Bagh provide a wonderful view of Taj Mahal with its reflection in Yamuna River.

Taj Mahal have two symmetric Mosque like structure on both side ( east and west). Western side structure is a Mosque and eastern structure known as Mehman-Khana. Both of these structure have beautiful intricacy.
Beauty of Taj Mahal
Many great poets and writers have written a lot about the great Taj Mahal since very beginning. But I don't think that any one can describe its beauty in words. You can say, it is the synonym of perfection with beauty.
It is not just a white marble building, it was the imagination of Mughal emperor, Shah Jahan for his lovely wife Mumtaz Mahal. It seems that only because of their love, this construction took shape of World's wonder.
The main monument of 'Taj Mahal' standing on a square platform almost 20 feet above the rest of complex. Taj Mahal have four identical faces with arch shape door way in all four direction. And a big dome with 30 meter diameter on the top.

The borders of these arched gateway are decorated with Quranic Ayaat (verses).

Total height of Taj Mahal, from base to finial is 240 feet, a little higher than that of Qutub Minar height(239.5 feet).

There are four similar minarets standing in each corner and having a height of 40 meters. All the minarets are slightly bent outwards because in any case if minaret falls, it will not damage the main tomb.

The main chamber, which is open to public have the replica of original sarcophagi, which is installed at lower level. Entry to lower chamber is not accessible.

The finial on the top of main dome have the Islamic elements like moon. It is made up of bronze but initially it was of gold that was replaced in early 19th century.
Taj Mahal myths
Some researcher say, Shah Jahan had a plan of building Black Taj Mahal as a tomb of himself on the opposite bank of Yamuna river. That was the more costly project than that of existing Taj Mahal. So, his son Aurangzeb put him in prison within the Agra fort. Many documentaries also been made on this topic.

One myth is that Shah Jahan cut hands of all the artisans involved in the construction of the Taj Mahal, so that they could not make another beautiful building of such type.

Another myth is about Taj Mahal was Tejo Mahalaya , a Shiva temple. A book written by P N Oak claimed that it was originally a Shiva Temple and Shah Jahan capture and done some Islamic modification. It is believed that when Mughal came to India, they destroyed lots of Hindu temples in order to spread their religion. It is still a point of argue in India.
Taj Mahal visitor information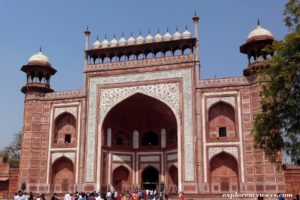 Entry to the Taj complex start at 6:00 AM, you can get entry ticket of cost Rs. 50/-at all three gates.

Approx 400 meter area around the Taj complex is a pollution free zone, so no auto or anything will take you to the gate. You can either walk or can have e-rickshaw up to the gate.

You have to show your identity card at ticket counter and at entry gate too.

Any edible items, luggage are not allowed within the Taj Complex. A luggage counter is there, at all side entry where you can deposit your luggage for free.

There is a gallery inside the main Taj compound displaying information about the all World heritage site of India.

There is a Taj museum on the left, in the main compound. You can see here, lots of manuscript, coins and various construction plans/maps of Taj.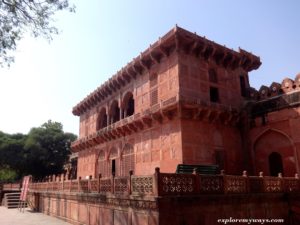 If you are here in the Taj City, you must not miss the Agra Fort. Which is another World heritage sites in Agra and only 4 km from Taj Mahal. This fort inspired Shah Jahan to make another look like fort of Delhi, famous as Red Fort.
Another important World heritage sites of Fatehpur Sikri is also 40 km from Agra. So, half day can be spare for this site too.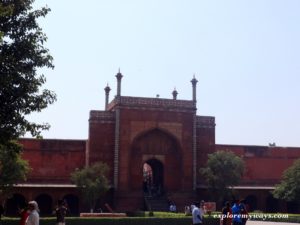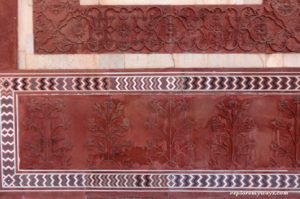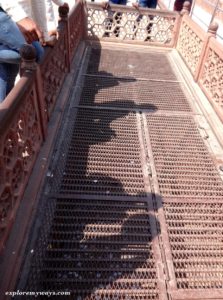 Eat & Stay around Taj Mahal
Taj Mahal is located in Taj Ganj area, a very old establishment. If you want to enjoy the Taj view while having breakfast or dinner then you can opt for any guest house in this area. Mostly have roof top restaurant, so that you can enjoy the complete view any time you feel so.
I too had stayed in that area but it was just basic room with limited option. Construction activity is ban in this area, so all these guest house not properly maintained.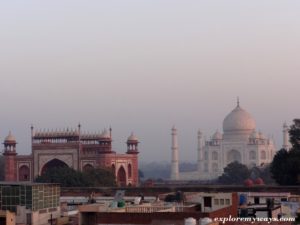 Read More: Tourist attraction of Uttar Pradesh
I hope, this travel guide of Taj Mahal will help you in planning your life time memorable trip. Please share your valuable feedback in the comment box.
Subscribe for further travel update