Bhubaneswar is a modern city with great history, still have many important ancient sites and temples. The city accommodating more than 1000 ancient temples, so termed as the 'Temple city of India' mainly in eastern India. From the ancient era Bhubaneswar remain the culture capital for Hindus, Buddhist and Jain.
Apart from numerous Hindu temples, Bhubaneswar has various ancient sites of National importance; like caves of Udayagiri and Khandagiri or Dhauli.
Bhubaneswar is one of the three cities that make Eastern Golden Triangle along with Konark and coastal city Puri.
Bhubaneswar as Kalinga
History of Bhubaneswar goes back to 3rd century BC, when the region was the part of Kalinga kingdom. The famous Kalinga war fought between Kalinga ruler and Mauryan Emperor Ashoka at Dhauli, 8 km from Bhubaneswar.
Ashoka repented on his deed after seeing millions of dead body, bloods, cries and pain. Then Ashoka decided to dedicate his rest life for the peace of mankind and embrace Buddhism.
Ashoka made many Stupa to spread Buddhism and its lesson around the world. In Dhauli, you can see complete edicts of Ashoka on a rock. Similar kind of Stupa and Ashokan edict may be seen at Sanchi Stupa.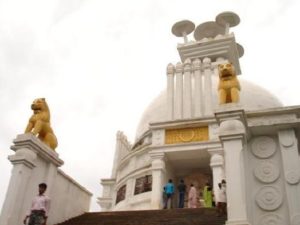 After the fall of Mauryan, Mahameghavahana dynasty came into existence and Kharavela was the notable ruler of this dynasty.
You can see Kharavela's inscription in Udayagiri and Khandagiri Caves near Bhubaneswar. This region remained under the influence of Buddhism and Jainism for several centuries.
In early 7th century, Somavamshi dynasty ruled this area and they constructed number of temples to empower Hinduism again.
And from 12th century Eastern Gangas ruled over this region with their capital in Kalinganagar ( today's Bhubaneswar).
Bhubaneswar ancient sites & monuments
1) Lingaraj Temple
This ancient temple is the largest and most famous temple in Bhubaneswar situated in the older part of city. Shiva & Vishnu both are the main deity of Lingaraj temple, although temple complex has approx 80 other shrine within the same compound. Main temple is grand in size and great example of Kalinga architecture.
Photography is strictly prohibited at Lingraja temple.
2) Muktesvara Temple
It is an ancient temple of Lord Shiva belonging to 10th century, and now an important heritage monument of Bhubaneshwar. It is one of the best examples of temple architecture of Kalinga period. A beautiful Toran makes it unique from other temples of Bhubaneswar. Also read : Beautiful torans at Sanchi Stupa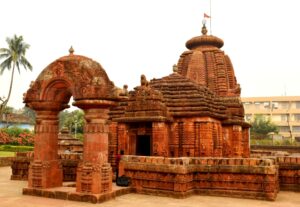 3) Parashurameshvara Temple
Parashurameshvara temple is the ancient most temple in the Bhubaneswar belonging to 7th century temple. A 4 feet stone lingam standing at one corner of this temple, is a peculiar feature of this temple. This temple shares the same monument complex with Muktesvara temple.
4) Kedar-Gauri temple
Located just few meter from Muktesvara temple dedicated to Shiva & Parvati. This temple still in use for regular worship and attracts many devotees.
5) Rajarani Temple
This ancient temple belongs to 11th-century, was originally known as Indreswara temple. Local people call it Love Temple because of many Khajuraho like erotic sculptures it has. Rajarani temple is around 1 km from Mukteshwar temple and attached with a big park. People have to pay Rs. 25/- as a entry fee inside the park or temple complex.
Near the Rajarani temple you can have your meal as there are plenty of restaurants nearby.
6) Ananta Vasudeva Temple
Temple standing on the edge of Bindu Sarovara, is the only ancient temple in the city belonging to Lord Krishna. This temple considerably large in size and has idol of Krishna with Balrama and Subhadra.
7) Brahma temple & Bindu Sarovara
Bindu Sagar lies very close to Lingaraja temple. As per belief, this Sarovara contains holy water collected from different holy sources of water of the world. This pool is in the center of ancient town, most of the monuments are within 1 km from the Bindu Sarovar.
8) Khandagiri & Udayagiri
It is a group of 33 caves belonging to 2nd century BC. These caves are located on the two adjacent hills of Udayagiri and Khandagiri. These were the temporary residence of Buddhist and Jain monks. This heritage site is just 6 km from Bhubaneswar Junction.
9) Dhauli hill
This site belongs to famous Kalinga war, which transform Ashoka from an cruel emperor to Buddhist monk. Here you can see rock edict of Ashoka. A white Peace Pagoda (Shanti Stupa) was built by Japan Buddha Sangha and Kalinga Nippon Buddha Sangha.
10) 64 Yogini Temple in Hirapur
It is one of the 5 famous 64 Yogini Temples of the country, dedicated to God Shiva and Goddess Parvati. This ancient temple of 9th century located at Hirapur, 15 km from Bhubaneswar.
These temples have great importance among the followers of Tantra Vidya. Here, you can see 64 sculptures of Yogini placed along a circular compound wall.
64 yogini temple of Bhedaghat and Ekattroshwar temple near Gwalior are two other ancient temples sharing the same theme of architecture and both are located in Madhya Pradesh.
Apart from mentioned ancient sites and temples, you can also explore an artisan village near by Bhubaneswar.
Pipli- An artisan village situated on the junction of Konark and Puri route and 15 km from Bhubaneswar. It is known for the applique work. These artist full fill the demand raise from the temples during many festivals. People who like to explore traditional arts of India should explore this village.
Odisha State Museum- It is great museum that will tell you rich history of Kalinga kingdom and many other dynasty. This museum is lies in the heart of city. Its galleries contain various antiquities like manuscripts, tools, weapons and armory.
How to reach Bhubaneswar
Air: Nearest Airport is Biju Patnaik International Airport, Bhubaneswar and lies within the city. It has good connectivity of flights with other major Indian cities.
Rail: Bhubaneswar junction is major rail head. Numerous trains on Howrah to Puri or Howrah to South India pass through Bhubaneswar.
Road: The city is well connected with other city of Odisha via AC/ Non-AC Buses and Baramunda Bus stand is the main bus stand of Bhubaneswar.
Local Transport: For the local transport you can book Auto rickshaw or Ola Cab service.

See More tourist attraction of Odisha
If you find this post useful, please like and share and you may leave your valuable feedback in the comment