The richer we are, more casual we become towards our valuable things. Same thing I observed during my recent trip of Gwalior. Talking about 'Chausath Yogini Temple' and 'Garhi Padavali' situated near Gwalior in Morena district. You must be surprised to know, that peoples living in the vicinity are not aware about these sites.
India have thousands of historical site and so many great stories associated to them. But at the same time, there are numerous sites that lost their identity and couldn't got space in the pages of Indian history.
Time has been so partial to these sites, that present and even history forget about these places. Sometime, it seems that Mughals and few Indian dynasty didn't left space for others.
This time my main focus was to explore these offbeat sites of Gwalior. But I didn't have idea of how to get there, and the bigger problem was no locals aware about it too.
Thanks to nomadic traveller who put these kinds of forgotten places on surface. Luckily, I met another traveller who wish to join me in that trip, where Google Map was the only guide with us.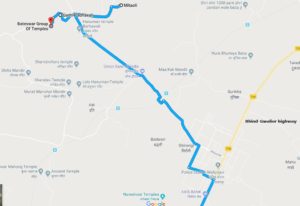 Gwalior to Chausath Yogini Temple
The first offbeat site we targeted was Ekkatraso Mahadev Temple, usually known as Chausath Yogini Temple, situated in Mitavali village, 35 km from Gwalior.
My other friend who was local, arranged a bike for our expedition. As per the google map's instruction we moved approx 20 Km on Bhind road then took left turn from Malanpur ( a small town on road).
In spite of having our digital guide, we also confirmed with en-route villagers whether we were on the right track. On moving further 8 Km we could have see a semi-spherical hill, standing in the mid of flat land.
Still, we were not sure that we got first glimpse of our destination. We were moving on the road, but the distance from the hill not decreasing, seems like we were encircling the hill.
Curiosity and patience was running in opposite directions. Finally, spot a road leading directly to the hill, within few minutes we were at the foothill. Though, it was a small hill but not easy to reach on top in one go.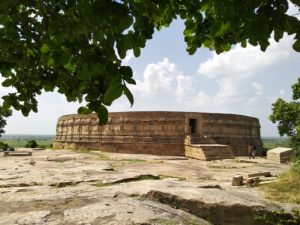 Architecture of Chausath Yogini temple
On reaching top, we could see the wonderful view of this 1000 year old Chausath Yogini temple. Outer wall of the temple also have some intricacy and few sculptures.
Base of the temple itself around 8 feet high and a stair is there for entering into the temple premises. Entrance is directly open to the face of main temple, the middle one.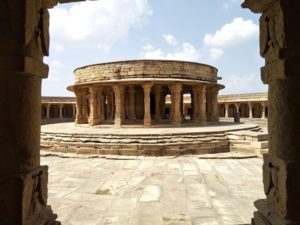 The complete set of temple have a main Shiva-Parvati temple in the center and 64 smaller chamber around it in circular fashion. Every chamber have a roughly shaped stone as the representation of Shiva-Lingam.
The enclosed area inside the temple, isolate you from the surroundings and being on the top of hill, one can not see anything other than the temple and sky.
May be the idea of isolating one from the worldly things, gave birth to this unique architecture. Once before, I have experienced similar kind of temple at Bhedaghat near Jabalpur in MP itself.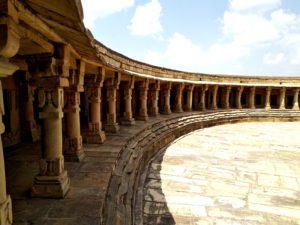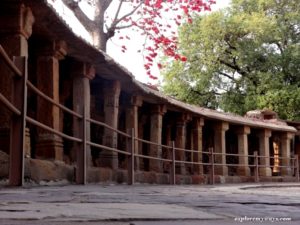 Apart from its unique structure, this temple is closely associated with mystic world of Tantrism and black magic.
Being on the top of a hill, you can enjoy bird view of the surroundings. As this location is far far away from the town, so it offers view of wide spread green field, quite soothing to eye.
After taking some good pictures of this ancient and unique site, decided to move to next destination.
My next spot was Bateshwar Group of temples in the same region, I learned about it from a TV program. Though my local friend did not know about that. That was not a big problem, after-all we were with our digital guide 'Google Map'.
As per map the site was just 5 Km from the ancient temple we were at. After 15 minutes of ride, we saw a fort kind of structure. The site marked with the name 'Garhi Padavali' on the entrance.
Garhi Padavali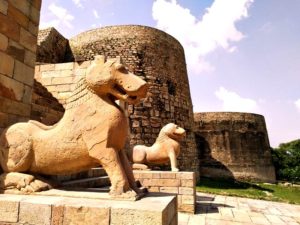 Finally we reached the site we were hunting for and yes name may be different, it was the first thought came to mind. There were many broken building parts placed at both side of pathway from entrance like pillars and sculptures.
Two big stone-lions were sitting at the main entrance of this smaller fort right below the stair. As we moved up from the stairs, a Mandapa kind of structure was there in the front.
Details on its ceiling was just amazing and eye-opening. Hundreds of beautiful sculptures in several layers were depicting God-Goddess and various mythological scene related with Krishna Leela, Ramayana, and other Puranic stories.
I can say, every inches was covered with the fine detailing. Even its pillars also beautifully ornamented. This Mandapa was not so big but the detailing on every corner and thousands of sculpture carved out of stone were making it a piece of jewel.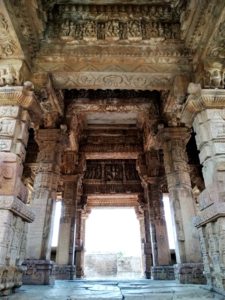 This Mandapa was the main attraction of this Garhi (smaller fort). It is believed that this Mandapa once had a big statue of Nandi (holy oxen of Lord Shiva). Till that time, we got to know that 'Bateshwar group of temple' is still to see and 500 meter from this site.
As per the archaeological evidence, Pratiharas, Chandelas and then Kachhapaghatas ruled this region. The Kachhapaghatas built this Shiva temple in between 10th or 11th century, that made it an important pilgrimage center. Later Jat rulers Ratan Singh of Dhaulpur build this fortress of Padavali in 18th century.
More tourist places of Madhya Pradesh
If you find this post useful, please share your valuable feedback in the comment box.
Subscribe for further travel update