Do we pay enough respect to the Water, which is itself a synonym for life. May be, I am stirring at very common point, but this question hit me again on my trip to Patan. Patan is a historical city of Gujarat, known for 'Rani ki Vav', a richly carved ancient stepwell, and sometime known as 'Queen's stepwell'.
In 2014, this beautiful stepwell of Patan drawn all the attention of the world and earned a crown of UNESCO heritage site. Even in 2018, Reserve Bank of India (RBI) released a 100 Rupee note with image of Rani ki Vav. So, here is a quick guide to plan your itinerary in Patan.
Explore Rani ki Vav, Travel guide of Patan
Before moving ahead, we should know at-least brief history of the patan and around.
Vanaraja, the most notable ruler of Chavada Dynasty established the ancient city as 'Anahilwada-Patan' in northern Gujarat in the mid of 8th Century. His descendant ruled this city almost for next 200 year before the beginning of Chaulukya dynasty.
During Chaulukya, city evolved as culturally and economic center of north India, and soon become the 10th largest city of the world, having a population of more than 1 Lakh.
In the starting of 13th century, city got plundered and destroyed by the Turkic invasion in India.
Again modern city of Patan, evolved near the ruins of old city and sooner re-established as important power center in Gujarat under then Delhi Sultanate. And in 1411, Ahmed Shah shifted his capital from Patan to Ahmadabad.
Also read: Ahmedabad a World Heritage City
This ancient town remained a power center for more than 600 years. Even today, you can peep into the glorious past of Patan through the left out remains of that era, magnificent Rani-ki-Vav is the most famous among these.
It is said that Rani Udaymati of Chaulukya dynasty constructed the famous stepwell 'Rani ki Vav' in the memory of his husband.
Rani ki Vav a

rchitecture
This Rani-ki-Vav is about 90 feet wide having eastern side entry and every big step have multiple intermediate steps, creating a beautiful geometrical pattern.

There are four wide platforms while going down to the water level, each having multiple floor with series of intricate pillars. Some of these floor still intact, while some failed to withstand against time but remains of pillars can be seen.

There is a deep well standing on the western edge having semi-circular wall on outer side. This outer wall of well have several layers of sculptures and few vertical brackets for supporting of structure

.
Carving & Sculptures in Rani ki Vav
Probably, you know about Khajuraho temples, famous for great architecture and thousands of richly carved sculptures. Here, at the Rani ki Vav, you will see the same richness in sculptures, although it does not have erotic figure like Khajuraho.
It also has series of ornamented pillars, like we usually see in any temple. While you observe these sculptures, you will acknowledge then artisan's great skill and devotion of in their work.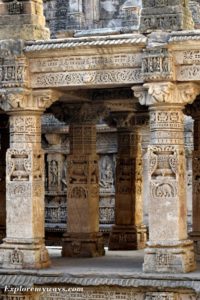 All the sculptures depict different God-Goddess in various forms (Avatar) keeping Lord Brahma, Vishnu, Shiva as the central theme. Any space left from the sculptures, filled with fine intricacy.
Rani ki Vav is not less than any masterpiece of a dexterous jeweler. The smoothness and the curves on these sculpture are unbelievable, seems that artisan put their soul in making these sculptures.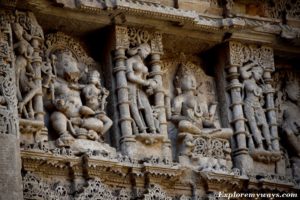 If you observe the architecture more closely, this stepwell look like an inverted temple. A well developed in such a beautiful way that I should call it a 'temple of water'. Though, I am not sure, whether importance & value of water was the central idea behind creating this architectural marvel.
But even if it was not, it could had be and it should had be. Seeing the present scenario, water is the most precious thing and we must treat every drop of water like a Prasad ( that we never like to waste). Being present at the 'Rani ki Vav' was a wonderful and memorable experience.
One more heritage site in Patna belonging to Chalukaya period 'Sahastralinga Talav' was just 800 meter from the Rani ki Vav.
Sahastralinga Talav
A 5 km canal used to connect this tank with nearby Saraswati River and this canal had a stair type embankment.
There were thousand of Shiva temple at the bank of this canal, each having a Shiva lingam. Ruins of embankment and some of Lingam are still can be see around the site.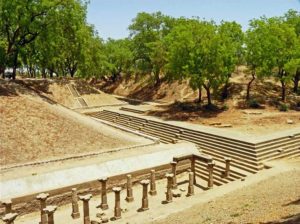 Patan Patola heritage
Another thing you must visit at Patan is Patola Heritage, just 500 meter east of 'Rani ki Vav'. Patola, is the ancient method of hand-weaving clothes from the finest quality of silk, which was originally belongs to Karnataka.
During Chalukaya dynasty a group of Patola artisan families had migrated to Patan. It is all woven manually thread by thread and color it with vegetable color, the complete process is quite complicated and lengthy.
You will find here the most expensive Sari (Patola Sari), you ever heard about. A single Patola Sari takes around six month to complete and cost from 20 thousand to 4 Lakh. There are only two family, who know this Patola art but they don't teach it to others.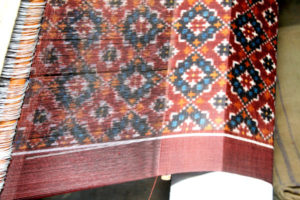 'Patola heritage at Patan' is a museum cum a workshop, where you can see multiple works of Patola along with pictures of various celebrity/politician wearing Patola. Some pictures displayed the various phase of whole process. Some one is always there to enhance your knowledge about this ancient art, though photography is not allowed there.
Rani ki Vav, Sahastralinga Talav and Patola heritage, all are located at the western end of the Patan city and almost 5 Km from new Bus stand and 4 km from Patan railway station. Auto-rickshaw is easily available within the city.
How to reach Patan
Rail: Mahesana and Palanpur are two major rail-head on the Delhi-Ahmadabad rail route near Patan. And few local train run between Mahesana to Patan on daily basis, which is a comfortable one hour journey.
Bus: Patan is connected with other major cities of Gujarat through Ahmadabad, while Bhuj have direct connectivity with GSRTC seater & sleeper buses.
Other tourist attraction of Gujarat
If you find this post useful, please share and leave your valuable feedback in the comment box.
Subscribe for further travel update