Delhi has a very long recorded and un-recorded history, several dynasties ruled over India from Delhi itself. Ruling power kept on shifting from one dynasty to other, but the throne remain with Delhi. In last 1000 years, Delhi have seen many different dynasty, from rising of Mamluk to fall of Britishers. All have constructed beautiful monuments in Delhi, for establishing their art & culture and to prove himself superior than before. Some of these historical monuments in Delhi, still standing proudly.
If you believe the famous Epic Mahabharata, you can co-relate Delhi with ancient city of Indraprastha. As per the Mahabharata, Indraprastha was one of the five forest-land given to Pandavas. Where, Vishwakarma himself developed a beautiful city, as the ruling capital of Pandavas.
Visiting the historical sites & these monuments in Delhi is a complete treat for any history lover. Let's have a look at top 7 historical monuments of Delhi in chronological order.
Top 7 Historical monuments in Delhi
1) Qutub Minar
Qutub Minar is the oldest surviving monuments of Delhi, and a sign of beginning of Muslim rule in India. An army general Qutb-ud-din Aibak, (who later become the 1st Sultan of Delhi and established Mamluk dynasty) started construction of Qutub Minar as a mark of victory of Muhammad Ghori over the Prithviraj Chauhan in 1192 AD.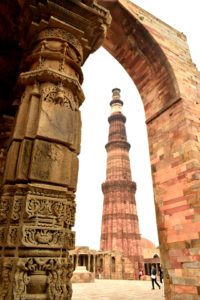 Though, Aibak had build only up to first storey of Qutub Minar, this successor completed rest of the construction. Top two storey which we see today build again by Firoz Shah Tuglak, that had fallen due to lightning strike. Again, a major earthquake damaged the Qutub Minar in 15th century, then Sikandar Lodi had repaired it.
All the storey have a landing platform projected outwards, that could had been accessed by internal spiral staircase with total 379 steps.
In 1981, almost 47 people lost their life in a stamped during the exit from Qutub Minar. After that accident, the public entry inside the Qutub Minar has made prohibited.
Contribution of Mamluk (Slave), Tuglak and Lodi in the construction & repair of Qutub Minar made it most important historical monument of Delhi.
Monuments at Qutub Complex
Apart from the Qutub Minar, there are several other historical monuments exist inside Qutub Complex belonging to different dynasty.
Alai Minar: Alaudin Khilji wanted to make a Minar, which would have been double in size of existing Qutub Minar. But work of this Minar stopped in between after the death of Alaudin Khilji.
Iron pillar: This Iron pillar of Gupta's period is another important attraction of Qutub complex. It is standing from many centuries without getting rusted, so it has drawn attention of many metallurgy researcher and scientist.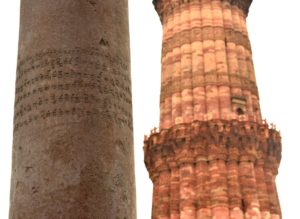 Some historian claimed that this pillar was originally erected at the Udayagiri caves near Vidisha(MP). Possibly, Iltutmish brought this pillar to Delhi, after his attack on Vidisha.
Quwwat ul-Islam Mosque: A mosque near the Qutub Minar, it was made after destroying 27 Hindu and Jain temples, and Pillars of those temples have been used for the construction of mosque.
The same compound also accommodate tomb of Iltutmish and Alaudin Khilji.
Ticket and timing : Rs. 40/- for entry ticket, Rs. 25/- as camera fee, usual time is from 07:00 AM to 05:00 PM
2) Lodi Garden
This garden spread over 90 acres, located in New Delhi accommodate various historical monuments belonging to Sayyid and Lodi Dynasty.
Tomb of Sikandar Lodi: Ibrahim Lodi, the 3rd ruler from Lodi Dynasty build this tomb after the death of his father Sikandar Lodi in 1517. Sikandar Lodi had ruled Delhi from 1489 to 1517.
Bada Gumbad : It was build during the Lodi period in 1490 as a guest house of Sikandar Lodi, which is attached to a mosque having three domes. Bada Gumbad was the first historical monument in Delhi, having complete dome.
Tomb of Mohammed Shah: It is the earliest monument of this garden build in 1444 by Ala-ud-din, the son of Mohammed Shah of Sayyid Dynasty. This tomb is octagonal in shape, with numerous ornamental Hindu-style Chhatris around the central dome, numerous arches, verandas and sloping buttresses.
Shisha Gumbad: A decorated tomb with glazed tiles that was also build during the reign of Sikandar Lodi, it is located in front of Baba Gumbad. Some historian predict that it is the tomb of Bahlul Lodi.
During the British Era this Lodi garden was known as 'Lady Willingdon Park' because of her contribution in landscaping of this park. She was the wife of then Governor General of India Freeman-Thomas.
Ticket & Timing: Lodi Garden's opening time is 06:00 AM while close at 07:00 PM, there is no entry fee to get in the Lodi garden and people come here for morning walk or picnic.
3) Purana Qila (Old Fort

)
It is one of the oldest site of Delhi, and believed that this is the same site of Indraprastha, capital of Pandavas. There was a village within the fort named Indrapat up to starting of 20th century.
ASI made many research on this site, and proved that this site is continuously inhabited from more than 2,500 years.
Some pottery and other item found from this site, which is quite similar to those items found from other sites mentioned in Mahabharata. So, this fort also popular as Pandavo Ka Quila.
Present fort and other monuments we see today, were constructed during the Humayun's period, while some structure like Qila-i-Kuhna mosque and Sher Mandal ( an Octogonal building) added during the rule of Sher Shah Suri.
Ticket & Timing : Purana Quila opens at 07:00 AM while close at 05:00 PM, ticket charge is Rs. 20/-
4) Humayun tomb
It is one of the three World heritage site of Delhi, located close to Old fort in the Nizamuddin area. This was also the first garden tomb in Indian subcontinent, which inspired many future monuments like the Taj Mahal.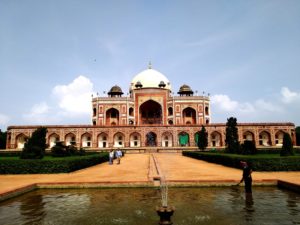 Construction of this tomb completed in 1572, while Humayun had died in 1556. Right after his death he got buried in the Old fort of Delhi and then taken to Sirhind (Punjab).
After completion of this beautiful monument Akbar shifted his father's grave to Delhi. All the credit of Humayun's tomb goes to his first wife Bega Begum, she paid all the expenditure by herself only.
Apart from the grave of Humayun, this tomb also houses graves of his wives including Bega Begum, Dara Shikoh and other Mughal family members.
The tomb compound also have few other monuments, out of which Tomb of Isha Khan is most beautiful and picturesque. Isa Khan Niyazi, was a noble in Sher Shah Suri court. This octagonal tomb have graves of entire family of Isha Khan.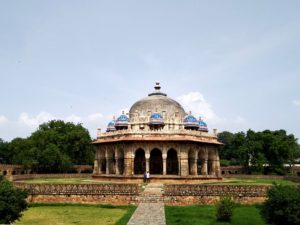 During the Partition of India, Humayun Tomb and Purana Quila had been turned into a refugee camp for Muslims, who had opted to go to newly built Pakistan.
Ticket & Timing : Humayun's Tomb opens at 07:00 AM while close at 05:00 PM, ticket charge is Rs. 40/-
5) Red Fort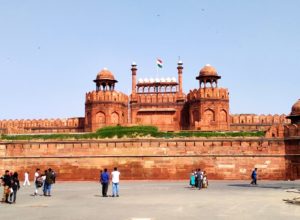 Mughal emperor Shah Jahan shifted his capital from Agra to Delhi in 1638 and established a fortified city name Shahjahanabad. He build Red fort in 1639 as his residential palace and a center of ruling.
This fort remained the main residence of Mughal Emperors for next 200 years. Red fort is an important landmark and another World heritage site of Delhi. Also read : Top 10 forts in North India
Red fort have many important structure inside such as; Diwan-e-Aam, Diwan-e-Khas, Rang Mahal and Pearl mosque. Shah Jahan had decorated these buildings with precious stone and metal, most of which plundered by a Persian invader Nadir Shah in 1747, including the Peacock Throne.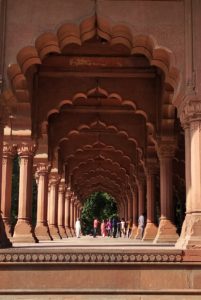 Apart from its historical importance, this fort became an icon of Old Delhi. Every year, on the India's Independence Day ( 15th August) Prime Minister raise the National flag and give address the nation.
Ticket & Timing : Red Fort opens at 07:00 AM while close at 05:00 PM, ticket charge is Rs. 40/-
Zama Masjid, the biggest mosque of India and famous Chandni Chauk market is just at walking distance from the Red Fort.
6) Safdarjung's Tomb
It is a monument build with sandstone and Marble in Mughal style. It is build over the remains of Nawab Safdarjung, who was the prime minister of Ahmed Shah Bahadur, a Mughal ruler.
During the rule of Ahmed Shah, actual power had come in the hand of Nawab Safdarjung, while the king was just busy in enjoying life. Nawab Shujaud Daula son of Safdarjung constructed this tomb in 1754.
It is also one of the prominent monument of Delhi, build with typical Mughal style also encompassing a garden, and it share many similarity with Humayun's Tomb.
Ticket & Timing : Safdarjung Tomb opens at 07: AM while close at 05:30 PM, ticket charge is Rs. 25/-
7) Agrasen ki Baoli
It is one of the famous ancient step-well in India situated near Connaught Place. As the name suggest that this step-well belong to King Agrasen who was a King in Dwapar Yug, contemporary of Lord Krishna but there is no historical record to strengthen the claim.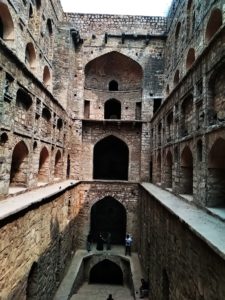 Agrawal community contributed in rebuilding this step-well in 14th century, who think they are descendant of Maharaja Agrasen.
This is a three storey step-well is 60 meter long and 15 meter wide, decorated with arched niches on both side. It has total 108 steps to reach at the lower level. This step-well also featured in many Bollywood movie like; PK, Sultan etc.
Ticket & Timing : Agrasen ki Baoli opens at 09:00 AM while close at 05:30 PM, ticket charge is Rs. 25/-
World Heritage Sites in Delhi
Qutub Complex, Humayun's Tomb and Red Fort are the 3 historical monuments of Delhi who earned the crown of World Heritage Sites because of their historical and architectural value.
Though, there are more historical sites in Delhi like; Siri Fort, Tughlakabad Fort but time had faded their shine and now almost in ruin.
Initially, Britishers ruled over India from Calcutta and later shifted capital to Delhi in December'1911. They have also build some monuments in Delhi like India Gate, Rastrapati Bhawan, Parliament House, which are still in use so I didn't consider them in my list of historical monuments.
If you find this post useful, Explore more Historical sites of India, on Explore my Ways
& share your valuable feedback in the comment box.