So, you are in planning mode for a long trip to Gangtok, the capital city of a small Himalayan state Sikkim. But not able to decide how many days should be sufficient to get the feel of Gangtok city and around. So, here I will try to give you a perfect itinerary so that you can plan a long trip up to 7 days around Gangtok.
Gangtok city lie at an elevation of 1800 meter, amidst of natural beauty and less explored mountains. In terms of beauty, modernity and infrastructure for the tourists, Gangtok is not less than Shimla or Manali.
Most of the people of Gangtok and around follow Buddhism and share Nepali culture & language. They are best in hospitality, they do everything to make your trip memorable, as tourism is main source of their livelihood.
Tourism in Sikkim can be divided in 3 tourist zone; East & North Sikkim, South Sikkim and West Sikkim, where Gangtok is the main gateway to Northern & Eastern Sikkim. Here, I will brief you about the destinations along with required information.
Reach Gangtok from Siliguri/Jalpaigudi
Mostly all the trip of Gangtok begin from Siliguri ( Baghdogra Airport) or New Jalpaigudi (Railway Station ). From both the places Siliguri or New Jalpaigudi you can hire a private cab or can reserve a seat in a shared vehicle ( Bolero/Sumo). There is a Bus service available from Siliguri to Gangtok operated by SNT (Sikkim National Transport).
Cost of vehicle depend on the season; In peak season (April-June) a private cab from New Jalpaigudi to Gangtok can cost you INR 4000 to INR 5000, while in off season INR 3000 is the usual price. And getting a seat in shared vehicle may cost you INR 500 to INR 600 in peak season otherwise INR 300 to INR 400 is enough.
All the cab or bus from Jalpaigudi/Siligudi, drop you at Deorali stand, from there you have to take another cab to reach your hotel that may cost additional INR 100 or 200 depending on the location of your booked hotel.
Siligudi/New-Jalpaigudi to Gangtok is almost 120 Km, it takes almost 5 hour to reach Gangtok through winding roads. So your first day is just to reach and relax at your booked hotel at Gangtok.
For the next day, I would recommend to explore local attraction as you might feel tired from last day journey. You can also get ready made itinerary at Gangtok for local sightseeing, covering 8 to 12 spots. But choosing that option will be just rushing from one point to another.
Here, I am giving you a long itinerary of Gangtok from my own experience that will definitely help you in exploring these spot in lesser travelling/cost
10 Attraction points of Gangtok city
1. Namgyal Institute of Tibetology : This institute help in understanding the history of Sikkim and its monasteries with the help of older and rare photographs & documents. They keep all the records and do further researches on Tibetan and Buddhist culture.
It is a kind of museum where you can see manuscript, statues, utensil and relics associated with Buddhism. Pandit Nehru, then Prime minister had inaugurated Namgyal Institute in 1958.
2. Do Drul Chorten Monastery : This monasteries is located 300 meter from the Namgyal Institute in soothing and peaceful environment. You will see lots of young Buddhist monks, its just one more step towards knowing the Buddhist culture.
3. Rope way : Coming back towards the city center, there is Gangtok rope way near the MG Market. It will be good option, if you want to have a nice view of surrounding mountains while flying over the colorful buildings. As it is one of the famous attraction of the town, you may have to wait for an hour in peak season.
The cable car can accommodate up to 20 persons at a time, it doesn't have sitting arrangement. It cost around INR 150 for both way.
4. Tsuglakhang Monastery: Another monastery within the city and at walking distance from Rope way. It is a historical landmark too as there is a palace belongs to Chogyal king within this monastery. Chogyal dynasty had ruled the Sikkim before merging in India in 1975.
5. Flower Exhibition Center: There is a flower exhibition center around 800 meter from Tsuglakhang Monastery, via Bhanu Path road. This exhibition is not very big, around 20 varieties of rare flowers kept there in a large enclosed hall. You can also buy the seeds of any flower plant from there.
6. Thakurbari Temple: It is a newly built temple which look so colorful like a monastery, located at one end of MG Marg near Gandhi Statute. A architecturally rich temple of the city, you can visit the temple in evening and then spend rest of your time at MG Market.
7. MG Market: MG Market or MG Marg is the main attraction and heart of Gangtok City. Or better to say, it is the only market in the city which have everything to satisfy your shopping need.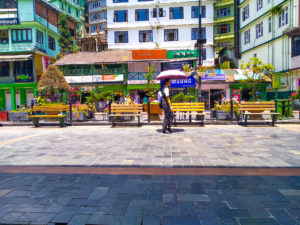 There are hundreds of hotel and restaurants on either side of MG Marg. MG Marg is floored with nice tiles, having many benches along the way, beautiful lighting and flowers. Its the best place to enjoy in evening where you can try different types of snacks or complete meal.
It is like people gather around any lake or beach to enjoy the time with family & friends all you can say it is the most happening place of the city.
Buddhist Monasteries around Gangtok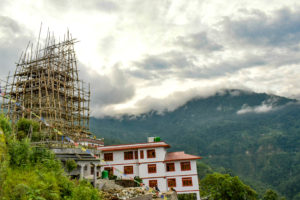 8. Rumtek Monastery: Start your day with the visit of Rumtek Monastery, an oldest monastery in the vicinity of Gangtok. It is located in very calm environment, almost 35 km from the Gangtok city. It is considerably large in comparison to other monasteries of Gangtok. You will have the best view of valley because of its location on higher plane.
Here, you can see the lifestyle of monks, you can talk to them, can join them in their prayer but don't click picture here n there and maintain a environment of mutual respect. To reach up to monastery, you have to track from the foothill to hill top.
9. Ranka or Lingdum Monastery: located at Ranka, around 20 Km from the Gangtok city center. The monastery follows the Zurmang Kagyud lineage of Buddhism. This is comparably new monastery but still worth to see.
Further 2 km from the Ranka, you can visit the Paragliding point which is also a main attraction of the Gangtok city. From here, you can have breathtaking view of whole Gangtok city from a single point. Ani Gompa, a female monastery located adjacent to this view point.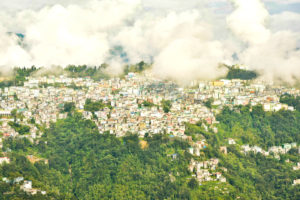 10. Ban Jhakri Falls : After the visit of notable monasteries of Gangtok, its time to enjoy and relax. Ban Jhakhri falll is the best waterfall around the city, and a park is developed around it. It lies on the way from Ranka to Gangtok city about 13 km from city center.
Apart from enjoying in the waterfall you can explore many adventure/fun activities. Its a kind of park where you can spend time with your family and friends, there are various snacks point and 2 restaurant. You can spend 2 to 3 hour here then relax at your hotel at Gangtok or take a stroll at MG Market.
If you want to taste the adventure of flying in the Gangtok valley. Visit Adventure zone near the Ban Jhakri fall for booking you paragliding flight.
Changu Lake and Baba Mandir
Gangtok trip can not be completed without visiting Tsogmo or Changu Lake along a unique temple of Baba Harbhajan Singh and Nathu-La pass (Indo-China Boarder). The famous and sacred Changu lake is approx 40 Km from Gangtok city. This lake freeze in winter and remain frozen till late march, people can enjoy Yak ride near this Lake.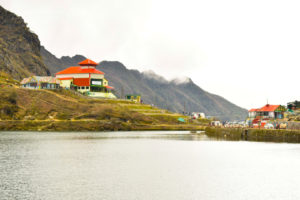 Further 12 km from the lake you can visit temple of Baba Harbhajan Singh. Harbhajan Singh, a young army man lost his life when he was posted at this location. It is believed that his soul is still guarding the Indo-China boarder.
Nathu-La pass (Indo-China Boarder) is also 12 Km from the Lake but in different direction. Visiting Indo-China boarder is the main attraction of this trip but sometime it is not easy to get permit to this region.
You need a special permit from Army for Nathula Pass which remains closed on Monday and Tuesday. Ask your hotel manager or the tour operator your are booking your ride with for arranging these permits.
Start your trip early in the morning so that you can be back to city by 3:00 PM. On returning take a break at Ganesh Tok, a yellow painted temple which is in front of Sikkim Himalayan Zoological Park. If you are with kids you can go to this Zoo, Red Panda is the main attraction of Gangtok zoo.
Tashi view point: Then visit Tashi view point, 5 km from Ganesh Tok towards the city. Tashi is the famous view point of the city and main attraction of the Gangtok. You can have amazing view of Kanchenjunga mountain in clear weather. You can do some shopping from souvenir shop at the top and can click few pictures in the typical Nepali costume.
Gonjang monastery: On the same road Gonjang monastery is at walking distance from Tashi view point. A large statue of Buddha is main attraction of this monastery. There is one restaurant inside the monastery campus where you can have vegetarian food at best price.
On moving further 3 km towards the city, you can visit Bakthang Waterfall, right on the road side. People also call it Mandakani Fall, its small but beautiful and picturesque.
North Sikkim trip
Till now, you have covered all the main attraction of Gangtok city and famous Changu lake along with Harbhajan Singh temple. As I said earlier, Gangtok is the gateway to North Sikkim, famous for unmatched natural beauty and amazing destinations. Lachung and Lachen are two key destination of North Sikkim.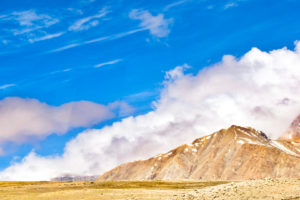 Popular North Sikkim tour from Gangtok
1) 1 night 2 days trip of Lachung; Yumthang Valley and Zero point is the main attraction point.
2) 2 night 3 days trip to Lachung & Lachen; this trip cover Yumthang Valley, Zero point then Gurudongmar Lake near Lachen, the highest lake of India.
This is complete adventure trip where you move along with roaring Tista & Lachung River. You will come across several beautiful & tall waterfalls, snow capped mountain and finally high altitude desert.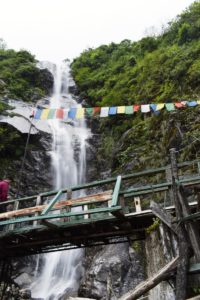 Though, every day you have to spend around 6 to 7 hour in winding road trip, so I do not recommend this trip for an old age person with breathing problem or kid below 5.
Every trip of North Sikkim also required a special permit like in case of Changu Lake/ Baba Mandir trip. Do not plan leaving of Gangtok on the day you come back from North Sikkim trip.
Following the above plan you can extract maximum out of your long trip of Gangtok, experiencing charm of old Britisher's town to a natural paradise. Feeling the positive vibes from several Buddhist monasteries to witnessing a unique temple of a dead soldier.

Stay and Eat
There are hundreds of hotel around MG Marg/Market, most preferred location for tourist coming to Gangtok. Staying around MG Marg is a guarantee for a wonderful evening & night time.
But if you are looking for a option away from crowd & city noise, then try some hotel or home stay little far from the city center. During my trip, I stayed at one Home stay at Phenzong near the paragliding point.
Commuting within Gangtok City
Four wheeler like Alto or Wagon-R are readily available for moving from one point to another within city, and usually they charge 10/per kilometer. For moving little out of town like; Ranka, Rumtek you will find vehicle like Bolero or Sumo, generally 10 seater.
If you find this post useful, Explore more travel ideas on Explore my Ways
& share your valuable feedback in the comment box.