When I was planning my first trip to Sikkim, I wanted to explore the real Sikkim instead of any city which usually look same. So, I booked Homestay in Gangtok, 15 km from the city center, and also included Shared tour of North Sikkim in my itinerary.
North Sikkim is mainly known for the Lachung and Lachen, both hill villages are the gateway of amazing destinations, like; Yumthang Valley or Gurudongmar Lake.
Though, it requires a permit for moving in the extreme part of Sikkim because this small state shares its boundary with China, Nepal and Bhutan. And getting a permit may be the tedious job for the tourist by their own.
There are many tour operators in Gangtok who offer various tour packages of North Sikkim in reasonable cost. So, its better to book your tour with some tour operators, I also did the same. ( You need to provide your ADHAR/Voter ID with 2 photo for getting permit)
Also read: Long itinerary around Gangtok (Sikkim)
North Sikkim shared tour packages
1) 1 night 2 days tour of Gangtok-Lachung-Gangtok
2) 2 night 3 days tour of Gangtok-Lachen-Lachung-Gangtok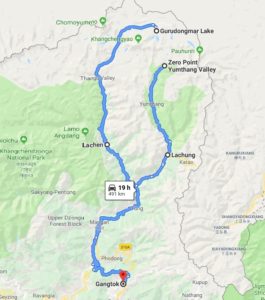 These shared tour packages of North Sikkim include all transportation, accommodation and all the meals. I wanted to book the 2nd option, but usually tour operators do not entertain solo travellers as they provide accommodation on twin sharing basis. And for solo traveller they have to provide separate accommodation which incur additional cost.
Normally, this 2 nights 3 days shared tour of North Sikkim cost around Rs. 4500-5000/- but because I was going alone on this trip, so it cost me Rs. 6500/- (after adding the room cost).
(You can book 'Shared tour of North Sikkim' online or through various tour operators in MG market, Gangtok. Your hotel can also help in booking these trips. If you want solo, you may face difficulty in booking it online)
Gangtok to North Sikkim s

hared cab
Generally tour operators tie-up your ride with some vehicle (Bolero/Sumo) and give you vehicle registration no. and driver's contact no., Rest of thing you have to do your own.
Reach Vajra Stand: All these shared tours for North Sikkim or Changu lake/Baba Mandir start from Vajra stand (Gangtok). So, you have to reach Vajra stand by your own, which is 2.5 km from MG market.
To reach Vajra stand, book a taxi from your hotel or take a shared taxi (Alto/Wagon-R) from road, private taxi charge around Rs. 100-200/- while shared taxi Rs.20/- per person from MG road.
Find your Vehicle: Vajra stand is a four floor vehicle stand, where you can see hundreds of vehicle standing at a time. Here, you have to find out your tied-up vehicle your own as you already have the vehicle registration no.
Payment for trip: Once you find your vehicle, you need to pay full amount directly to the driver or some other middle-man there.
Sitting arrangement: It may be scary surprise for you. Yes, whether it is Sumo, Bolero or Max, it accommodate 10 passengers excluding driver and that's really intimidating truth. Some of my co-passengers were unaware of this fact, so it should be clear BEFORE you book your SHARED tour.
Luckily, during our trip we were only 8 ( A family of 4, 1 couple and 1 more solo like me).
Main attractions of North Sikkim trip
Our trip started around 12:00, just after few minutes we crossed 'Bakthang Fall' a small but well maintained waterfall. This waterfall is also one of the local sightseeing point so you can see lots of crowd here.
NH-310A is the main highway for going to North Sikkim but due to land slide and road blockage we moved on other route. This route has a small but beautiful waterfall named as 'Butterfly Fall'. We stopped there for few minutes for taking snaps and primarily to straighten our back.
After another half an hour we reached to the bank of Teesta river, then Teesta remained with us up to Mangan. After the Teesta, it was turn of Lachung river to accompany us.
On the way to Lachung via Chungthang, we come across waterfalls like; 'Naga Fall' and 'Bhim Nala' (Amitabh Bachhan Fall) where we took little break. Though, there were lots of waterfall but only few of them were named.
Lachung

Hotel
We reached Lachung around 7:00 PM. Our tour operator had booked 5 rooms in 'Hotel River view', though we could not see any river.
Before reaching there, I was expecting some hut kind of accommodation and no electricity. But this hotel was quite good, neat & clean, big size room with attached washroom, Lukewarm water for drinking and geyser in all room. (Though they did not provide toiletries and towel)
It was already dark and cold, just after 15 minute we got tea in our rooms. There was one roof top restaurant ( better call it mess) because you only get what they prepare, not as per your choice.
Usually they prepare Rice, Pulse, Chiken/Egg, Sabji. But if you are a vegan, don't expect anything in place of non-veg. Being a non- vegetarian it was not a problem to me and truly the food was simple but tasty.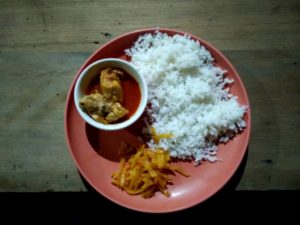 Lachung to Yumthang valley
Our morning started with bed tea around 5:30 AM, got 1 hour to get ready for the next destination. We put all the luggage in one room and left for Yumthang valley, which was 25 Km from the Lachung.
Yumthang Valley also famous as 'Valley of Flowers' because from March to May end, valley use to carpeted with colorful Rhododendron, Primulas, Poppies and Iris. Enjoying the nature's amazing view we reached Yumthang Valley.
There were several shops of snacks like Tea, Maggy, Momos, Thukpa, Bread-omelet etc. As per plan we were supposed to get our breakfast here, that was included in the tour cost. Can you guess, what we got as a breakfast? It was just 2 slice of steamed bread with jam 😉 . Anyway, if anyone need more, he is always free to buy more.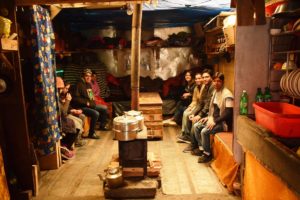 These shops also provide woollen jacket, mud shoes on rent while selling other woollen items like hand gloves, Caps etc. We had plan to move further up to Zero point (Yumesamdong) which was still 20 km from here.
(In general 'Zero point' which is just 20 km from Yumthang valley, is not a part of the packaged tour. Every vehicle charge extra Rs. 3000/- for the trip of Zero point. Accordingly we all paid our share of Rs. 475/- each.)
Yumthang valley to

Zero point
Zero point is known to maintain its temperature close to Zero, so more possibility of getting snow there. We all took mud shoes on rent because no one wanted to wet their own shoes in melting snow. Yeah! we were quite optimistic, you can say that! Though, we were having glimpse of the snow capped mountain from the valley itself.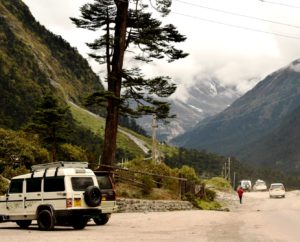 Dreaming about the 'playing in snow', 'throwing snow ball on each other', we move ahead. After almost crossing the Yumthang valley we stopped at 'Jalebi point' because of the vehicle Jam at Zero point. That spot might got its name from the several turn of road or because of Jalebi (sweet) itself, which was available at small snacks-shops there.
It was worth to stop there because the view from there was absolutely great; a beautiful valley, flowing Lachung river in the middle and black & white mountains. Or just to enjoy the rare combination of Samosa-Jalebi and snowy mountains.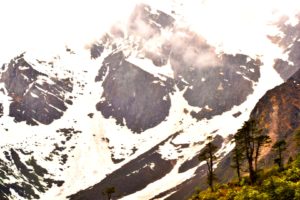 We were hardly 1 km from 'Zero Point'. So, we reached there within 5 minute as soon the jam got cleared.
There were big and small patches of white cold sheet. It was not the fresh snow but might have been fallen a month before. Though some patches were quite big, as the snow slid from the hill and stacked there. People were running, jumping, scratching and digging in snow, no one wanted to loose that moment.
It was really cold may be at Zero, there were small stalls selling hot soup & snacks and even liqueur as few options to enhance body temperature.
Because of rain we could not stayed there for long. On returning we collected back our shoes from Yumthang valley by paying Rs. 50/- for each pair. The ride back to Lachung was even more amazing, we almost covered 10 km within clouds. Rain and clouds made journey more adventurous but scary too because it might lead to road block any time.
After 2 and half hour journey reached back to Lachung, there we had quick lunch in order to move for Lachen, (another hill village and gateway to Gurudongmar Lake).
Because of the strict scheduled of shared tourtour we could not explore much of Lachung village itself. We already had spend 5 hour in ride and it could take 3 more hour to reach Lachen, so we left Lachung by 3 PM. Further read Trip to Lachen and Gurudongmar Lake.
If you find this post useful, please share and leave your valuable feedback in the comment box.
Subscribe for further travel update