Travelling often inspired me to try different option available with accommodation so, last time I tried hostel stay in Rishikesh. This time I thought of trying HOME-STAY for my trip to Gangtok, capital of Sikkim, a small clean north-eastern state of India. As I had planned my trip keeping Gangtok as the central location, so was looking for homestay in proximity to the capital city. And on the basis of customer review, price and location, I chose Phenzong Homestay near Gangtok.
The idea behind choosing a Homestay was to live with local family so that I could have more exposure to the traditional lifestyle of Sikkimese people. Because I found living in a hotel is quite similar whether it is Delhi or Hyderabad or any other city
How to Reach Phenzong homestay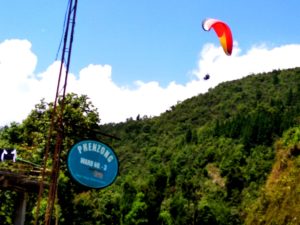 Phenzong Homestay was almost 14 km from the Gangtok city center in Phenzong village. Right from booking, I was in dilemma, if I made my booking wisely? Because the homestay location was away from the city and 14 km is a considerable distance in hill. I was not expecting much from this but a different experience.
It was a family trip, so I booked private cab from New Jalpaigudi (NJP) to Phenzong and this distance of 140 Km took around six hour. So, it was almost dark when I reached Phenzong Homestay.
( from New Jalpaiguri or Siliguri you can also take shared cab up to Deorali stand /Siliguri Taxi Stand, which is before 2 km from Ranka-Rumtek Taxi stand near MG Market. For this 2 km you have to take another local taxi up to Ranka stand that cost Rs. 100-200. From Ranka taxi stand, you can have share ride up to Phenzong in Rs. 50/-).
Phenzong homestay has a great location
Mr. Lakpa Tshering (Owner of Phenzong Homestay) welcome us at his home with their traditional silk-scarf then offer us tea, and that was also in their traditional cups. I never got such an honor in hotel, so it was the first feel good factor. Then he show us our rooms ( I had booked 2 rooms out of their 4 rooms). From the common balcony I could see thousands of starts in front of my eyes, these were the lighting from houses on opposite hill.
Woke up with the sound of cock-a-doodle-doo or (Ku-kdu-koo) and went to balcony. The whole Gangtok city, on the front hill was facing to me or vice versa. A bunch of clouds were floating within the lane of hills, while some were arising with the falling of sun rays.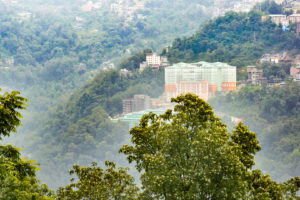 The wonderful panoramic view of the city was just amazing and mesmerizing. I would say the Phenzong homestay has the best location in whole Gangtok to enjoy such a beautiful view, it was a complete Paisa Vasool 😉
The tiredness of long journey left no more, and then I realized that my decision of choosing this homestay was not bad. I was away from the city, but still city was in front of my sight. Even, I did not have to bear the city noise but the chirping sound of birds.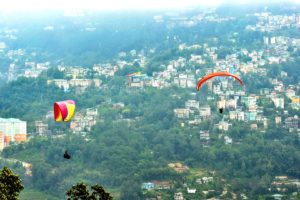 Later, I came to know that Phenzong homestay shares the same location with Paragliding flying point. Mostly all the tour operators in Gangtok include paragliding point in their local sightseeing schedule. In that way, I had already covered one of the important landmark around the Gangtok city.
Enjoy organic food at Phenzong homestay
They have provision of meals too ( morning Tea, Lunch, dinner) on chargeable basis. Usually we got morning tea in our rooms itself, while rest of meals they offered in their big and beautifully decorated living room. The really nice ambiance of their living room made food more tastier.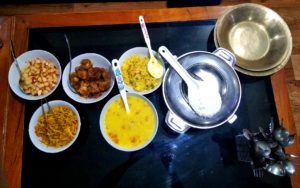 And they did not let us feel like tourists but as their own guests. At the time of meal they use to sit with us and lots of chit-chat made it more enjoyable.
One more thing, as Sikkim is an Organic state, you can expect every meal prepared from organic vegetables. So you get a healthy food as well rather than tasty.Even if are a non-vegetarian, you can expect desi chicken & desi egg.
More about the Phenzong family
A reputed family, which is very friendly and they try everything to make you feel like at home. Mr. Lakpa's family is very much supportive in all manners. I was with my mother (60+) and 2 kids (2 & 4 year), and they completely enjoyed their stay at their home, even my kids got very much attached with Mr. Lakpa, and still miss him.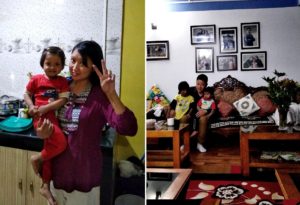 Not even Lakpa family, their neighbors were also very sweet and co-operative. Everyone treat like, you are one among them.
You can also join in them on their community church on Sunday, they welcome every guest with open heart. It will also be a wonderful experience and a learning as well.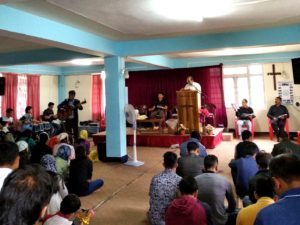 Information for new guest
1) Phenzong homestay is located in a small village near Ranka about 14 Km from the MG market (Gangtok). Usually it takes around 40-45 minute to reach. You can get shared taxi (Sumo/Bolero) from Ranka-Rumtek taxi stand just below the MG Market. But it may difficult to find shared taxi after 3 PM during peak season.
2) Phenzong is a village so don't expect market/ shopping kind of thing here. You get natural, healthy, calm or all I can say heavenly environment here.
3) It is a HOME-STAY and you will be a guest instead of customer. So it is quite different to stay in hotel. For fooding, you can share your like and dislike but there will be no menu card to choose from. They try their best to get you a better, organic, tasty and healthy food.
4) Always keep umbrella with you if you are planning in between May to August.
5) During heavy rain, you may have to face little power-cut, so don't over react to that.
6) For local sightseeing within Gangtok or other points like Changu lake (Tsogmo), Nathu-La you book cab from Phenzong itself ( not from Gangtok city). Mr. Lakpa can help you in that too as I booked my trip for Tsogmo Lake and Shared trip for North Sikkim through him.
Spare at least one day from your schedule and just walk around the village, you will find it as a clean and civilized village. Ani Gumpa, a monastery of female monks is just opposite to Phenzong homestay, you can feel the spiritual vibes there. Another important landmark 'Ranka monetary' is approx 2 km, you can walk down there too.
Phenzong homestay is another home
It was really a wonderful stay at Phenzong Homestay. Right from its location to Phenzong family and their hospitality was really heartwarming. Completely loved my stay and whenever I got a chance to Gangtok again, I will definitely visit them.
If you find this post useful, please share and leave your valuable feedback in the comment box.
Subscribe for further travel update