'Amazon of India' is the unofficial name given to Bhitarkanika Forest. But, is this forest of India really justifies the name of Amazon? How could I know it without seeing with my own eyes! So I planned one day trip of Bhitarkanika National Park, choosing Chandbali as the gateway to this wildlife sanctuary.
It was in Dec'19, because December or January is great time to explore the coastal region of India. How I planned my Bhitarkanika trip and how was my experience will tell you later on, first we should know a little about Bhitakanika National Park.
Bhitarkanika National Park, Home of saltwater Crocodile
Bhitarkanika is the second largest mangrove forest after the very famous Sundarban, known for Bengal tigers. Forest of Bhitarkanika situated in the north-eastern part of Odisha in Kendrapara district covering an area of 672 km2 .
In 1988, an area of 145 km2 within the Bhitarkanika forest was marked as the Bhitarkanika National Park, thereafter in 2002 it also become the part of Ramsar site. This forest possibly got its name from the Kanika island and Baitarani River.
Apart from Baitarani, Brahmani River also contributes in making this area a unique ecological system. Like Sundarban is famous for royal Bengal tiger, similarly Salt water crocodile is the main attraction of Bhitarkanika. And it's always wonderful to see any wild creature in its natural habitat.
You will be happy to know that you can spot here giant crocodile up to 22 feet; world's largest after the crocodile of Amazon. Apart from the crocodile, you also get chance to see Water Monitor Lizard, Spotted deer, wild boars with other reptiles.
Bhitarkanika mangroves forest and wetland are the home of 8 species of kingfisher along with hundreds others birds. The forest also attract migratory birds from central-Asia and Europe.
There is some historical aspect too associated with Bhitarkanika, as it was a hunting ground for King of Kanika. The region also have few ancient temples dotted throughout the forest, but tourism in Bhitarkanika mainly based on the wild life.
Chandbali, a perfect gateway to Bhitarkanika forest
For exploring Bhitarkanika Forest, Chandbali would be your first destination. Chandbali is a town on the bank of Baitarani River and the perfect gateway to Bhitarkanika National Park. You can reach Chandbali from Bhubaneshwar/Cuttuk or Bhadrak via Bus service; one or two bus also available directly from Kolkata on daily basis.
I decided to go via Bhadrak, the nearest railway station from Chandbali. And my friend Prabhat Sahoo helped me further for this amazing trip. I boarded train from Bhubaneshwar and reached Bhadrak Junction by afternoon.
Prabhat had already sent the vehicle for our pick-up at Bhadrak. Bhadrak to Chandbali is about 60 Km, but because of super smooth road, we reached within an hour.
Usually a day trip from Chandbali to Bhitarkanika National Park starts in the morning for better experience, so we relaxed that evening at Swagath Hotel.
One day boat trip Chandbali- Bhitarkanika
Next morning, we got ready by 7:00 AM for the early start of trip. The boating point was just at 2 minute walking distance. Prabhat Bhai already booked a boat for us on sharing basis.
After all, our boat started sailing through Baitarani River; It was a wide and garbage free river. After sailing for an hour we reached at Khola check point, an entry point for the Bhitarkanika National Park. It was the forest check point, where every boat has to show details, regarding the visitors and Camera (shooting/video) if anybody has.
As soon we entered inside the forest area, chirping sound from several birds was all around. But it was hard to scan the bush like mangroves in a go, so it was not easy to spot these birds.
Initially, I did not know what to expect from my Bhitarkanika trip. When I was on my Sundarban trip, I was supposed to see the Royal Bengal tiger but unfortunately didn't see any. As we have proceeded in to forest, soon we got first sight of crocodile.
Here our boat man was our guide too; He was very quick in spotting these wild creatures, whether it is in water or hiding in the mud. Boatman told us that there are three members of crocodile family in Bhitarkanika; Mugger, Alligator and Salt water crocodile.
Chandbali-Bhitarkanika day trip mainly have two stops; Dangmal crocodile farm and Raj Nagar forest Block for Jungal walk. By 11:00 AM we reached at the forest block which was just on the opposite end of Dangmal.
Forest walk & Bird sanctuary
Here, you get an opportunity to walk inside the deep green forest up to 3.5 Km. If you are lucky enough you can see wild boar, deer and reptiles like monitor lizard. Jungle-walk basically provides more exposure to Bhitarkanika wildlife, such as mangroves and evergreen forest, birds and reptiles.
There was a dedicated path for the visitors to walk on, but usually animals stay away from the route, as the noise from the visitors make them frighten. I too walked inside forest up to 1.5 km but could not see any animal, though there was wetland within the forest in between where saw lots of birds, it was like a bird sanctuary.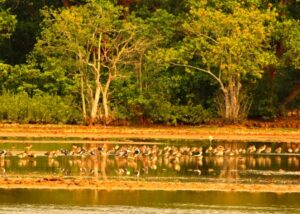 Dangmal crocodile breeding farm
Then we move towards Dangmal, known for crocodile breeding farm. There is an artificial hatchery, where you can see hundreds of infant crocodiles. Adjacent to hatchery, there is a small museum too exhibiting the wild life of Bhitarkanika, like reptiles and birds. It also house complete skeletons of two salt water crocodiles, more than 20 feet in size.
This hatchery/museum is about 1 km from the point where you get down from the jetty. For this 1 km you can take e-rickshaw or can simply walk. Usual charge for availing e-rickshaw ride in Dangmal is Rs. 20/- for each.
Apart from the hatchery and museum, there is a canteen and souvenir shop too, so you can have your lunch (veg thali in Rs. 150/- & non-veg thali in Rs. 200/-) and can buy something if you like. Near the canteen you can spot some deer too, as here they easily get something to eat.
It was around 2:30 PM and time to sail back to Chandbali. Till now, more of forest land had been exposed as the water level got down. On returning we saw more number of crocodile and few herds of deer who came out of the forest to gazing.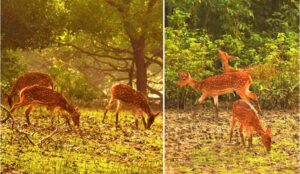 By the sun set we reached back to Chandbali. After all, it was a great trip and somewhat more than my expectation. In any wild life tour whether it is lion safari in Gir or Tiger safari in a reserve, nobody assure you that we will see tiger or lion. But the trip of Bhitarkanika is a guarantee, that you will definitely see lots of crocodiles in their natural habitat.
And if I am not wrong, we spotted few crocodiles of more than 20 feet, along with many medium size and baby crocodile.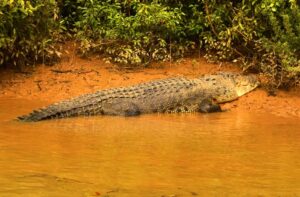 Budget Hotels in Chandbali
Chandbali is a small town and not so popular as a tourist destination. So, there are not much options available for budget hotels including Panthanivas. As I told, we stayed at Hotel Swagath, quite old but well maintained located right on the main highway. It was more like a guest house than a conventional hotel.
Mr. Prabhat Sahoo, who own and manage Hotel Swagath is a wonderful person. He did everything to make our trip memorable, and because of his hospitality we felt like we were at relative/friends house not at hotel. If you are looking a budget accommodation, Swagath hotel is the best possible option. Main Bus stand of Chandbali is just outside the Swagath Hotel.
Apart from the wild life of Bhitarkanika, if you are interested in exploring the Gahirmatha Marine Sanctuary, famous as a nesting place of Olive Ridley turtles. For that it's a trip of 2 days 1 night from Chandbali. People who visit Gahirmatha usually do night-halt at Dangmal area.
Planning a budget trip of Bhitarkanika National Park
If you search on net, you will get several operators who organize Bhitarkanika tour packages mostly from Bhubaneshwar that include transportation, accommodation, meal plan and boat trip inside Bhitarkanika National Park.
But if you want a budget trip of Bhitarkanika, you can plan your transportation by your own as I said there are many buses ply from Bhubaneshwar to Chandbali. Or, if you are coming from Kolkata side, you can come via train get down at Bhadrak, nearest railway station and reach Chandbali by road. Cab from Bhadrak to Chandbali usually cost Rs. 1500/-.
Call to hotel at Chandbali for booking your stay, accommodation may cost you in between Rs. 600/- to Rs. 1000/- per night for double room.
A boat in Bhitakanika is permitted to carry maximum 18 people, so as per your need ask the hotel owner to book an exclusive boat for you or on sharing basis. Boat price for a day trip from Chandbali to Bhitarkanika National Park varies from Rs. 4000/- to Rs. 6000/- depending on the season.
Note: Bhitarkanika National Park remain closed for the visitors for a week, either in last of December or start of January. So get it confirm before you plan rest of the thing.
You may also like to read
Backpacking to Sundarban National Park
Day trip to White Desert (Runn of Kutch)
A day in Thar Desert, Jaisalmer
Lion Safari in Gir National Park
Gurudongmar : Highest lake of India
If you find this post useful, don't forget to share your valuable comment,
Get more travel ideas on Explore my Ways.