Dwarka is famous as one of the Chardham city of India. Visiting all the Char-Dham is the dream of every Hindu, at-least once in his lifetime. It is believed that Lord Krishna established twin city of Dwarka and Bet-Dwarka in his later life.
Dwarka is on the mainland India while Bet Dwarka is 30 Km far, situated on a small island 2.5 km from port city Okha. As per Hindu religious belief both the cities are equally important. And any pilgrim visit of Dwarka is considered incomplete if you do not visit city of Bet Dwarka.
Dwarka is also well known for Nageshwar Jyotirling, one of the 12 most sacred sites, dedicated to Lord Shiva. So, Every pilgrim coming to Dwarka wants to explore Bet Dwarka and Nageshwara Jyotirling too.
There are several tour operators (Govt/private) in the main Dwarka town, who arrange half day sightseeing tour of Bet-Dwarka and Nageshwar Jyotirling at reasonable cost.
Dwarkadhish temple, which is religious center of the region, situated in the mainland Dwarka at the bank of Gamti River near Sea shore. It is the most ancient temple of the city, dedicated to Lord Krishna. As the temple is in the main town market area, so you can visit Dwarkadhish temple any time. Read more: Dwarkadhish temple & ancient city of Dwarka.
I had already visited Dwarkadhish temple day before our sightseeing tour of Bet Dwarka & Nageshwar Jyotirling.
Bet-Dwarka & Nageshwar local Sightseeing tour
It is very easy to find out such tour, anybody in the market will help you out, or just ask to your hotel guy. These sightseeing tour include visit of Bet-Dwarka, Rukmani temple, Gopi Talab and Nageshwar Jyotirling in the itinerary.
Such tours, operate twice a day from 8 AM to 1 PM and 2 PM to 7 PM, and the usual cost to book a seat in Bus is INR 100/-. Almost all such sightseeing tours starts from Teenbatti Circle, Dwarka. I too booked the morning ride with a private tour operator.
Rukmini Temple
The first stopping point was Rukmini temple, dedicated to chief wife of Lord Krishna. This temple belongs to 12th century and located around 2 km from Dwarka.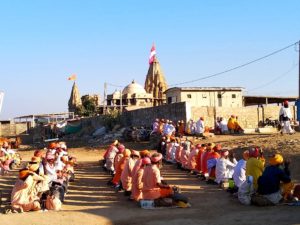 Outer walls and pillars have richly carved sculptures of human figures, animals and various God-Goddess. This temple also considered equally sacred as Dwarakadish temple but still the area nearby need to be clean and maintained.
It was a halt of around 20 minute, after that we were supposed to back to our shared vehicle for moving to next destination.
Nageshwar Jyotirling
After a short ride of approx 20 Km we reached at Nageshwar Jyotirling. According to Shiva Purana ( Ancient Hindu scripture) this area was inhabited by many snakes and demons.
A demon Daaruka was ruling the area of Darukavana, once he imprisoned Supriya, a Shiva devotee along with many others. In a sudden reaction all the prisoner started chanting holy mantra of Shiva. Lord Shiva, appeared thereafter and kill the demon, later Shiva reside here in the form of a Jyotirling as Nageshwar.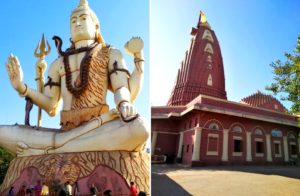 There was a big statue of Shiva, more than 70 feet in height build by Late Gulshan Kumar (Founder of T-Series music). In spite of being one of the Jyotirling the temple have modest architecture and size too. Seems like the current structure is not very old. And it was not that much crowded, as I had seen at Babadham, Deoghar or Somnath Temple.
But one thing was very organised here, and that was selling of Puja Thali ranging from INR 200/- to INR 5000/-. And devotee, who purchase the costly Puja thali, move to different queue and can reach up to the Lingam in main sanctum else you have to handover your thali to Pujari.
Seeing such a business within the main temple was not very encouraging, but there is always something to remember.
Some mythological scholars believe that original Nageshwar Jyotirling lies in Jageshwar Dham, Almora (Uttrakhand) as Darukavana stands for the forest of Deodar tree that can be found only in Himalayan region.
Then another visiting point to see was Gopi Talab on another 5 Km, but it was just to add one 'Point to see' else there is nothing to see in that Talab. It was all dry and Gopi (female friends of Krishna) also had no relation to Dwarka.
Bet Dwarka, residence of Dwarkadhish
Finally we moved towards Bet Dwarka, our last and most important destination of the tour. We reached at Okha, a port town and the last stoppage on Dwarka rail route, around 20 Km from Nageshwar temple.
From there we were supposed to board the ferry for crossing the 2.5 km wide sea span to reach the island of Bet Dwarka. These ferries carries approx 100 person at a time, and sometime you have to struggle for boarding the boat because of heavy crowd.
Somehow I managed to board on one boat, and please don't expect any sitting arrangement here. I always like boat ride, and the site became more interesting because of presence of lots of fishing boat around, hoisting too many colorful flag. It just took around 10-15 minute to reach on other end.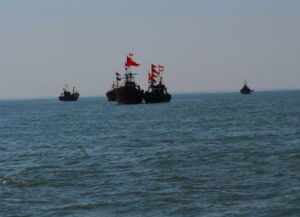 Bet Dwarka is a small island with an approx area of 10 Sq. Km. This small island which is famous as the ancient residence of Lord Krishna, now having almost 80 % of its population as Muslim.
Dwarakadeesha temple is just 300 meter from the de-boarding point, and this 300 meter path have so many shops on either side. Having glimpse of idol of Lord Krishna and offering of rice is the main purpose of this visit. Rice is the traditional offering here to the deity as it is believed that Sudama offered rice to his childhood friend Krishna.
Many artifacts, earthen pots and a 600 meter submerged protection wall belonging to late Harappan period have been found at Bet Dwarka.
Temple dedicated to Hanuman's Son
Apart from the Dwarakadhees temple, there are many other smaller temples belongs too Vishnu Rukmini, Satyabhama and Radha too. As Bet Dwarka is Muslim majority place so it also has many Mosques.
There is another important landmark temple at Bet Dwarka belonging to Son of Hanuman (The monkey God) 5 Km from the Dwarakadeesha temple. It is said that a crocodile had consumed the sweat of Hanuman, then he gave birth to a son named Makardhwaja. The Jethwa Rajput clan of Kshatriyas claims that they are descent of Makardhwaja.
Tips for Dwarka, Bet-Dwarka visitors
1) The hotel/Guesthouse in the vicinity of Dwarkadhish temple are with very basic amenities and in price ranging from INR 300/- to INR 700/-. So, if you are looking for accommodation in budget better to book directly at hotel after seeing the room. Else you may face disappointment, if book online.
2) Most of the hotels do not have restaurant facility, but there are many Bhojnalaya kind of thing. Where you get an option of Thali, which I find the better option.
3) Don't worry about 'How to visit Bet Dwarka & Nageshwar temple'. There are plenty of options available in the same market, even you can see many pamphlet advertising about these trips. Sightseeing tours in Dwarka strictly follow the time guideline 8.00 am to 1.00 pm or 2.00 pm to 7.00 pm.
4) Dwarkadhish Temple at Bet Dwarka remain close for 1 or 2 hour in afternoon. So getting chance to pray, and catching your vehicle at Okha within time frame are quite difficult. We had also missed our trip-bus, then we had to catch an Auto-Rickshaw to reach back to Dwarka, that time he charged INR 40/- for each.
5) All the hotels in Dwarka have 9 am to 9 am as check-in and check-out time, so if you are going for any trip; like morning trip to Bet-Dwarka, must check-out the Hotel else they will ask more money.
If you find this post useful, Explore more travel ideas on Explore my Ways
& share your valuable feedback in the comment box.