I was very fortunate, as I got chance to visit some great offbeat sites near Gwalior. My expectation from the 'Bateshwar Group of Temples' had already been escalated, after visiting the site of Chausath yogini temple and Padavali. Now, we were only 500 meter away from the Bateshwar temples, but it wasn't easy to find our way to these sites.
Bateshwar Group of temples (Gwalior), Traveler guide
Though, Bateshwar group of temples is just 5 km from the Chausath yogini temple, but most of the people in Gwalior did not know. Somewhere, I had read 'Bateshwar road' after taking turn at Malanpur from the Bhind-Gwalior Highway.
But the irony was, only few local people knew about these group of temples. We had to asked more than 10 times from locals. But anyway, our strong desire fetched us to the this ancient site.
The very first temple on this path was an ancient Vishnu temple, quite isolated from the group of temples. And we could see several spires of other temples just at 100 meters, So curiosity didn't allow us to stop and we moved straight.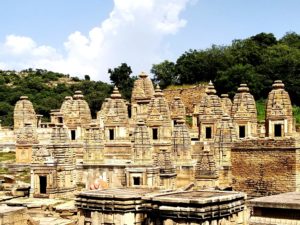 I could see numerous ancient temples at a single place, it was a jaw-dropping site literally. I have visited many heritage sites and ancient temples, but Bateshwar group of temples was actually a temple city.
A cluster of these temples were standing like the school kids stand in morning prayer, the smaller one in front row and then in order of increasing height.
All of a sudden, I reached several century back. No visitors, forest all around, divine feel in the atmosphere, all I can say it was completely different. It was difficult to decide from where to start, I was lost somewhere in crowd of these temples.
Ruins of Bateshwar temple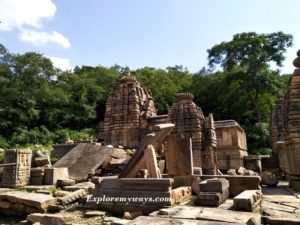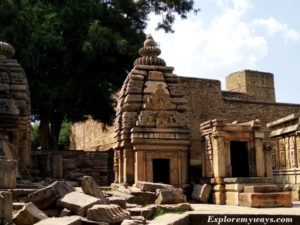 Other temples were not standing so decently, only few of them were standing complete. Some of them with damaged spires, while some had completely lost their head.
Thousands of temple parts were lying here & there, some of it were carved stones with relief while some were flat stone slab.
Relief on the broken parts or temple walls were depicting various mythological scene like, marriage of Shiva-Parvati, Krishan Leela and intimate couples ( like in Khajuraho temples) .
Probably, one of these temple was in use of daily worship, because I saw holy bells and flowers on the Shiva Lingam. The same temple also have a Mandapa in the front but look like, it will fall anytime.
Most of these temples dedicated to Lord Shiva because most of them were having Shiva Lingam in sanctum, or Nandi statue in front.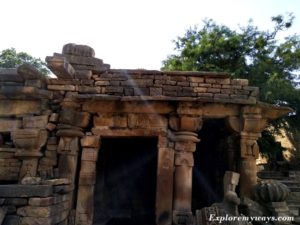 There were two water pool surrounded by damaged temples, these pool might have been used for holy bath on the occasion of some religious function.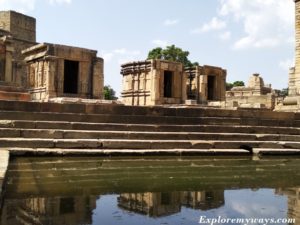 Role of K K Muhammad
As per the archaeological survey, Bateshwar was a group of around 200 temples of 8th to 10th century, this site is a protected monument. Very few historical researches have been done on these ruin till now.
In 2005 an archaeologist 'K K Muhammad' took initiative to restore most of these temples. He is very passionate about his work, and his dedication and hard work can be seen in all the standing temples, all were just ruin before 2005.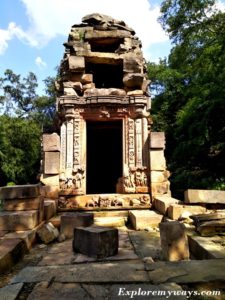 It was a big challenge for his team to choose right part from the ruins and assemble them. As per Mr. Muhammad these temples were build on the architectural principles mentioned in two Sanskrit texts Manasara Shilpa Shastra and Mayamata Vastu Shastra. So, following these texts helped his team to rearrange the broken parts.
And more beautiful thing about Bateshwar group of temples was that Dacoit Nirbhay Singh Gurjar with his gang helped ASI in restoration works.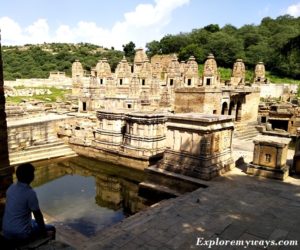 Spending time with these historic monuments that are still looking for their identity
Any reading about these mysterious temples can not compensate the real presence. Feel the magic of site by visiting in person.
It was a great experience to visit ancient 64 Yogini temple and Bateshwar group of temples near Gwalior and one more step towards knowing our rich heritage of India. Whenever I visit and experience such sites, I feel more proud for our history and heritage.
Note: Bateshwar group of temples is yet to developed completely, so there is NO ticket price or visiting charges for these temples. You will find nobody to guide you about this area or history of these monuments.
Its better to take necessary things along with you like; water, because no shops or market nearby. Plan your stay at Gwalior, about 35 km from these offbeat sites, also explore some must visit places of Gwalior.
More tourist places of Madhya Pradesh
If you find this post useful, please share and leave your valuable feedback in the comment box.
Subscribe for further travel update