It was our 2nd day of our Gangtok trip and by the 7:00 AM we got ready for Changu lake & Baba Mandir trip. A bolero had already reached at the homestay for today's trip, as our trip organizer had suggested us to early start of trip to avoid peak hour rush.
Gangtok city offers some fixed itinerary and usually all the tourist follow the similar schedule; One day for Local sightseeing within and around Gangtok city, and one day Changu lake, Baba Mandir and NaThu-La pass.
Mr. Teshering, the owner of Phenzong Homestay helped us in planning trip for Changu lake & Baba Mandir through some tour operator.
Trip of Baba Mandir &

Changu lake

from Gangtok
Any trip to Changu lake or Nathu-La required a spacial permit, for that I had provided copy of my ADHAR to the tour operator. Because of permit issue in Sikkim, it is always better to plan your journey through tour operator.
(Getting permit for Changu lake or Baba Mandir is not a big deal but for for Nathu-La, it needs a separate permit from Army and that depends on various conditions. A trip to Changu Lake & Baba Mandir usually cost Rs. 3500-4500/- whereas for Nathu-La you have to bear additional Rs. 3000/-.)
We left the homestay without having breakfast. After crossing the whole city, we cached Jawaharlal Nehru Road that directly lead to Changu lake & Baba Mandir in east Sikkim.
Meanwhile, our driver Hemant asked for 2 passport size photo of everyone, which were required along with the permission. We were about to reach an army check post '3rd mile check-post' where permission was to be shown. Army keeps the record of every vehicles passing through this point.
It had been more than a hour of ride, still with empty stomach, so we thought to stop somewhere for having light breakfast. Our driver Hemant gave us a break at Kyongnosla, and directed us towards shop no-46. Yeah! there were series of shops of tea & snacks and it was like every driver have collaboration with some shop to bring the customer and in-return he get food in no cost.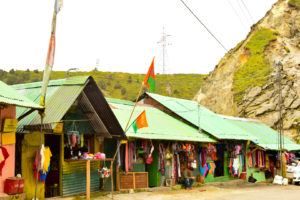 These shops were also selling and renting warm clothes. It might be the last market towards Changu lake, where one could buy/rent warm clothes ( Specially Jackets were available on rent while other smaller item for sell). We bought woolen caps for kids, then resume our journey after having some hot noodles.
After half-n-hour ride, we were at Changu lake but driver suggested us to move directly to Baba Mandir which was further 14 Km. 'Baba Mandir' is a unique temple dedicated to one Indian soldier 'Harbhajan Singh' who had given his life while guarding the nation.
Baba Harbhajan Singh Mandir, Temple of dead soldier
Finally we reached to the Shrine of Baba Harbhajan Singh at height of 13000 feet, but there was no snow that I was expecting. Only thin white layer was visible on the top of nearby mountains.
Too many vehicles had already been reached before us. And if I am not wrong, people face difficulty in breathing not because of less oxygen at this height but due to excessive burning of diesel. It was not very encouraging to see a big herd of vehicles at such scenic place.
Although I was happy, As I was going to visit a monument that actually justify the tag of 'Incredible India'. Before getting down from Bolero we wrapped our-self in warm clothes. Being on higher altitude, it was very much colder, while gusty wind was amplifying the effect.
It was more like a temple rather than a monument. There were three rooms with a spacious veranda, where some people were worshiping while some busy in clicking pictures.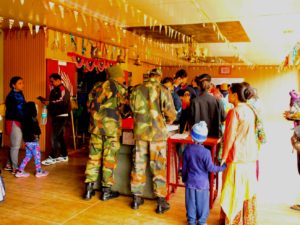 A metal statue of Late Harbhajan Singh was kept in the central room like we see God's statue in temples. Few bells were also hanging from the roof. Two army persons were busy in Prasad distribution. They were also selling 'a certificate cum photo frame' to mark the presence of tourist at this unique temple. We too bought the same for Rs. 70/-.
Left side room also had portrait of Harbhajan Singh, this room was full of water bottles, slipper, toothbrushes etc. offered by devotee. These water bottle are consider sacred and believe that this water can cure many diseases. The room on the right kept the personal belonging of Baba like daily use items, dress, boot to camp bed.
This temple is actually newly built shrine of Baba Harbhajan Singh in November' 1982 for convenience of visitors. Older Baba Mandir is situated at height of 14,000 feet, almost 1000 feet above than newly build temple and further 9 km at Gnathang.
Now, very few visitors go to older temple (Famous as Baba ji ka bunker) it is the same location where Harbhajan Singh was posted before he die.
Baba Harbhajan Singh death story
A young Sikh from Punjab joined Indian army in 1965 as Sepoy, when he was just 19. He got posted at Nathu-La ( Boarder of Sikkim and Tibet ) for guarding the Nation against Chinese People's Liberation Army (PLA).
In 1968, when Harbhajan Singh was leading a column of mule from one post to another slipped into a flowing Nala and unfortunately lost his life. And the water current was so high, it carried away his body 2 km from the site of accident.
Till the three days of accident no one could trace the Harbhajan Singh. Even some of his friends thought he might ran away because of the hardship at this high altitude post.
According to famous legend, Harbhajan Singh came in the dream of one of his army friend and narrated the whole story about his death. He also informed about the location of his dead body. And next morning army team recovered his body from the same location. Harbhajan Singh also asked for making his Samadhi in the dream of fellow army men.
Then onward, he used to come in dreams of one or other and disclose about the activity & planning of the Chinese army in advance. In this way, he used to help Indian army in protecting the country even after his death.
Not only this, but his spirit also used to give hint to Chinese army about the unwanted activity from Indian army side. So that any issue can be resolve by mutual talk before it got escalate.
The belief in his spirit got strengthen with time and every one at the boarder accepted his presence. So army and local people regarded him as a saint (Baba) whose holy spirit guarding the boarder & also take care of people.
Baba Harbhajan Singh mystery, Myths & Facts
As every one on the boarder accepted that Harbhajan Singh is still guarding the boarder. So, it was decided that he will remain on role of Indian army and his service will be continue.
Considering him on continuous duty, he got many honorary promotion after death and finally retired as Caption. His monthly salary had been sent to his blind mother at his home till 2006 until she died.
Every year he got sanctioned leave for 2 month, during his vacation period boarder remained on high alert.
A berth used to reserve from nearest rail-head New Jalpaiguri for going to his home at Kapurthala and same thing repeat while he return from the vacation. During these trips, three soldiers accompany the empty berth with Harbhajan's portrait, uniform and other belonging.
Some army official got a slap for sleeping or not maintaining discipline on duty. And they himself believed that its Baba, who have punished them.
An army attendant used to prepare his camp bed and put Baba's boot beside the bed after polishing. According to legend every morning bed-sheet found crumbled and shoes got dirt because of patrolling.
Even the Chinese army had strong belief in his spirit, they always kept one empty chair for Baba during any flag meeting.
Baba Harbhajan & Court case
A retired Army man, Subedar Piara Singh read the story of dead soldier Harbhajan Singh in some news paper. Then he filed a case in 2006 against deference ministry for being superstitious.
He also quoted 2 other such cases; one about Rifleman Jaswant Singh Rawat, guarding the Sino-Indian border in Arunachal Pradesh after his death, other about Om Prakash, who appeard in the dreams of soldiers stationed on the Siachen Glacier (J&K).
Subedar Piara Singh raised his concerned in complain that army should not support superstitious activity. Even he questioned, why Army did not object on such news, as it give wrong message to the public. Any such news in media is enough to spoil the image of Indian Army.
Another ex-service man from Raipur Rasulpur village in Jalandhar had also challenged the tradition of bringing Harbhajan's soul back to his home on yearly vacation in local court.
When Army faced such cases and asked for explanation then Army abruptly retired Baba Harbhajan Singh when he was going to complete 60 year. Though, other higher ranked army men get retired on their 58. Transporting ritual of Harbhajan's belonging from check post to his home was ended in 2006.
Army also made cleared that it was not the salary but a regular pension that to give to next kin of any army person. As he was unmarried so this pension amount send to his mother. Though, his friend also contribute little amount that also used to send along with pension.
After the court episode, most of the ritual associated with Harbhajan Singh came to end. Regardless of various facts or myth, it is true that still huge number of tourist visit this temple of Baba Harbhajan Singh.
You may not believe this story but still you should visit the site once. At least you get a rough idea about the tough conditions, our army work in. Where we find it difficult to stand just for an hour, how these men stay here 24×7.
May be this temple is a source of positive energy and motivation. It is also symbolizes that how much love a soldier do with his motherland.
Statue of Lord Shiva near Baba Mandir, Sikkim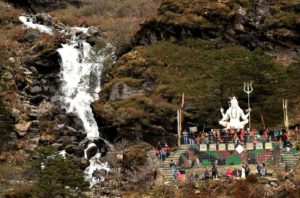 We could see a big milky-white statue of Lord Shiva around 400 meter from the Baba Harbhajan temple. A waterfall at the background of Shiva statue were making the scene more divine.
Lots of crowd were there too, so we too headed towards the statue for closer look at statue and waterfall. Though, this 400 meter path was little tiring. It was really difficult to withstand against cold for long, so was time to return.
Changu Lake, Sacred lake near Nathu-la-Pass
There were three lake on this route; Hangu Lake, Manju Lake and Changu Lake. Out of these Changu lake was the main landmark of this trip, though Hangu lake have similar shape & size as of Changu lake and also have boating facility.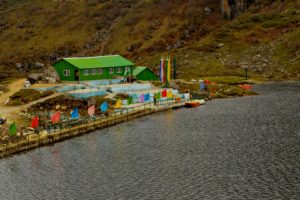 The main road along the Changu Lake was full of visitors. Yaks in colorful attire were the main attraction of this place, So people were also enjoying Yak ride. Some people were dressed up in typical Nepali costume while posing with Yaks. Boating in the Changu lake is prohibited as it has a sacred value among Buddhist.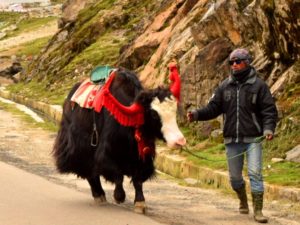 Changu Lake is located at 3,753 meter above sea level, an important landmark for the visitors coming to Gangtok but it may not touch your expectations during peak season (April-June). Changu lake is famous for reflecting different colors with seasonal changes and held great reverence among local Sikkimese people.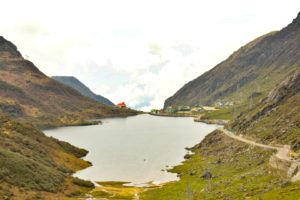 Best time to visit Changu lake is from Jan-March, during this you can find it in freezing state surrounded with snowy mountain.
Do you know India's highest altitude lake?
Normally hill road are not so wide but the road from Gangtok to Baba Mandir was wide enough almost like a highway, a great work by Boarder Road Organisation (BRO).
The hills, valleys, forest, several water streams and floating clouds below my knees made the trip enjoyable instead of tiring. We stopped at few places to capture some of beautiful scene in eyes and memories.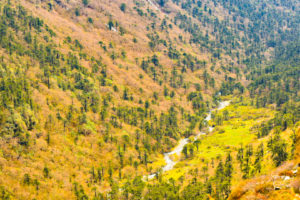 Also read: Solo trip to North Sikkim
If you find this post useful, please share and leave your valuable feedback in the comment box.
Subscribe for further travel update